Research article

Open Access

Open Peer Review
This article has Open Peer Review reports available.
Identification of BRCA1-like triple-negative breast cancers by quantitative multiplex-ligation-dependent probe amplification (MLPA) analysis of BRCA1-associated chromosomal regions: a validation study
Received: 27 August 2015
Accepted: 7 October 2016
Published: 19 October 2016
Abstract
Background
Triple-negative breast cancer (TNBC) with a BRCA1-like molecular signature has been demonstrated to remarkably respond to platinum-based chemotherapy and might be suited for a future treatment with poly(ADP-ribose)polymerase (PARP) inhibitors. In order to rapidly assess this signature we have previously developed a multiplex-ligation-dependent probe amplification (MLPA)-based assay. Here we present an independent validation of this assay to confirm its important clinical impact.
Methods
One-hundred-forty-four TNBC tumor specimens were analysed by the MLPA-based "BRCA1-like" test. Classification into BRCA1-like vs. non-BRCA1-like samples was performed by our formerly established nearest shrunken centroids classifier. Data were subsequently compared with the BRCA1-mutation/methylation status of the samples. T-lymphocyte infiltration and expression of the main target of PARP inhibitors, PARP1, were assessed on a subset of samples by immunohistochemistry. Data acquisition and interpretation was performed in a blinded manner.
Results
In the studied TNBC cohort, 63 out of 144 (44 %) tumors were classified into the BRCA1-like category. Among these, the MLPA test correctly predicted 15 out of 18 (83 %) samples with a pathogenic BRCA1-mutation and 20 of 22 (91 %) samples exhibiting BRCA1-promoter methylation. Five false-negative samples were observed. We identified high lymphocyte infiltration as one possible basis for misclassification. However, two falsely classified BRCA1-mutated tumors were also characterized by rather non-BRCA1-associated histopathological features such as borderline ER expression. The BRCA1-like vs. non-BRCA1-like signature was specifically enriched in high-grade (G3) cancers (90 % vs. 58 %, p = 0.0004) and was also frequent in tumors with strong (3+) nuclear PARP1 expression (37 % vs. 16 %; p = 0.087).
Conclusions
This validation study confirmed the good performance of the initial MLPA assay which might thus serve as a valuable tool to select patients for platinum-based chemotherapy regimens. Moreover, frequent PARP1 upregulation in BRCA1-like tumors may also point to susceptibility to treatment with PARP inhibitors. Limitations are the requirement of high tumor content and high-quality DNA.
Keywords
BRCA1
BRCAness
DNA repair
PARP1
MLPA assay
Triple-negative breast cancer
Background
Triple-negative breast cancer (TNBC) accounts for 15–20 % of all breast cancer cases and is characterized by lack of estrogen- and progesterone receptor (ER, PR)-expression as well as lack of human epidermal growth factor receptor-2 (HER2) amplification [1, 2]. Due to the absence of therapeutic targets such as ER, PR or HER2, treatment options for this aggressive subtype of breast cancer are currently restricted to chemotherapy. Although a significant number of patients responds well to conventional chemotherapy, TNBC is generally associated with shorter disease-free and overall survival rates compared to other breast cancer subtypes and comprises about 25 % of all breast cancer-related deaths [1, 3–6]. Alternative therapeutic approaches are therefore highly needed, taking into account the different molecular subtypes within the TNBC group.
Among the quite heterogeneous subgroup of TNBC, a subset of predominantly basal-like cancers appears to share molecular characteristics with BRCA1-associated breast cancer, a phenotype recently described as "BRCAness" [2, 7–9]. Indeed, at least 60–70 % of all breast cancers caused by an inherited BRCA1 germline mutation are diagnosed as TNBC, while inactivation of the second major breast cancer susceptibility gene BRCA2 is more frequently observed in hormone receptor-positive breast cancers [10, 11]. Nevertheless, most of the TNBC patients are presenting with sporadic breast cancer and only 9–15 % of all patients within the TNBC subgroup were reported to possess a BRCA1 mutation [10, 12]. Hence, apart from germline or somatic BRCA1 mutations, BRCA1 hypermethylation [12–15] and/or loss of heterozygosity (LOH) [16, 17] may give rise to a BRCA1-like molecular profile in TNBC. Furthermore, Weigman et al. [18] demonstrated frequent loss of several other genes involved in BRCA1-dependent homologous recombination repair in basal-like/triple-negative cancer, most likely contributing to BRCA1-like features. Due to alternative treatment options, information about the BRCA1-like status may have important clinical implications: Various studies have shown that deficiency in homologous recombination (HR) sensitizes the respective tumors to DNA-damaging agents such as platinum compounds [19–22], or to poly(ADP-ribose)polymerase (PARP) inhibitors [23–25]. Accordingly, biomarkers to identify and select patients with BRCA1-like signatures are urgently required.
Based on array comparative genomic hybridization (CGH), we have previously established a BRCA1-like classifier which was highly predictive for the presence of typical BRCA1-associated genomic patterns in breast cancer [26]. Moreover, the arrayCGH-derived BRCA1-like profile proved to be a clinical predictive marker for benefit from high dose platinum-containing chemotherapy [22]. Since the arrayCGH technique cannot be easily implemented in clinical routines, we subsequently translated this rather complex method to a quantitative copy number assay targeting the most specific BRCA1-associated genomic regions (3q22-27, 5q12-14, 6p23-22, 12p13, 12q21-23, 13q31-34) by multiplex-ligation-dependent probe amplification (MLPA). The BRCA1-like phenotype, also referred to as "BRCAness", was defined by applying the previously established shrunken centroid algorithm [26]. In a first study at The Netherlands Cancer Institute (NKI), Amsterdam, Netherlands, the MLPA-based "BRCA1-like test" was able to accurately predict BRCA1-like signatures with 85 % sensitivity and 87 % specificity when compared to arrayCGH as the reference method [27].
In order to evaluate its applicability across a wider range of institutes and countries, we are presenting here an independent validation of the MLPA-based test. The assay was performed on a larger cohort of TNBC patients at the Klinikum rechts der Isar, Technische Universität München (TUM), Germany. MLPA data were subsequently sent to the NKI and classified in a blinded manner. Here we show that approximately half of the TNBC sample set displays BRCA1-like characteristics. Moreover, 83 % of the BRCA1-mutated and 91 % of the -methylated tumors, respectively, were correctly classified by the MLPA assay confirming the results of the initial MLPA test. We also searched for further specifications associated with a BRCA1-like signature in TNBC.
Results
Validation of the MLPA-based BRCA1-like test
The validation set contained 144 breast cancer patients with triple-negative subtype. In this patient set, 18 tumors had a germline or somatic
BRCA1
mutation (Table
1
), 22 additional specimens exhibited positive
BRCA1
promoter methylation. The MLPA assay initially classified 63 (44 %) tumor specimens as BRCA1-like. We next evaluated whether all
BRCA1
-aberrant tumors had been correctly classified. As illustrated in Table
2
, the presence of a
BRCA1
mutation or promoter methylation was predicted with a sensitivity of 83 and 91 %, respectively.
Table 1
BRCA1 mutations in 140 TNBC specimens
Sample

Exon

Nucleotide position

(BIC nomenclaturea)

Effect

Age

Family history of cancer

1

2

c.185_187delAG

fs39X

<50 y

Yes

2

5

c.300 T > G

p.C61G

>50 y

n.a.

3

5

c.300 T > G

p.C61G

<50 y

n.a.

4

5

c.331 + 1G > T

Splice defect

>50 y

n.a

5

7

c.560 + 1delGb

Splice defect

>50 y

No

6

11

c.2035 T > A

p.L639X

>50 y

Yes

7

11

c.3600del11

fs1163X

<50 y

n.a.

8

11

c.3600del11

fs1163X

<50 y

Yes

9

11

c.3600del11

fs1163X

>50 y

No

10

11

c.3819del5

fs1242X

<50 y

Yes

11

11

c.3875del4

fs1262X

<50 y

n.a.

12

11

c.3875del4

fs1262X

>50 y

n.a.

13

16

c.5007G > Tb

p.E1630X

<50 y

n.a.

14

19

c.5298A > T

p.K1727X

<50 y

Yes

15

20

c.5370C > T

p.R1751X

<50 y

Proven somaticc

16

20

c.5385–5386insC

fs1829X

<50 y

n.a.

17

20

c.5385–5386insC

fs1829X

>50 y

n.a

18

21

IVS21 + 1G > T

Splice defect

<50 y

n.a.
Table 2
Sensitivity of the MLPA test
| | BRCA1 mutation | BRCA1 methylation | BRCA1 mutation/methylation |
| --- | --- | --- | --- |
| Total | 18 | 22 | 40 |
| BRCA1-like (≥0.5) | 15 | 20 | 35 |
| False negative | 3 | 2 | 5 |
| Sensitivity (%) | 83 | 91 | 87.5 |
We looked in more detail onto the false negative data (Table
3
). Three misclassified samples carrying a
BRCA1
mutation showed clear heterozygosity at the mutation site and indicated only marginal copy number alterations within the entire
BRCA1
gene (P002-C1 BRCA1 probemix). Moreover, the mutations L639X and K1727X were associated with a distinct phenotype which may indeed reflect the expression of a non-BRCA1-like profile: The L639X-related tumor exhibited a ductulo-lobular-like phenotype and only borderline ER negativity (3/12 immunoreactive score). Similarly, the carrier of the
BRCA1
mutation K1727X had received endocrine therapy reflecting rather ER positivity. Two further discordant samples did not show conspicuous histopathological features, but displayed a BRCA1-like parameter close to the cut-off score 0.5. For one of them, showing positive
BRCA1
methylation, high T-lymphocyte infiltration could be assessed because a matched tumor section of the same patient was available. Thus, normal cell contamination might be a source of misclassification in some samples with values close to the cut-off. We estimated the number of TNBCs with high T-lymphocyte infiltration to up to 38 % using CD3-antigen assessment. However, no relevant association between high immune cell infiltration and a non-BRCA1-like profile was evident in the studied sample set (
n
 = 53; Table
4
). In addition, only seven of 144 (4.9 %) samples exhibited PAM-R values close to the cut-off score (0.45–0.55) demonstrating that a relative small number of cases would be candidates for repeat analysis. Finally, a further tumor with medullary characteristics might have been misclassified as non-BRCA1-like due to its content of methylated DNA near the applied threshold value (20 %) and/or due to normal cell contamination as well.
Table 3
False negative BRCA1-aberrant samples
False negatives

Phenotype

BRCA1-like parameter

BRCA1 mutation

K1727X

Invasive ductal, borderline ER-negativity, BRCA1 copy number 71 % of normal control

0,18

L639X

Ductulo-lobular, borderline ER-negativity,

BRCA1 copy number 82 % of normal control

0,21

fs1829X

Invasive ductal, BRCA1 copy number 85 % of normal control

0,48

BRCA1 methylation

20 %

Medullary

0,30

30 %

Invasive ductal, high CD3 counts (2+)

0,499
Table 4
Association of the BRCA1-like profile with biological parameters
Variable

Valid cases

MLPA data

p-value

(n)

BRCA1-like

Non-BRCA1-like

Total

144

63

81

BRCA1 aberrations

140

<0.000001*

 Wildtype

100

28

72

 Mutation/methylation

40

35

5

T-cell assessment (CD3)

53

0.458

 0

17

7

10

 1+

16

7

9

 2+

20

12

8

PARP1 expression

52

0.087

 0–2+

38

17

21

 3+

14

10

4
While BRCA1-mutated/methylated TNBCs comprised almost a third (29 %) of the patient cohort, we assigned BRCA1-like signatures in 44 % of the cases. Thus, the specificity of the test for prediction of BRCA1 aberrations would be moderate (false positive rate 28 %; Table 4). However, it is most likely that additional gene aberrations related to homologous recombination repair are present in the sample set also contributing to the BRCA1-like phenotype.
Association of the BRCA1-like profile with PARP1 upregulation
Since BRCA1-like tumors are supposed to be highly susceptible to PARP inhibitors because of their defects in HR, we evaluated the degree of upregulation of the main target for these inhibitors, PARP1. In a set of 62 matched tumor tissues, nuclear PARP1 protein levels were observed in a range of low (0–1+; 37 %), moderate (2+; 37 %) and strong (3+; 26 %) expression. Cytoplasmic PARP1 expression was generally lower than nuclear expression with 64.5 % of tumors exhibiting low staining, 29 % of tumors with moderate staining and only 6.5 % exhibiting strong staining. The comparison of the degree of nuclear PARP1 expression with BRCA1-like profile revealed a tendency toward higher (3+) PARP1 staining in BRCA1-like vs. non-BRCA1-like tumors (37 % vs. 16 %,
p
 = 0.087,
n
 = 52) although this was not statistically significant (Table
4
and Fig.
2a–c
). A weak, but significant association of high (3+) nuclear PARP1 expression was observed with
BRCA1
-mutated/-methylated cancers compared with wildtype TNBC specimens (50 % vs. 18 %,
p
 = 0.016;
n
 = 62).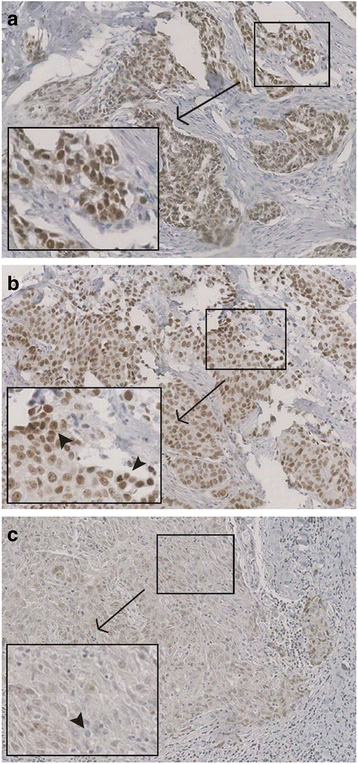 Association of the BRCA1-like profile with clinical parameters
We next assessed association of the BRCA1-like profile with distinct clinical characteristics of the TNBC patients (Table
5
). As expected, BRCA1-like signatures were more prevalent in the group of high-grade (G3) tumors (
p
 = 0.0004) and were rarely found in cancers showing histopathological features other than invasive-ductal or medullar (
p
 = 0.062). We did not observe association of the BRCA1-like profile with age, nodal involvement or tumor stage. In addition, patients with BRCA1-like cancers had more often received adjuvant treatment (
p
 = 0.044) or radiation therapy (
p
 = 0.017) compared to the non-BRCA1-like group.
Table 5
Association of the BRCA1-like profile with clinical parameters
Variable

Valid cases

MLPA data

p-value

(n)

BRCA1-like

Non-BRCA1-like

Total

144

63

81

Age

143

0.265

 <50

54

27

27

 ≥50

89

36

53

Tumor size

143

0.979

 pT 1

54

24

30

 pT 2

69

31

38

 pT 3

8

3

5

 pT 4

12

5

7

Nodal status

141

0.145

 Negative

71

35

36

 Positive

70

26

44

Histological grade

139

0.0004*

 1

6

0

6

 2

28

5

23

 3

105

57

48

Histology

144

0.062

 Invasive-ductal

113

53

60

 Invasive-medullary

11

6

5

 Other

20

4

16

Adjuvant chemotherapy

142

0.044*

 None

34

10

24

 Yes

108

53

55

Radiation therapy

142

0.017*

 None

23

5

18

 Yes

119

58

61
Discussion
Numerous studies are engaged in the improvement of TNBC outcome, a breast cancer subtype which is still accompanied by unfavorable prognosis [38]. The shared molecular profiles between sporadic TNBCs and BRCA1-associated breast cancer [7, 39], also referred to as BRCAness, may open the way for new therapeutic strategies. In particular, the BRCA1-like profile appears as an excellent molecular marker predicting sensitivity to agents targeting DNA-double-strand-break repair-deficient cancers [25, 40]. Indeed, we could recently demonstrate that BRCA1-like TNBCs show markedly improved outcome after intensified chemotherapy combining alkylating agents such as cyclophosphamide with carboplatin [27, 41, 42]. Most importantly, non-BRCA1-like tumors did not benefit from high-dose alkylating chemotherapy. These observations highlight the clinical relevance of discriminating between BRCA1-like and non-BRCA1-like phenotypes.
A clinically practicable test to identify BRCAness should be robust and easy to implement in routine laboratories. Therefore, we have recently established an MLPA-based assay transcribing the methodology of our former arrayCGH-derived BRCA1-like test into a PCR-based approach [27]. The test proved to be equal to the arrayCGH assay in predicting response to platinum-based alkylating chemotherapy [27]. Our next intention was to confirm robustness and sensitivity of the MLPA-based test across independent laboratories which would be prerequisites for its general application in the clinical setting.
Here we describe a blinded validation of the MLPA test with respect to its ability to predict BRCA1-mutated or -methylated samples in an independent cohort of 144 TNBC patients. These were enrolled according to availability of fresh frozen tumor material (nuclear fractions) and amount of high-quality DNA. Clinical properties of the studied patient panel were in concordance with an unselected TNBC patient cohort (see Table 5) although a selection bias cannot be fully ruled out. Speaking against an influence of the selection procedure on the study, the validation test showed very similar sensitivity values compared to our initial results with 87.5 % versus 85 % [27] sensitivity for correct class prediction. In total, five samples could not be correctly classified. We characterized these tumor specimens in more detail: As observed in two BRCA1-mutated false negative samples, the presence of hormone receptors and/or ductulo-lobular features might interfere with the expression of a BRCA1-like profile reflected by retention of a wildtype BRCA1 allele in the analysed tumor section. In this context, we indeed observed that BRCA1-like cancers exhibited more often invasive ductal or medullary characteristics relative to other histological features (see Table 5). Thus, not all BRCA1-mutated tumors may generate a BRCA1-like profile probably due to a different etiology or heterogeneity of the tumor.
A second cause of misclassification may be due to normal-cell contamination giving rise to PAM-R values near the cut-off value of 0.5 or below. While low tumor content can be bypassed by microdissecting FFPE samples which are performing equally well in the MLPA test [27], high lymphocyte infiltration would persist. Indeed, Massink et al. [43] reported that the presence of high numbers of tumor infiltrating lymphocytes severely affects tumor profiling, particularly for basal-like, and thus BRCA1-like tumors. We show here that 30–40 % of the TNBC samples (within a subset of 53 samples) exhibited high (2+) T-cell infiltration. Nevertheless, CD3-positive cells were not more abundant in the non-BRCA1-like subset of TNBCs speaking against a major impact of immune cell infiltration on the test results. The sensitivity of the MLPA test might be enhanced in combination with BRCA1 methylation testing. The methylation assay can also be performed with low tumor cell percentages (minimum 20 %), so nearly all samples will be suitable. In the samples with a tumor cell percentage of 50 % or above, both the MLPA and methylation assay can be performed. In this way, the result should be more robust, and samples with low tumor cell percentage can also be analysed.
In concordance with recent publications [44, 45] we observed that a large proportion (28 out of 63) of the BRCA1-like tumors was not associated with a BRCA1 mutation or hypermethylation. So far, it is not exactly clear which aberrations beyond BRCA1 abnormalities will cause a BRCAness signature. Lord and Ashworth, 2016, summarized in their recent review [46] the current knowledge encompassing the concept "BRCAness". Here they define BRCAness as "a situation in which an HR defect exists in a tumor in the absence of a germline BRCA1 or BRCA2 mutation". Considerable evidence is now available suggesting that loss of one or several key genes involved in HR, among these ATM, CHEK1/2, NBN, RAD51 and genes of the Fanconi Anemia complementation group, is associated with sensitivity of cancers to platinum drugs and PARP inhibitors. However, an even larger list of HR-modulating genes may also provoke a BRCAness phenotype [46]. Various surrogate measurements for HR defects in cancer such as telomeric allelic imbalance analysis, large scale transition analysis or HRD profiling revealed distinct genomic scars which could be discriminated from confounding alterations not derived from HR deficiency [47]. By performing genome wide expression studies and next generation sequencing, Severson et al. [45] could assign specific gene signatures to the MLPA-derived BRCA1-like profile. They found that genes/pathways involved in DNA recombination, DNA repair and cell cycle were significantly up-regulated. In particular, overexpression of a key regulator of cell cycle progression, FOXM1, and its interactive network may facilitate re-entry of BRCA1-like TNBCs into the cell cycle after DNA damage. FOXM1 was recently found to cooperate with BRG1, a component of the SWI/SNF chromatin remodeling complex, in cellular stress situations [48]. BRG1 is thought to facilitate repair of DNA lesions, e.g. by chromatin relaxation, and was also shown to associate with BRCA1 [49]. Interestingly, the SWI/SNF chromatin remodeling enzymes BRG1 and BRM are mostly overexpressed in breast cancer and their knockout resulted in loss of viability of TNBC cells [50, 51]. Thus, these findings suggest that SWI/SNF components might emerge as potential targets for therapeutic intervention [51–53].
Given that BRCA1-like cells are deficient in HR, PARP1, a key player in base excision repair, may present another selective target for the treatment of TNBC patients. So far, PARP inhibitors have proven to be most effective in BRCA-associated familial breast cancers [23–25]. Ossovskaya et al. [54] reported elevated levels of PARP1 mRNA and protein also in TNBC tumor tissues suggesting that TNBC patients might as well be suited for treatment with PARP inhibitors. In the present study, we were interested in the question, whether the BRCA1-like profile might be specifically related to upregulation of PARP1. Indeed we could demonstrate that strong (3+) PARP1 staining was more frequent in BRCA1-like than in non-BRCA1-like tumors. Therefore, at least a subset of BRCA1-like tumors might respond well to the promising treatment option with PARP inhibitors (e.g. in combination with carboplatin).
Interestingly, a recent study observed sensitization of BRCA-proficient TNBCs to PARP inhibitors by inhibition of the PI3K signalling pathway. PI3K blockage resulted in BRCA1/2 downregulation and impairment of HR [55, 56]. In line with these observations, Severson et al. [45] showed a high frequency of PIK3CA mutations in non-BRCA1-like tumors suggesting susceptibility to PI3K/AKT/mTOR inhibition. Accordingly, these findings would provide a rationale for specific treatment of non-BRCA1-like TNBCs by blocking both PARP1 and PI3K.
Conclusions
Approximately half of all TNBCs exhibit BRCA1-like characteristics. The BRCA1-like MLPA assay is a fast, simple and cost-effective method suitable for clinical applications to discriminate between BRCA1-like and non-BRCA1-like TNBCs. Moreover, reproducible results were obtained between this study and the initial introduction of the MLPA test. These observations make it particularly attractive compared with other more complex techniques based on genomic scarring. A limitation of this test might be the requirement of high DNA quality and high tumor content. Following the validation of the MLPA-based assay it will now be possible to perform prospective studies which are highly warranted to evaluate the test in a larger setting for predicting treatment benefit from platinum drugs or PARP inhibitors.
Declarations
Acknowledgements
We thank Daniela Hellmann for excellent technical support with PARP1 immunostaining. We also greatly appreciate the help of Anita Welk in assessment of clinical data.
Funding
Parts of this work were financed by Wilhelm-Sander-Stiftung, Munich, Germany, contract number 2012.028.1 to MA, and by the Clinical and Translational Science Collaborative of Cleveland (KL2TR000440 to SA) from the National Center for Advancing Translational Sciences (NCATS) component of the NIH.
Availability of data and materials
The datasets analysed for this study are available from the corresponding author on request.
Authors' contributions
ZL, SR, CM and AG carried out the molecular genetic studies. MA developed the tissue microarrays. SA interpreted the immunoassays and helped to draft the manuscript. SR, CM and CP collected the clinical data. NL was involved in the MLPA analysis. EG and EHL conceived the study and participated in its design and coordination, and drafted the manuscript. HVT and EG performed statistical analyses. AM, MK, MS and PMN participated in the design of the study and helped to draft the manuscript. All authors read and approved the final manuscript.
Competing interests
Nadja Laddach is employed by MRC Holland b.v. which supplies the MLPA probemixes. All other authors declare that they have no competing interests.
Consent for publication
Not applicable.
Ethics approval and consent to participate
Written informed consent for the use of tissue samples for research purposes was obtained from all the patients. Approval for use of the tumor samples was given from the Ethics Committee of the Medical Faculty of the Technische Universität München (last updates in 2008 and 2010).
Open AccessThis article is distributed under the terms of the Creative Commons Attribution 4.0 International License (http://creativecommons.org/licenses/by/4.0/), which permits unrestricted use, distribution, and reproduction in any medium, provided you give appropriate credit to the original author(s) and the source, provide a link to the Creative Commons license, and indicate if changes were made. The Creative Commons Public Domain Dedication waiver (http://creativecommons.org/publicdomain/zero/1.0/) applies to the data made available in this article, unless otherwise stated.
Authors' Affiliations
(1)
Department of Gynecology and Obstetrics, Technische Universität München, Munich, Germany
(2)
Biometrics Department, The Netherlands Cancer Institute, Amsterdam, The Netherlands
(3)
Institute of Pathology, Technische Universität München, Munich, Germany
(4)
MRC-Holland, Amsterdam, The Netherlands
(5)
Helmholtz Zentrum München, Institute of Pathology, Neuherberg, Germany
(6)
Department of Pathology, The Netherlands Cancer Institute, Amsterdam, The Netherlands
(7)
Department of Molecular Pathology, The Netherlands Cancer Institute, Amsterdam, The Netherlands
(8)
Present address: Department of Pathology, Case Western Reserve University School of Medicine, University Hospitals Case Medical Center, Cleveland, USA