Research article
Open Access
Open Peer Review
This article has Open Peer Review reports available.
Molecular fingerprinting reflects different histotypes and brain region in low grade gliomas
Received: 4 April 2013
Accepted: 6 August 2013
Published: 15 August 2013
Abstract
Background
Paediatric low-grade gliomas (LGGs) encompass a heterogeneous set of tumours of different histologies, site of lesion, age and gender distribution, growth potential, morphological features, tendency to progression and clinical course. Among LGGs, Pilocytic astrocytomas (PAs) are the most common central nervous system (CNS) tumours in children. They are typically well-circumscribed, classified as grade I by the World Health Organization (WHO), but recurrence or progressive disease occurs in about 10-20% of cases. Despite radiological and neuropathological features deemed as classic are acknowledged, PA may present a bewildering variety of microscopic features. Indeed, tumours containing both neoplastic ganglion and astrocytic cells occur at a lower frequency.
Methods
Gene expression profiling on 40 primary LGGs including PAs and mixed glial-neuronal tumours comprising gangliogliomas (GG) and desmoplastic infantile gangliogliomas (DIG) using Affymetrix array platform was performed. A biologically validated machine learning workflow for the identification of microarray-based gene signatures was devised. The method is based on a sparsity inducing regularization algorithm l 1 l 2 that selects relevant variables and takes into account their correlation. The most significant genetic signatures emerging from gene-chip analysis were confirmed and validated by qPCR.
Results
We identified an expression signature composed by a biologically validated list of 15 genes, able to distinguish infratentorial from supratentorial LGGs. In addition, a specific molecular fingerprinting distinguishes the supratentorial PAs from those originating in the posterior fossa. Lastly, within supratentorial tumours, we also identified a gene expression pattern composed by neurogenesis, cell motility and cell growth genes which dichotomize mixed glial-neuronal tumours versus PAs. Our results reinforce previous observations about aberrant activation of the mitogen-activated protein kinase (MAPK) pathway in LGGs, but still point to an active involvement of TGF-beta signaling pathway in the PA development and pick out some hitherto unreported genes worthy of further investigation for the mixed glial-neuronal tumours.
Conclusions
The identification of a brain region-specific gene signature suggests that LGGs, with similar pathological features but located at different sites, may be distinguishable on the basis of cancer genetics. Molecular fingerprinting seems to be able to better sub-classify such morphologically heterogeneous tumours and it is remarkable that mixed glial-neuronal tumours are strikingly separated from PAs.
Keywords
Gene expression profileMachine learningLow-grade gliomaPAMixed glial-neuronal tumours
Background
Primary intra-axial paediatric low grade tumours include pilocytic astrocytoma (PA), pilomyxoid astrocytoma, diffuse fibrillary astrocytoma (FA), ganglioglioma (GG), desmoplastic infantile ganglioglioma (DIG), desmoplastic infantile astrocytoma (DIA) and dysembryoplastic neuroepithelial tumour [1]. For brevity, they will be thereafter defined LGG.
PA is the most common central nervous system (CNS) tumour, representing approximately 21-23% of all primary brain tumours in children [2]. It is typically a well-circumscribed, contrast-enhancing astrocytic neoplasm with prolonged overall survival and high complete remission rates [3]. PA arises most commonly in the cerebellum, but can be found anywhere, including the cerebral hemispheres, thalamus and hypothalamus, brainstem, optic pathways, and spinal cord [3, 4].
Reflecting the generally slow growth and low proliferative potential of LGGs, complete surgical resection is the preferred therapeutic choice. Unfortunately, gross total resection is not attainable in many of these tumours that are centrally located which, in about 10 to 20% of the cases, despite adjuvant treatment, tend to recur or show progressive growth [5, 6]. Most importantly, rare examples of PA undergo malignant transformation, even if completely resected [7, 8].
Despite radiological and neuropathological features deemed as classic are acknowledged, PA may present a bewildering variety of microscopic features, including a wide range of tissue patterns, most of which may be found within the same lesion. It is worth remembering that both normal and neoplastic astrocytes exhibit molecular and functional heterogeneity [9–13].
The tumours containing both neoplastic ganglion and astrocytic cells are rare, representing less than an hundredth of the tumours of CNS and its coverings. Such tumours, which belong to the neuronal and mixed glial-neuronal tumours of the WHO classification and corresponding to grade I, comprise gangliogliomas (GG), and gangliogliomas with desmoplasia, i.e. desmoplastic infantile gangliogliomas (DIG) both typically arising from the telencephalon [2]. The differential diagnosis may be difficult due to small biopsy size. Moreover, the glial component of a ganglioglioma may be pilocytic looking (this is as much as to say that a pilocytic morphology is considered completely acceptable in a ganglioglioma). Lack of specific immunohistochemical, cytogenetic, or molecular markers increases difficulties in classification.
The expanding utilization of high-throughput technologies to study paediatric brain tumours will likely change how they are both classified and treated henceforward [5, 6]. In this field, the use of microarrays has been expanding exponentially to several areas such as genetic screening, safety assessment and diagnostics [14], but repeatability of published microarray studies is apparently limited [15, 16]. In the neuro-oncological context, a LGG genotype-phenotype correlation still remains an open problem [17, 18]. Gene signatures able to classify LGGs in accordance with clinical and biological features were provided [9, 19–22]. Nevertheless, a complete genetic landscape of paediatric PA is still missing and the specific molecular signatures able to correlate their phenotype (brain sites and heterogeneous histotypes) to their genotype still remain to be studied in depth.
Keeping this in mind, we aimed to identify a molecular fingerprinting able to reflect different histotypes and brain region in LGGs. In particular, the study addressed three different biological questions: (1) characterize supratentorial vs. infratentorial LGGs, (2) identify a specific characterization for the PAs based upon site of lesion, and (3) discriminate, within supratentorial neoplasms, mixed glial-neuronal tumours vs. PAs.
This relatively simple, albeit fraught with meaning, goal gave us the opportunity to develop a robust and validated experimental workflow, paving the way for future studies, whose goal will be the identification of gene fingerprints explicitly correlated to clinical parameters.
Methods
We adopted a biologically validated method to identify reliable and predictive gene expression signatures on tumour data. The pipeline, represented in Figure
1
, is a supervised machine learning workflow consisting in 3 main consecutive phases: case selection and tumour specimen processing, unbiased
l
1
l
2
feature selection framework with functional characterization of the gene signature, and real-time quantitative reverse transcription-PCR (qPCR). Detailed description of the pipeline is reported in Additional file
1
.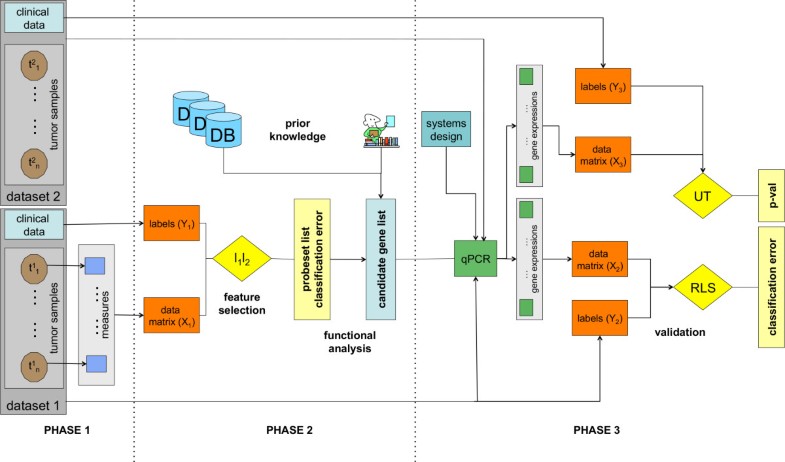 Discussion
A major emphasis has historically been placed on stratifying LGGs diagnosis or therapy on the basis of pathological and molecular genetic criteria. However, the increasing application of molecular approaches is transforming the way to categorize these tumours, since it seems that histologically comparable lesions may exhibit diverse patterns of gene expression and genomic alterations [5–7, 9, 19, 20]. This investigation has focused on the identification of a specific gene signature based on high-throughput techniques that provide a genome-wide snapshot of LGGs with respect to both distinct lesion site in the brain and histotype.
Although an abundance of data is available on gene expression profiles of LGGs, they are often conflicting. Indeed, statistical methods for evaluation and interpretation of microarray data are still evolving. We successfully adopted an analysis workflow (Figure 1) able to overcome a major criticality in high-throughput studies, that is to find robust, reproducible and biologically sound results [16, 46]. Details of the workflow description are reported in Additional file 1.
Brain region-specific gene signature among LGGs
Question (1) was used to assess the procedure and represent the first example of biologically validated l1l2 framework with an independent methodology. Indeed, this query is the one with more samples available as well as the one already investigated in previous works [9, 19]. The provided outcome from l1l2 was a list of 331 probe sets (Additional file 3), corresponding to 206 loci, above 70% of frequency. l1l2 produces a multi-gene model and only a multidimensional representation can correctly visualize its strong discriminative power (Figure 2b). The figure shows that the infratentorial tumours group is spatially separated from the supratentorial counterpart.
Our analysis identified various interesting genes which encode cell adhesion molecules, ECM, extracellular matrix, lipid metabolism, CNS development, cell differentiation, transcription regulation, and invasion-related proteins. Unlike Potter et al. reported [21], our results are in line with previous findings that clearly defined the existence of PA subgroups. Indeed, 14 out of 206 differentially expressed genes (reported in bold in Table 2) were reported by previous studies [9, 19, 20]. Wong and colleagues identified two subgroups of PA reporting a list of significant differentially expressed genes involved in cell adhesion, regulation of cell growth, cell motility, and angiogenesis [19]. Sharma and colleagues reported differential expression of genes playing a role in forebrain development as LHX2 and nuclear receptor subfamily 2, group E, member 1 (NR2E1), and hindbrain development as paired box gene 3 (PAX3) and iroquois homeobox protein 2 (IRX2), able to stratify infratentorial from supratentorial PAs [9]. The comparison with the Sharma's data, the only comparable, inasmuch as homologous for case selection, sample processing and Affymetrix platform, allowed us, even using our own statistical approach, to identify five genes (LHX2, NR2E1, PAX3, IRX2, and zinc finger homeobox 4, (ZFHX4) common to both analyses.
To investigate paediatric LGG development related to site of lesion (infratentorial vs. supratentorial) [47], we next proceeded by selecting those candidate genes that were most represented among all the high-ranked pathways for the validation process by using our in-house designed qPCR systems on 52 samples (34 samples belonged to dataset 1, while 18 samples were from dataset 2). Finally, the list of candidates comprised 19 probe-sets corresponding to 15 loci in total (Table 3). We validated the generalization ability of the 15 gene signature by applying a multivariate statistical model on the qPCR data of dataset 1 (34 samples). Such multivariate model, obtained with a RLS analysis, was used to assign the samples to a group and the classification results were compared to the l1l2 microarray-based model (Figure 3b). The two independent methods have good performances, being able to associate 33 out of 34 samples to the right class. Moreover, 5 out of 15 genes emerged from the univariate Mann–Whitney test on the qPCR data, confirming and enhancing the LGG differences in infratentorial as compared with supratentorial regions, see Table 4 and Figure 3a. As shown in Figure 3a, a group of 4 genes (ARX, GPR17, LHX2 and CXCL14) well stratified LGGs between infratentorial and supratentorial tumours. ARX is a homeobox-containing gene expressed during development. This gene is involved in CNS development and in cell proliferation in forebrain [GO:0021846]. Mutations in this gene cause X-linked mental retardation and epilepsy. To the best of our knowledge, ARX was never associated with LGGs. GPR17 is a G-protein involved in signal transduction [GO:0007165]. LHX2 is downregulated in infratentorial tumours as already reported [9]. CXCL14 is a chemokine associated with tumour development [GO:0006995], and PTDG2S whose functions are associated to lipid metabolism [GO:0006633], might be involved in controlling the proliferation rate of LGGs.
Additionally, the predominant terms related to pathways consisted of MAPK signaling pathway, containing at least 12 genes, followed by chemokine signaling pathway with 8 genes enriched. These findings reinforce the observations of several consecutive articles about aberrant activation of the mitogen-activated protein kinase (MAPK) pathway in LGGs [48]. The identification of a brain region-specific gene signature suggests that LGGs at different sites may be distinct in terms of biological properties and tumorigenesis despite the same histology. KIAA1549:BRAF fusions were analyzed in the LGG cohort and we found the gene fusion slightly more frequent in infratentorial (38.5%) versus supratentorial (25%) tumours, while we didn't note any difference for BRAF V600E mutation. Moreover, we did not identify significantly improved progression-free survival in tumours with gene-fusions or BRAF V600E mutation.
Identification of a subgroup of 19 genes specifically related with PA histotype
Next, to molecularly characterize PA able to distinguish infratentorial versus supratentorial, l1l2 analysis were conducted only on 27 PAs out of 37 LGGs, whose 17 arising in infratentorial and 10 in supratentorial regions, see Table 1. A gene signature of 82 genes (see Additional file 5) well distinguishes PA arising supratentorial versus infratentorial regions (Figures 4a,b). Significant biological processes represented include GO terms of nervous system development, cell morphogenesis, cell differentiation and cell adhesion, MAPKKK cascade, chemotaxis, and regulation of neurogenesis. We found that, together with ARX, forkhead box G1 (FOXG1) was strongly represented in PA. FOXG1 is an oncogenic transformer which could play an important role in controlling both cell proliferation and forebrain cell differentiation in PA [21, 49–51].
Through the comparison of gene lists between LGG and PA, we found 19 genes specifically related with PA histotype as a group (genes in bold in Additional file 5). The functional analysis showed that several genes create a network within the (TGF-β)-signaling pathway. This pathway possess a dual role in oncogenesis. In some tumour types, i.e., in high-grade gliomas, TGF-beta becomes an oncogenic factor, while it is also considered a tumour suppressor factor in normal epithelial cells and astrocytes. Moreover, noncanonical TGF-beta signaling pathways interact, through RSmads molecules, with MAPK signaling pathway [52]. Thanks to this interaction, it is likely to assume an active involvement of TGF-beta signaling pathway in the PA development.
Our analysis shows a strong difference between supratentorial and infratentorial PAs. In fact, cerebellar PAs, corresponding to the classical description of the biphasic tumour with compact areas with piloid cells and Rosenthal fibers and microcistic areas with granular eosinophilic bodies [3], seem to be defined by a specific gene signature versus supratentorial PAs. Therefore, this molecular fingerprint is able to better sub-classify such a morphologically heterogeneous tumours.
Neurogenesis, cell motility and cell growth genes dichotomize mixed glial-neuronal tumours versusPAs
Finally, the analysis on 22 supratentorial LGGs identified a list of 70 genes (see Additional file 6) able to dichotomize mixed glial-neuronal tumours versus PAs (Figure 4c,d). The signature consists of genes encoding adhesion, ECM-receptor interaction, matrix extracellular organization, neurogenesis, immune response, and metabolic proteins. Several genes are components of collagen gene family whose functions are associated with extracellular matrix (ECM) reorganization. Intriguingly, changes in expression of genes controlling neurogenesis (DLX1, DLX2), cell growth such as insulin-like growth factor 2 (IGF2), insulin-like growth factor binding protein 6 (IGFBP6) and latent transforming growth factor beta binding protein (LTBP2), cell motility such as l1 cell adhesion molecule (L1CAM), COL3A1 and integrin, alpha 8 (ITGA8), and interactions with the surrounding environment such as lumican (LUM), COL1A1, COL6A3 and periostin, osteoblast specific factor (POSTN) appear to be linked to the presence of neuronal cell component.
Because of their rare occurrence, little is yet known about the molecular pathology of mixed glial-neuronal neoplasms and the cytogenetic and molecular genetic studies reported are very few [53–55]. Our findings show the complexity and vitality of these tumours, shedding some light on features such their richness in connective tissue and, they point to some interesting candidate genes (i.e., DLX1, DLX2) worth further investigations that could help the pathologists in the differential diagnosis.
From a biological point of view, it is remarkable that the mixed glial-neuronal tumours are strikingly separated from PAs, allowing us to look differently at mixed glial-neuronal tumours in which, generally, the glial component catches the attention of the pathologists and contributes to grading. Our findings, indeed, shed some light on the biological complexity of the mixed glial-neuronal tumours, still poorly known. It remains to be established if mixed glial-neuronal tumours differ from PAs because of their ganglion-like component or because of their glial one or both. What seems indubitable is that the ganglion cell component is not a bystander. Future functional studies are needed to evaluate these targets in paediatric mixed glial-neuronal tumours versus PAs but evidence supports a role for these gene candidates in tumorigenesis.
Conclusion
The identification of a brain region-specific gene signature suggested that LGGs at different sites may be distinct in terms of biological properties and tumorigenesis. The success of our methodology carries implications for improving the diagnosis and possibly prognosis of LGGs. The method efficiently finds and ranks genes that can distinguish one histotype from another. In addition, we performed clustering and classification of GO categories and possibly altered pathways on the basis of gene expression in infratentorial versus supratentorial LGGs, in particular in the PAs, and among supratentorial tumours, in mixed glial-neuronal tumours versus PAs.
The analyses reinforce previous observations about aberrant activation of the mitogen-activated protein kinase (MAPK) pathway in LGGs but, still point to an active involvement of TGF-β signaling pathway in the PA development and, emphasize some interesting candidate genes worth further investigations for the mixed glial-neuronal tumours. Considering the high clinical and biological relevance of the disease, as these tumours are detrimental to children, and since the genetic background of paediatric glial tumours is still unsatisfied, this methodological work could mark the starting line. A genotype-phenotype correlation of LGGs is instrumental to improve classification and differential diagnosis. Impact of molecular classification will likely change how LGGs are both diagnosed and treated henceforward. This paper thus provides a novel global view of the molecular differences between infratentorial and supratentorial LGGs.
Further investigation and validation by experiments should be targeted to the exploration of a deeper genotype-phenotype correlation in those LGG cases who undergo malignant transformation.
Abbreviations
PA:

Pilocytic astrocytoma
WHO:

World Health Organization
LGG:

Low Grade Glioma
DIA:

Desmoplastic infantile astrocytoma
DIG:

Desmoplastic infantile ganglioglioma
GG:

Ganglioglioma
FA:

Diffuse fibrillary astrocytoma
CNS:

Central nervous system
NF1:

Neurofibromatosis type 1
RLS:

Regularized least squares
DAVID:

Database for annotation, visualization and integrated discovery
KEGG:

Kyoto encyclopedia of genes and genomes
GO:

Gene ontology
BP:

Biological process
GenMAPP:

Gene map annotator and pathway profiler
EASE:

Expression analysis systematic explorer
EGAN:

Exploratory gene association network
MAPK:

Mitogen-activated protein kinase
TGF-β:

Transforming growth factor-beta
CAM:

Cell adhesion molecule
ECM:

Extracellular matrix
ARX:

Aristaless related homeobox
CXCL14:

Chemokine (C-X-C motif) ligand 14
GPR17:

G protein-coupled receptor 17
LHX2:

LIM homeobox 2
NR2E1:

Nuclear receptor subfamily 2, group E, member 1
PAX3:

Paired box gene 3
IRX2:

Iroquois homeobox protein 2
PTGD2S:

Prostaglandin D2 synthase
ACTB:

Beta actin
PKM2:

Pyruvate kinase
B2M:

Beta-2-microglobulin
DLX1/2:

Distal-less homeobox 1, 2
HBA1/2:

Hemoglobin alpha 1, 2
CXCL12:

Chemokine (C-X-C motif) ligand 12
CCL5:

Chemokine (C-C motif) ligand 5
COL1A1/2:

Collagen type I, alpha 1, 2
COL3A1:

Collagen type III, alpha1
COL5A1:

Collagen type V, alpha 1
COL6A2/3:

Collagen type VI, alpha 2, 3
FOXG1:

Forkhead box G1
IGF2:

Insulin-like growth factor 2
IGFBP6:

Insulin-like growth factor binding protein 6
LTBP2:

Latent transforming growth factor beta binding protein
L1CAM:

L1 cell adhesion molecule
ITGA8:

Integrin, alpha 8
LUM:

Lumican
POSTN:

Periostin, osteoblast specific factor
TIM4:

TIMP metallopeptidase inhibitor 4
APOD:

Apolipoprotein D
ZFHX4:

Zinc finger homeobox 4
SDC3:

Syndecan 3
NRXN2:

Neurexin 2
SNX22:

Sorting nexin 22
ABBA1:

Metastasis suppressor 1 like
SPOCK1:

Testican 1
FOSB:

FBJ murine osteosarcoma viral oncogene homolog B
KIAA1549:

KIAA1549
BRAF:

v-raf murine sarcoma viral oncogene homolog B1.
Declarations
Acknowledgments
This study was supported by the EU Integrated Project Health-e-Child IST-2004-027749, by the Associazione Italiana per la Ricerca sui Tumori Cerebrali del Bambino (http://www.artuceba.org) and by Compagnia di San Paolo (Modelli e Metodi Computazionali Innovativi per la Biologia Molecolare in Ambito Oncologico). The authors would like to thank all the patients'families. The authors would also like to thank Salvatore Masecchia for his contribution to the experimental part, Lorenzo Rosasco for many useful discussions, Valerie Perricone for the editorial assistance, and Prof. David Ellison for the useful advice. We also thank Camusso Raffaella and Tedeschi Luca (Photographic Service, Giannina Gaslini Children's Research Hospital, Genoa, Italy) for their graphic assistance.
Authors' Affiliations
(1)
Neurosurgery Unit, Istituto Giannina Gaslini, Genoa, Italy
(2)
DISI - Department of Computer Science, Università degli Studi di Genova, Via DodecanesoGenoa, Italy
(3)
Pathology Unit, Istituto Giannina Gaslini, Genoa, Italy
(4)
Molecular Medicine Unit, Istituto Giannina Gaslini, Genoa, Italy
(5)
Neuroradiology Unit, Istituto Giannina Gaslini, Genoa, Italy
(6)
Siemens AG, Corporate Technology, Erlangen, Germany
(7)
SCR - Siemens Corporate Research, Princeton, USA
(8)
Neuro-oncology Unit, Istituto Giannina Gaslini, Genoa, Italy
Copyright
© Mascelli et al.; licensee BioMed Central Ltd. 2013
This article is published under license to BioMed Central Ltd. This is an Open Access article distributed under the terms of the Creative Commons Attribution License (http://creativecommons.org/licenses/by/2.0), which permits unrestricted use, distribution, and reproduction in any medium, provided the original work is properly cited.