Research article

Open Access

Open Peer Review
This article has Open Peer Review reports available.
Dietary leucine supplementation minimises tumour-induced damage in placental tissues of pregnant, tumour-bearing rats
Received: 25 October 2015
Accepted: 29 January 2016
Published: 4 February 2016
Abstract
Background
The occurrence of cancer during pregnancy merges two complex, poorly understood metabolic and hormonal conditions. This association can exacerbate the conditions of both the mother and the foetus. The branched-chain amino acid leucine enhances cellular activity, particularly by increasing protein synthesis. This study aimed to analyse the modulatory effect of a leucine-rich diet on direct and indirect tumour-induced placental damage. This was accomplished by evaluating the expression of genes involved in protein synthesis and degradation and assessing anti-oxidant enzyme activity in placental tissues collected from pregnant, tumour-bearing rats.
Results
Pregnant rats were either implanted with Walker 256 tumour cells or injected with ascitic fluid (to study the indirect effects of tumour growth) and then fed a leucine-rich diet. Animals in a control group underwent the same procedures but were fed a normal diet. On the 20th day of pregnancy, tumour growth was observed. Dams fed a normoprotein diet showed the greatest tumour growth. Injection with ascitic fluid mimicked the effects of tumour growth. Decreased placental protein synthesis and increased protein degradation were observed in both the tumour-bearing and the ascitic fluid-injected groups that were fed a normoprotein diet. These effects resulted in low placental DNA and protein content and high lipid peroxidation (measured by malondialdehyde content). Decreased placental protein synthesis-related gene expression was observed in the tumour group concomitant with increased expression of genes encoding protein degradation-associated proteins and proteolytic subunits.
Conclusions
Consumption of a leucine-rich diet counteracted the effects produced by tumour growth and injection with ascitic fluid. The diet enhanced cell signalling, ameliorated deficiencies in DNA and protein content, and balanced protein synthesis and degradation processes in the placenta. The improvements in cell signalling included changes in the mTOR/eIF pathway. In conclusion, consumption of a leucine-rich diet improved placental metabolism and cell signalling in tumour-bearing rats, and these changes reduced the deleterious effects caused by tumour growth.
Keywords
Cancer
Nutritional supplementation
Leucine
Cell signalling
Protein synthesis
Protein degradation
Background
Cancer is the second leading cause of disease-mediated death. The most common types of cancer in women are breast and cervical cancers [1, 2]. Neoplasias are difficult to control and treat because they are associated with several biochemical and metabolic changes. These changes increase overall metabolic consumption in the host, especially in the skeletal muscle, and decrease lean body mass. This culminates in reduced quality of life and decreased survival in affected patients.
Moreover, the prevalence of cancer during pregnancy is not rare, and the coexistence of these two complex metabolic and hormonal conditions can negatively impact the mother and foetus [3, 4]. To date, few studies have reported on the influence of pregnancy on cancer and vice versa [3, 4]. Recent publications have indicated that pregnancy offers a protective effect against cancer, but other reports suggest that pregnancy can accelerate the growth and development of neoplasias. Furthermore, there are difficulties associated with diagnosing early-stage tumours in pregnant women [5, 6]. Zemlickis and colleagues [7] found that patients diagnosed with breast cancer during pregnancy exhibited more advanced tumours and a higher incidence of metastasis compared to non-pregnant controls. King and colleagues [8] found a greater incidence of advanced stage tumours in patients who were pregnant. Pregnant patients with cancer can exhibit a more advanced evolution of the disease due to delays in diagnosis and because the hormonal and physiological changes that accompany pregnancy can result in a more aggressive disease response.
The endocrine changes associated with cancer evolution during pregnancy have not been well studied because of the many physiological adaptations that concomitantly occur in the maternal organism. These adaptations are primarily driven by the maternal/foetal unit known as the placenta [9, 10]. Thus, additional studies examining how neoplastic progression is affected by the complex alteration of hormonal homeostasis imposed by pregnancy are needed. The aim of the current study was to evaluate how tumour development affects cellular activity in the placenta and how these changes interfere with placental protein metabolism. Previous studies have also shown that humoural factors produced by tumours and/or host cells can indirectly interfere with placental and foetal integrity. The consumption of a leucine-rich diet can enhance cellular activity; as such, this study also aimed to analyse the modulatory effect of nutritional supplementation of leucine on tumour-induced placental damage. This was accomplished by evaluating the expression of genes involved in protein synthesis and degradation and by assessing anti-oxidant enzyme activity in placental tissues collected from pregnant tumour-bearing rats.
Results
Tumour growth deleteriously affects dam body weight and foetal parameters
Tumour growth produced harmful effects on body weight evolution in the W group: a significant variation of 31 % was observed (
P
 < 0.0045). However, injections with ascitic fluid had no effect on body weight. Additionally, regardless of tumour presence, the leucine-treated group (WL) exhibited better body weight recovery compared to the C and L groups (Fig.
1a
). In this case, the interaction between tumour, ascitic fluid and diet accounted for 20 % of the total variance and was highly significant (
P
 < 0.0234). As in our previous experiments, a significant tumour effect leading to a reduction in the number of foetuses was observed (Fig.
1b
,
P
 = 0.0043). Additionally, tumour-bearing, pregnant animals exhibited increased foetal resorption and reduced foetal weight (Table
2
; 38 % of total variance;
P
 < 0.0047). Similarly, injections with ascitic fluid resulted in decreased foetal number and weight and increased foetal resorption (Fig.
1b
and Table
2
; the ascitic effect accounted for 36 % of the total variance,
P
 < 0.0001). Tumour-bearing rats fed a leucine-rich diet (WL) exhibited a non-significantly decreased number of foetuses and increased foetus resorption relative to the control group (C); however, average foetal weight was significantly reduced compared to the C and L groups. Consumption of a leucine-rich diet minimised the effects caused by ascitic fluid injection: foetal resorption rate were maintained. The interaction between ascitic fluid and diet accounted for 20 % of the variation, which was significant (
P
 < 0.0321); however, the diet could not correct for low foetal weight. The relationship between foetal weight and placental weight is indicative of the efficiency of placental transport (Fig.
1c
and
d
). Foetal weight and placental weight were positively correlated in all groups except the tumour-bearing group (W). This correlation indicates that foetal and placental weights were not altered in parallel. As shown in the graph in Fig.
1c
, variations in placenta weight resulted in low foetal weight; the linear regression analysis showed the difference between slopes was extremely significant (
F
 = 39.7,
P
 < 0.0001). In contrast, in the LW group, there was a positive correlation between placental and foetal weight. This relationship indicated that placental weight influenced foetal weight in this group (Fig.
1d
; identical slopes,
F
 = 0.19,
P
 = 0.819).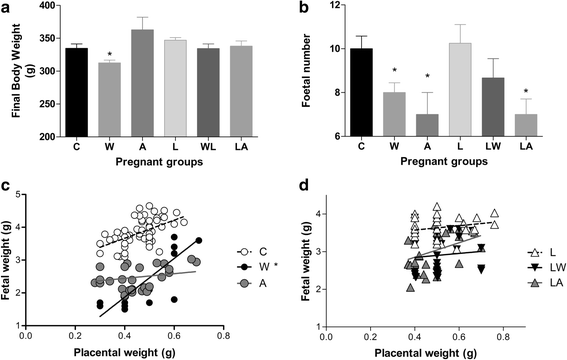 Table 2
Foetal and placental parameters in Walker tumour-bearing rats and ascitic fluid-injected rats fed either a control or leucine-rich diet
| | C | W | A | L | LW | LA | Interaction effectb | Tumour effectb | Diet effectb |
| --- | --- | --- | --- | --- | --- | --- | --- | --- | --- |
| Foetal resorption per dam | 0.900±0.314 | 3.300±0.538* | 2.500±0.562* | 0.889±0.309 | 1.600±0.499 | 1.700±0.473 | P = 0.0321 | P = 0.0043 | n.s. |
| Foetal weight (g) | 3.92 ± 0.07 | 2.73 ± 0.20* | 2.61 ± 0.05* | 3.65 ± 0.06 | 2.85 ± 0.08* | 2.96 ± 0.09* | n.s. | P < 0.0001 | n.s. |
| Placenta weight (g) | 0.48 ± 0.01 | 0.53 ± 0.02 | 0.42 ± 0.02 | 0.52 ± 0.03 | 0.52 ± 0.01 | 0.50 ± 0.02 | n.s. | n.s. | n.s. |
| Placental protein content (μg/mg) | 7.38 ± 0.48 | 3.81 ± 0.29* | 4.70 ± 0.34* | 7.14 ± 0.28 | 6.87 ± 0.56 | 6.37 ± 0.67 | P = 0.0043 | P = 0.0002 | n.s. |
| Placental DNA (μg/mg) | 0.46 ± 0.02 | 0.38 ± 0.02* | 0.38 ± 0.02* | 0.46 ± 0.03 | 0.49 ± 0.02 | 0.43 ± 0.04 | n.s. | P = 0.0052 | n.s. |
| Placental protein/DNA ratioa | 16.8 ± 1.2 | 11.5 ± 0.9* | 14.2 ± 1.5 | 17.3 ± 1.1 | 15.4 ± 1.5 | 17.3 ± 2.5 | P = 0.0212 | P = 0.0311 | n.s. |
Placental tissue damage caused by tumour growth
Discussion
Tumour development, especially development of Walker 256 tumours, which serve as an experimental model of cachexia [21, 22], promotes the breakdown of structural tissue, including skeletal muscle mass [23], and increases the production of protein waste in the host. Tumour growth also affects other tissues and metabolic processes [24, 25]. In our previous experimental studies [20, 26–28] and in the present study, we found that tumour growth causes severe damage during the course of pregnancy. This damage is particularly harmful to placental tissue and results in significant foetal weight loss and increased foetal resorption [17, 20, 28]. Our previous results indicated that supplementation with a leucine-rich diet could prevent some of the effects induced by tumour evolution. Consumption of a leucine-rich diet also minimised the indirect effects produced by injections with ascitic fluid. Animals consuming this diet exhibited improvements in placental tissue health, leading to increased foetal numbers and enhanced expression of genes involved in placental cell signalling.
Foetal growth is primarily determined by nutrient availability, which is related to the capacity of the placenta to transport nutrients [29, 30]. Foetal macronutrient requirements for oxidative metabolism and growth are met by placental transport, a process that is greatly influenced by the maternal bloodstream and by placental metabolism. The foetal nutrient supply is also considerably affected by the conversion of glucose to lactate (or fructose in some species) in the placenta and by the extensive transamination of amino acids. Placental capacity for nutrient transport increases with foetal demand. As such, maternal-foetal transport kinetics are tightly associated with the expression and distribution of specific transporters among placental cell types and with placental antioxidant response capacity against damage [17] or reduced nutritional supply [29]. Abnormal placental functioning affects foetal growth, especially during late gestation [29–34]. Here, in pregnant, tumour-bearing rats, the consequences of tumour evolution were demonstrated. These included decreased body weight and deleterious effects on foetal growth. These changes suggest that the nutritional supply to the placenta and foetus was diverted to benefit tumour growth. Indirect tumour effects were assessed using an ascitic fluid injection model. This enabled the exclusion of nutritional factors from the observed placental and foetal damage and reinforced that substances produced by tumour and/or host cells can jeopardise the placenta and foetal development.
Several reports have suggested that placental oxidative stress is involved in the etiopathogenesis of pregnancy-related diseases, such as preeclampsia, as well as in foetal growth restriction [17, 29, 35–37]. Reduced perfusion as a result of abnormal placentation leads to ischemic injury and to increased oxidative stress in preeclampsia [35, 36]. The activity of GST, an important detoxification enzyme related to reactive oxygen species processing, can greatly contribute to both foetal and placental antioxidative responses. Consistent with this fact, the activity of this enzyme increased in the groups inoculated with ascites fluid and in the groups supplemented with a leucine-rich diet (L, WL and LA). This result suggests that placental tissue and foetal development were improved. In a previous study, MDA and xanthine oxidase (XO) levels were higher in maternal plasma, umbilical cord plasma, and placental tissues of patients with intrauterine growth restriction (IUGR) than in a control group [17, 35, 36]. Conversely, patients with IUGR exhibited lower antioxidant levels in maternal plasma, umbilical cord plasma, and placental tissues [36]. This reduction suggests that oxidative stress increases in patients with IUGR [35, 38]. As cancer also increases oxidative stress in host tissues [17, 23], in the current study, we inferred that oxidative stress-related damage in placental tissue resulted from tumour growth effects. The observed increases in foetal resorption and reductions in foetal weight likely resulted from decreased placental antioxidative responses. In the W group, increased lipid peroxidation was also observed. Additionally, AP activity, which is generally related to cellular activity and cellular transport, was significantly reduced in the W group. This reduction suggests that tumour growth has deleterious effects on pregnancy. Conversely, placental dysfunction associated with increased lipid peroxidation (MDA) was significantly reduced in the groups fed a leucine-rich diet (L, LW and LA). This reduction was likely associated with the observed positive responses and improvements in foetal and placenta parameters in these groups [17, 20, 28].
Placental function is regulated by numerous factors of foetal, maternal, and placental origin [34, 39–43]. These factors may impact the placenta itself in an autocrine/paracrine manner by integrating numerous and sometimes divergent intracellular regulatory signalling pathways [34, 41–43]. Moreover, changes in placental nutrient transport capacity or supply and/or placental cell activities may not be the primary factors responsible for altered foetal growth, as we verified here in the W group. Other factors could be involved in this harmful process, as evidenced by the similar alterations observed in the A group and the W group. Thus, the most important factor influenced by tumour evolution may be the regulation of placental transport function by maternal and foetal signalling molecules and placental cell signalling. It is important to note that the placenta produces many cytokines and hormones that can act in a paracrine or autocrine manner. These compounds can be affected by humoural factors in ascitic fluid and likely jeopardise placental activity, inducing foetal damage. However, in the A group, several tumour effects were either minimised or abolished, suggesting that placental cell activity can be specifically regulated and that regulatory factors may have opposing effects on different placental process, such as placental transport and nutrient provision to the foetus. Thus, the integration of multiple stimuli is critical for adjusting placental function to accommodate maternal and foetal welfare.
Placental trophoblast cells must integrate numerous and possibly divergent maternal and foetal stimuli and modify cellular functioning according to the host-environment interaction, as we have previously reported [17, 28]. Previous studies have demonstrated that placental signalling requires the integration of multiple pathways, including the regulation of nutrient transport and the regulation of the mTOR signalling pathway, which is the main pathway regulating placental amino acid transport [39–43]. Additionally, alterations in the activity and/or expression of placental mTOR and PPARγ have been observed in human pregnancies complicated by altered foetal growth [31, 42]. It is likely that the reduced foetal growth and increased foetal resorption observed in tumour-bearing rats had multifactorial causes and were potentially associated with decreases in the activities of cell signalling proteins. The above changes are likely affected by placental protein synthesis and degradation, two processes that can be differentially affected by tumour factors (such as proteolysis-inducing factor (PIF) or Walker factor (WF)) to cause foetal impairment in different manners [31, 34]. The mTOR/eIF2 signalling pathway controls protein synthesis in response to nutrient availability. Moreover, mTOR is a positive regulator of placental nutrient transport and is involved in the regulation of foetal growth. These functions are consistent with the results reported here: the levels of mTOR, p70S6K1 and other related proteins decreased in the W group, suggesting failure in placental delivery of nutrition. Conversely, other regulatory processes related may have been responsible for the foetal impairment observed in group A independent of nutrient supply.
The inoculation of ascitic fluid and the effects of humoural factors mimicked the results of PIF and WF in tumour-bearing rats [44]. We previously reported that WF significantly alters protein metabolism and induces foetal damage [2, 11, 44]. It is reasonable to infer that the more severe effects of tumour growth, whether direct or indirect, result from the activation of the proteolytic pathway in placental tissue (increased MuRF-1 and ubiquitin gene and protein expression), especially in the W group and, to a lesser extent, in the A group. This process is responsible for placental failure and consequent foetal damage.
Our study highlights the important role of a leucine-rich diet in modulating placental cell activity and maintaining antioxidative response during tumour growth. As many other studies have proposed, leucine, one of the three branched-chain amino acids, can act as a cellular signal to increase protein synthesis downstream of mTOR, p70S6K1 and eIF4G in skeletal muscle [45–47]. In a previous report, we also demonstrated that consumption of a leucine-rich diet enhances protein synthesis in muscle. Moreover, leucine can improve cellular responses to antioxidative stress and reduce proteolysis by inhibiting the ubiquitin-proteasome pathway [27, 48–51]. Despite foetal weight loss, the tumour-bearing group that received leucine nutritional supplementation exhibited improvements in foetal number and resorption as well as in placental tissue, the most crucial factor in maintaining a normal pregnancy course.
As in previous studies in our laboratory, we found that tumour growth promotes intense mobilisation of muscle proteins associated with diminished protein synthesis [25–27]. Tumour-induced placenta damage was related to changes in key protein-synthesis proteins and increased proteolysis. Similar to other studies, nutritional leucine supplementation did not prevent all harmful effects on foetal development, but it did minimise some of the harmful effects on placental cell activity, enhance protein synthesis and reduce placental proteolysis caused by the direct and indirect effects of tumour growth. However, consistent with increased foetal numbers and reduced foetal absorption rates, alterations in protein synthesis and degradation were observed, as reflected by placental protein balance. This demonstrates that tumour growth (both directly, as in groups W and WL, and indirectly, as in groups A and LA) promotes important changes in the maternal-foetal unit, and these changes can be ameliorated with nutritional leucine supplementation.
Conclusions
In the current study, we demonstrated that dietary leucine supplementation enhances placental cell signalling, ameliorates deleterious alterations in DNA and protein content, and increases placental cell number. Leucine supplementation also improved the balance between protein synthesis and degradation in the placenta. This was reflected in enhanced cell signalling, including signalling via the mTOR/eIF pathway. Additional experiments are being conducted to better understand the effects produced by ascitic fluid injection and to determine the mechanisms by which leucine improves placental metabolism and counteracts the effects of tumour growth.
Declarations
Acknowledgments
Financial support was provided by FAPESP (#2010/00209-9; #2011/08276-0; #2013/16115-1) and CNPq (#302863/2013-3). The authors thank Dr. Maria Alice Rostom de Mello for reviewing the text and offering suggestions and Dr. Juvenal Marcondes Neto for statistical support. Carbohydrate and dextrin were generously donated by Ingredion Products (Sao Paulo, Brazil), and L-leucine and L-cysteine were kindly donated by Ajinomoto Brazil (Sao Paulo, Brazil). The manuscript was edited for English language usage by the editorial service American Journal Experts (Certificate Verification Key: BB51-E0EC-F7B9-C3FC-CE26).
Open AccessThis article is distributed under the terms of the Creative Commons Attribution 4.0 International License (http://creativecommons.org/licenses/by/4.0/), which permits unrestricted use, distribution, and reproduction in any medium, provided you give appropriate credit to the original author(s) and the source, provide a link to the Creative Commons license, and indicate if changes were made. The Creative Commons Public Domain Dedication waiver (http://creativecommons.org/publicdomain/zero/1.0/) applies to the data made available in this article, unless otherwise stated.
Authors' Affiliations
(1)
Department of Structural and Functional Biology, Biology Institute, State University of Campinas, Campinas, Brazil