Research article

Open Access

Open Peer Review
This article has Open Peer Review reports available.
Aspirin inhibits epithelial-to-mesenchymal transition and migration of oncogenic K-ras-expressing non-small cell lung carcinoma cells by down-regulating E-cadherin repressor Slug
Received: 7 May 2015
Accepted: 19 January 2016
Published: 26 January 2016
Abstract
Background
Cancer metastasis is one of the most common causes of treatment failure and death in cancer patients. It has been acknowledged that aberrant activation of epithelial-to-mesenchymal transition (EMT) program, endows cancer cells with metastatic competence for which E-cadherin switch is a well-established hallmark. Suppression of E-cadherin by its transcriptional repressor Slug is thus a determining factor for EMT. Here, we aimed at discerning (i) the molecular mechanisms that regulate Slug/E-cadherin axis in oncogenic K-ras-expressing non-small cell lung carcinoma (NSCLC) cells, and (ii) the effect of aspirin in modulating the same.
Methods
The migratory behaviour of NSCLC cell line A549 were deciphered by wound healing assay. Further assessment of the molecular mechanisms was done by western blotting, RT-PCR, confocal microscopy, chromatin immunoprecipitation and small interfering RNA (siRNA)-mediated gene silencing.
Results
Here we report that in oncogenic K-ras-expressing A549 cells, Ras/ERK downstream Elk-1 forms p-Elk-1-p300 complex that being directly recruited to SLUG promoter acetylates the same to ensure p65NFκB binding for transcriptional up-regulation of Slug, a transcriptional repressor of E-cadherin. Aspirin inhibits EMT and decelerates the migratory potential of A549 cells by down-regulating Slug and thereby up-regulating E-cadherin. Aspirin impedes activation and nuclear translocation of p65NFκB, essential for this transcription factor being available for SLUG promoter binding. As a consequence, Slug transcription is down-regulated relieving A549 cells from Slug-mediated repression of E-cadherin transcription, thereby diminishing the metastatic potential of these oncogenic Ras-expressing NSCLC cells.
Conclusions
Cumulatively, these results signify a crucial role of the anti-inflammatory agent aspirin as a novel negative regulator of epithelial-to-mesenchymal transition thereby suggesting its candidature as a promising tool for deterring metastasis of highly invasive K-ras-expressing NSCLC cells.
Keywords
Aspirin
E-cadherin
Migration
NSCLCs
Oncogenic K-ras
p65NFκB
Background
The major cause of severity and incurability of NSCLCs is due to establishment of cancer cells as metastatic entity. The initiation of tumor metastasis involves increased migratory and invasive capabilities. During tumor progression, tumor cells acquire molecular expression of mesenchymal markers and loss the expression of epithelial markers to result in epithelial to mesenchymal transition (EMT) and subsequent tumor metastasis [1]1. EMT is a precisely regulated process through which epithelial cells lose polarity and cell to cell junction and gain a fibroblast-like morphology [2]2. An important hallmark of EMT, during which the cell skeleton undergoes rearrangement, is the loss of expression of the cell to cell adhesion molecule, E-cadherin which is one of the most important indicators of epithelial phenotype [3]3. E-cadherin is thus a suppressor of invasion and metastasis and its down-regulation provokes the development of malignant epithelial cancers [4–6]4,5,6. Several developmentally important genes that induce EMT have been shown to act as E-cadherin repressors [7]7. Suppression of E-cadherin expression by its transcriptional suppressor—Slug plays a crucial role in epithelial to mesenchymal transition. Slug, a member of the Snail family of transcriptional repressors, is capable of repressing E-cadherin expression in epithelial cells via the E-box elements in the proximal E-cadherin promoter [7]8 and thereby triggering EMT [7–9]9,10,11, suggesting that it may act to promote invasion. Slug expression has been shown to have a strong correlation with loss of E-cadherin in cancer cells [7]12, suggesting Slug to be a likely in vivo repressor of E-cadherin expression in metastatic cancers.
It is well known that, human cancers with oncogenic mutation in Ras allele are highly aggressive and are associated with poor prognosis. K-ras mutational status has been found to be closely associated with both primary tumors and metastases for more than 90 % of the patients with lung cancer [10, 11]13,14. Most K-ras mutations in NSCLCs have been found at codon 12 resulting in constitutive activation of Ras proteins that regulates cell junctions in lung epithelial cells through Cox-2 induction and indulges the process of tumor metastasis [12–14]15,16,17. There are several reports signifying NFκB as an important downstream target of Ras-activated signal transduction pathways [15]18. Interestingly, correlation between increased activity of NFκB and expression of K-ras has been revealed in recent years [16, 17]19,20. In fact the activity of transcriptional activation domain of NFκB, i.e., RelA/p65 subunit, was found to be increased significantly in Ras-transformed cells [18]21. In an oncogenic K-ras-induced lung cancer mouse model, genetic alteration of p65 has been found to reduce tumorigenesis [19]22. Arsura et al. has reported aberrant activation of classical NFκB in Ras-transformed rat liver epithelial cells due to increased phosphorylation and degradation of IκBα protein [20]23. Many reports also indicate the involvement of RelA/p65 in metastatic potential of tumors [21–23]24,25,26. According to Huber et al., while NFκB plays a crucial role in the induction of EMT in Ras-transformed mammary epithelial cells, blocking NFκB activity suppresses EMT phenotype [24]27. However, the exact molecular mechanism underlying the contribution of p65NFκB in oncogenic K-ras-expressing NSCLC cells invasive responses like EMT and metastasis, for which E-cadherin is a key inhibitory factor, is yet to be delineated.
Accumulating clinical and epidemiological evidences also provides a quite clear and strong link between inflammation and cancer progression. The non-steroidal anti-inflammatory drug aspirin is recently being reported to reduce risk of cancer initiation and progression and suggested to be used to target several tumor properties, including tumor cell migration [25]28. Regular use of aspirin has also been observed to decrease the risk of non-small cell lung carcinoma [26–28]29,30,31, thereby suggesting that NSCLCs could be targeted by using aspirin. However, there is no detailed study on the anti-migratory role of aspirin in EMT and NSCLC cells' migration.
In a recent study, using paired colon cancer cell lines that differ in the expression of mutant K-ras, Wang et al. [29]32 identified that Slug is selectively required for the survival of cancer cells with mutant K-ras. They further showed that Slug is regulated by the Ras pathway and is very important for activated Ras induced EMT. This and other findings support Slug as a target for treatment of a broad spectrum of human cancers that have undergone EMT, associated at least in part with mutational activation of Ras [30]33.
This study elaborates that Ras-down-stream Elk-1-p300 complex acetylates and unwinds SLUG promoter to make it accessible for p65NFκB binding which is a pre-requisite for Slug transcription that subsequently leads to E-cadherin down-regulation. Further exploration focuses on the role of anti-inflammatory agent aspirin in up-regulating E-cadherin to inhibit EMT in oncogenic K-ras-expressing NSCLC cells, A549. In gist, aspirin represses the expression of Slug, a known negative regulator of E-cadherin, by blocking the activation of p65 subunit of NFκB and its translocation to nucleus. As a result, E-cadherin gets up-regulated which in turn decelerates the metastatic potential of these highly metastatic NSCLC cells. We therefore, project FDA-approved anti-inflammatory drug aspirin as a novel negative regulator of epithelial-to-mesenchymal transition, thereby signifying its candidature for deterring cancer metastasis.
Discussion
The disappearance of epithelial phenotype and acquisition of mesenchymal phenotype constitute the basic molecular and morphological manifestations of EMT. This process increases cell mobility and constitutes a critical step in cell migration, which is associated with various biological processes, including cancer invasion and metastasis. Thus, the maintenance of epithelial phenotype and suppression of EMT have been increasingly recognized to be important for preventing cancer progression. During the execution of the EMT program many genes involved in cell adhesion, migration and invasion are transcriptionally altered, E-cadherin being one of the most important [51]55. Since E-cadherin functions as a key gatekeeper of the epithelial state, the partial loss of E-cadherin has been associated with carcinoma progression and poor prognosis in various human and mouse tumors [52]56. Evaluation of the molecular mechanisms involved in regulation of E-cadherin expression, therefore, might be a critical step in controlling EMT. Our present study has been mainly focused on the regulation of EMT by altering E-cadherin expression by the NSAID aspirin in oncogenic Ras-expressing NSCLC cells. Aspirin enhanced E-cadherin expression, which was conjointly associated with a loss in the migratory potential of these cells, via down-regulation of E-cadherin repressor Slug by inhibition of p65NFκB activation and its translocation to nucleus for SLUG promoter binding.
Our effort to explore the effects of oncogenic K-ras in aggravation of migration of NSCLC cells revealed that oncogenic K-ras-bearing NSCLCs induce migration via Slug/E-cadherin axis. In line with these findings there are reports describing that expression of oncogenic K-ras induces EMT and confers a metastatic phenotype on carcinomas by repressing the E-cadherin gene at the transcriptional level [53]57. Consistently, Shin et al. has demonstrated the implication of Ras-ERK signaling in Ras-induced transformation of epithelial cells into mesenchymal cells [54]58. Our results also showed that Ras/Raf downstream effector molecule Elk-1 plays a crucial role in NSCLC cells migration. In depth analysis denoted that Elk-1 gets activated by Ras/Raf/ERK pathway and forms a complex with p300 to acetylate SLUG promoter, thereby accelerating transcriptional activation of Slug. Supporting our observation, report of Li et al. evidenced that Elk-1 forms pre-assembled Elk-1-p300 complex which become active following phosphorylation of Elk-1 to ultimately lead to target gene transcription [55]59. That Elk-1 can interact with p300 both in vitro and in vivo through the C-terminus of Elk-1 and the N-terminus of p300 has already been documented [55]60. Such changes in interaction render a strong histone acetyltransferase activity in the Elk-1-associated complex that could play a critical role in chromatin remodelling and gene activation [55]61.
In previous studies, it has been revealed that in oncogenic K-ras-induced lung cancer mouse model, genetic alteration of p65 subunit of NFκB reduces tumorigenesis (19)62 thereby substantiating the contribution of p65NFκB in activated Ras-induced tumor formation. Indeed, genetic alteration of p65 leads to the tumor regression in K-ras-driven mouse tumor models [19]63. In contrast, activity of transcriptional active domain, i.e., p65NFκB, was found to be increased strikingly in Ras/Raf-transformed cells [20]64. However, such mutual interaction between the two oncogenic pathways in promoting cancer cell migration is yet to be revealed. Given that oncogenic K-ras mutations co-exist with p65NFκB over expression in A549 cells [38]65, we postulated that K-ras/NFκB axis might be an important target to curb migration in these NSCLC cells. Our findings that p65NFκB plays a pivotal role as a transcription factor to up-regulate Slug transcription for migration of oncogenic K-ras-expressing A549 cells indicated the possibility of EMT being regulated by the conjoint effort of both K-ras and p65NFκB pathways in these cells. While K-ras pathway brings about the acetylation of the SLUG promoter, commencement of Slug transcription occurs only through the binding of the transcription factor p65NFκB. Reports are there in support of Slug activation by NFκB to confer resistance to TNF-α-induced apoptosis in A549 cells [56]66. Further support comes from the role played by IKKα, inhibitor of NFκB that controls canonical TGFβ–SMAD signaling to regulate genes expressing Snail and Slug during EMT in pancreatic cancer cell line [57]67. Several other findings together with these suggest Slug as a molecular platform or a target for treatment of a range of metastatic cancers associated with mutational Ras.
The present study further signifies the effect of FDA-approved non-steroidal anti-inflammatory drug aspirin on highly invasive and migratory NSCLC cell line A549. Aspirin, i.e., acetyl salicylic acid, is known for decades to inhibit transcription of several genes including adhesion molecules and nitric oxides, which are known to regulate inflammatory pathways [58]68. One of such well studied targets of aspirin is p65NFκB [50]69, activation of which is associated with tumor progression and metastasis of several human tumor types [59]70. Yet, the effect of aspirin on the activation of p65NFκB differs according to cell type. Present study discusses the anti-migratory effect of this anti-inflammatory drug on lung epithelial cell A549. We observed that aspirin inhibits A549 cell migration by suppressing p65NFκB activation and translocation to the nucleus for binding to SLUG promoter, thereby resulting in the transcriptional down-regulation of Slug in these NSCLC cells. Our observation that aspirin restrains constitutively active NFκB in lung cancer cells concurs with recent studies demonstrating that aspirin can also inhibit inducible p65NFκB in cervical cancer and hepatoma cells [60]71.
Collectively, this study provides a complex molecular framework involving p65NFκB during MEK/ERK-mediated EMT. In that molecular network, p-Elk-1-p300 complex induces histone acetylation and unwinding of
SLUG
promoter to make access for NFκB on the same. Binding of p65NFκB on
SLUG
promoter, in turn, ensures Slug transcriptional up- regulation and subsequent Slug-dependent E-cadherin repression. In contrast, aspirin impedes nuclear translocation of p65NFκB thereby repressing Slug and consequently restoring E-cadherin levels. Therefore, by modulating the pro-migratory molecular architecture, aspirin nullifies the effect of oncogenic Ras-induced migration of NSCLCs. Altogether this study highlights the complexity of gene-regulation and demonstrates how aspirin abrogates effectors of EMT such as K-ras, which, via epigenetic alterations through a well-known MEK/ERK pathway, adds to p65NFκB functions to cause tumor metastasis (Fig.
6
). Such activities of aspirin strongly support its candidature as a potential anti-migratory agent, suggesting the possibility of development of a treatment regimen in future for highly metastatic non-small cell lung carcinoma.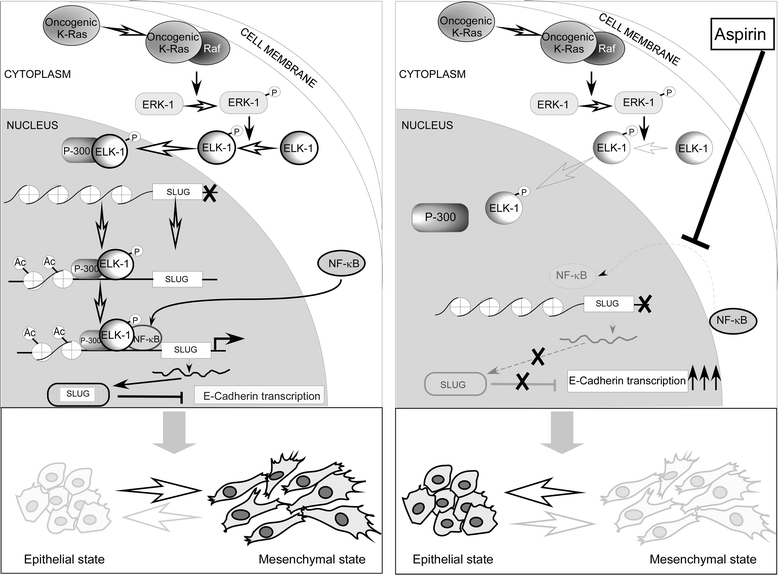 Conclusion
This preclinical study suggests aspirin as a potent anti-migratory agent to improve the therapeutic index of highly metastatic NSCLCs in which EMT, a pre-requisite for cancer cell migration, being programmed by the conjoint effort of both K-ras and NFκB pathways. Aspirin inhibited EMT and delayed migration of oncogenic K-ras-expressing NSCLC cells through inhibition of p65NFκB nuclear translocation that resulted in down-regulation of Slug, a transcriptional repressor of E-cadherin. Knowledge gathered from this study may open a new avenue in future for developing more effective treatment strategy for controlling highly invasive NSCLCs with oncogenic K-ras.
Methods
Cell culture and treatments
The non small cell lung cancer cell line A549 (K-ras v-12 mutated) H1299 and NCI-H522 were obtained from National Centre for Cell Science, Pune, India. The cells were routinely maintained in complete Dulbecco's modified Eagle's medium at 37 °C in a humidified incubator containing 5 % CO2 [61]72. Cells were allowed to reach confluency before use. Viable cell numbers were determined by Trypan blue exclusion test. Since this study involved only human cell lines and no human or animal participants or tissues, ethical clearance was not required.
Treatment of cells
Exponentially growing human non-small cell lung carcinoma cell line-A549 were seeded at a density of 2.5x106 cells/100 mm culture dishes (Becton Dickinson, Franklin Lakes, NJ) 24 h before aspirin treatment. Cells were treated with different concentrations of aspirin (Acetyl Salicylic Acid from MP Biomedicals) for different time points to select the optimum dose and time required to reduce cancer cell migration. 1 M stock solution of aspirin was prepared in DMSO and stored at −20 °C. Now, to reach final concentrations of 0.5, 2.5 or 5 mM of aspirin, 0.5 μL, 2.5 μL or 5 μL of stock solution was added, respectively, in 1 ml cell culture media. An equivalent amount of carrier (DMSO) was added to untreated cells as control to ensure that the observed effect was related to aspirin and not due to the solvent.
Wound healing assay
Cell migration was determined by means of bidirectional wound healing assay as described [62]73. Briefly, cells were grown to confluency in 12 well plates after which a sterile blade was used to scratch the monolayer of cells to form a bidirectional wound. Migration was quantitated by a semi-automated, computer-assisted procedure by a person blinded with respect to the experimental treatment. The data from triplicate wells were calculated as the mean ± S.E.M., the migration rate of control cells was taken as 100 % and healing rate of other plates were compared with control cells.
Immunofluorescence
For immunofluorescence, cells were grown on sterile glass coverslips at 37 °C for 24 h. Cells after treatment were washed briefly with PBS and fixed with 4 % formaldehyde for 20 min at 37 °C. Thereafter, cells were blocked for 2 h in a blocking buffer (10 % BSA in PBS) and then additionally incubated for another hour in PBS with 1.5 % BSA containing anti- E-cadherin antibody (Santa Cruz, CA, USA). After washing in PBS, cells were incubated with PE conjugated secondary antibody in PBS with 1.5 % BSA for 45 min at 37 °C in the dark. DAPI was used for nuclear staining. Coverslips were washed with PBS and mounted on microscopy glass slides with 90 % glycerol in PBS. Images were acquired using a confocal microscope (Carl Zeiss, Jena, Germany) [63]74.
Immunoblotting and co-immunoprecipitation
To obtain whole cell lysates, cells were homogenized in lysis buffer (20 mM Hepes, pH 7.5, 10 mM KCl, 1.5 mM MgCl2, 1 mM Na-EDTA, 1 mM Na-EGTA and 1 mM DTT) supplemented with protease and phosphatase inhibitor cocktails [64, 65]75,76. For direct western blot analysis, a total of 50 μg of protein was resolved using SDS-PAGE and transferred to nitrocellulose membrane and probed with specific antibodies, for example, anti-NFκB/-IκB/-slug/-E-cadherin/-MEK/-ERK/-Elk-1/-p-Elk-1/-p53(DO-1)/-p53(FL-393) antibodies (Santa Cruz, CA, USA), thereafter the immunoblots were visualized by chemiluminescence (GE Biosciences, NJ, USA). To study the interaction between Elk1 and p300, p300 immunocomplex from whole cell lysate was purified using p300 antibody and protein A-Sepharose beads (Invitrogen, MD). The immunopurified protein was immunoblotted with Elk-1 antibody. The protein of interest was visualized by chemiluminescence. Equal protein loading was confirmed with anti-α-actin and histone H1 antibodies (Santa Cruz, CA, USA) [66]77.
RT–PCR assay
Two microgram of the total RNA, extracted from cells with TRIzol Q16 reagent (Invitrogen, Carlsbad) was reverse transcribed and then subjected to PCR with enzymes and reagents of the RTplusPCR system (Eppendorf, Hamburg, Germany) using GeneAmpPCR 2720 (Applied Biosystems, CA, USA). The cDNAs were amplified with primers specific for E-cadherin (5′-GTCATCCAACGGGAATGCA-3′/5′-TGATCGGTTACCGTGATCAAAA-3′), Slug (5′-CTCACCTCGGGAGCATACAG-3′/5′-GACTTACACGCCCCAAGGATG-3′), GAPDH (internal control): (5′-CAGAACATCATCCTGCCTCT-3′/5′-GCTTGACAAAGTG GTCGTTGAG-3′) [67, 68]78,79.
Plasmids, siRNA and transfections
The expression constructs p53-cDNA, p53-R175H cDNA (kind gift from Moshe Oren, Weizmann Institute of Science), N17-NRas, IκB-SR and control pcDNA3.0 vectors (2 μg/million cells) were introduced into exponentially growing cells using lipofectamine-2000 (Invitrogen, Carlsbad) according to the protocol provided by the manufacturer. Stably expressing clones were isolated by limiting dilution and selection with G418 sulfate (1 mg/ml; Cellgro) and G418 resistant cells were cloned and screened by immunoflourescence or western blotting with specific antibodies. For endogenous silencing of specific genes, cells were transfected with 300 pmol of E-cadherin-/Slug-/MEK-/ERK-/control-siRNA using lipofectamine-2000 separately for 12 h. The mRNA and protein levels were determined by RT-PCR and western blotting, respectively [69]80.
Chromatin immunoprecipitation (ChIP)
ChIP assays were performed using a ChIP assay kit (Millipore, Darmstadt, Germany) according to the manufacturer's instructions. PCR assay for identification of p-Elk-1 and NFκB binding regions on SLUG promoter was performed using the 12 different primer sets.
For promoter1:
1)

5′GACCCATACAACCCTTTTTCC3′/5′GGAACCACCGGACATTCTCT3′;

2)

5′GTGAGAGAATGTCCGGTGGT3′/5′CTCTAAAGGCAGGCTGATCG3′;

3)

5′TTCCAGTTCTTCCGATCAGC3′/5′GCCGCGTGCAAATTAAGTA3′;

4)

5′CTAACACGGTGACATGAGTAC3′/5′GACGCTCTCCTGGGACTCTG3′;

5)

5′CTCCAGGCCAGAGTCCCAG3′/5′GTTTGCCTTGCACAAAGACC3′.
For promoter 2:
1)

5′CGCTTCCCCCTTCCTTTTTC3′/5′CAGCCTCTGGTGTTAATGAGAGC3′;

2)

5′GGCTCTCATTAACACCAGAGG3′/5′CTGGCTTCAAGATGTGTTGCAG3′;

3)

5′CTTCCTTCTCCTTGCGAACAC3′/5′CAAGAGAGGTAACATCGCTCGG3′;

4)

5′CCCTCCTAGCTTCCAGAGAG3′/5′TCTGGTTCAAAATGGGCTG3′;

5)

5′CCTCTCCACGGAAATCTCAA3′/5′GCAAGAAAGATCCAAGCACAGC3′;

6)

5′CTGAACCTCTCAACTGTGATTGG3′/5′CTCTGAAGTCAACCGGCTC3′;

7)

5′CAGTTCGTAAAGGAGCCGG3′/5′CACGGCGGTCCTTAAAGCATC3′.
Extracted DNA (2 μl) was used for 45 cycles of amplification in 50 μl of reaction mixture under the following conditions: 95 °C for 30s, 56 °C for 30s, and 72 °C for 60 s. The PCR products were analysed by 2 % agarose gel electrophoresis [70]81.
Statistical analysis
Values are shown as standard error of mean, except otherwise indicated. Data were analyzed and, appropriate, significance (p < 0.05) of the differences between mean values was determined by a Student's t test.
Abbreviations
DN-K-ras:

Dominant negative K-ras
EMT:

Epithelial-mesenchymal transition
IκBα-SR cDNA:

Inhibitory kappa beta super repressor complementary DNA
MMP-2:

Matrix metalloproteinase-2
MMP-9:

Matrix metalloproteinase-9
NSAID:

Non-steroidal anti-inflammatory drug
NSCLC:

Non-small cell lung carcinoma
PE:

Phycoerythrin
Declarations
Acknowledgements
Authors like to acknowledge Dr. Arghya Adhikary for helping in cell culture experiments. Thanks are due to U. Ghosh for technical help. This work was supported by research grants from Council of Scientific and Industrial Research (CSIR), University Grants Commission (UGC), Department of Science and Technology (DST) and Department of Biotechnology (DBT), Government of India.
Open AccessThis article is distributed under the terms of the Creative Commons Attribution 4.0 International License (http://creativecommons.org/licenses/by/4.0/), which permits unrestricted use, distribution, and reproduction in any medium, provided you give appropriate credit to the original author(s) and the source, provide a link to the Creative Commons license, and indicate if changes were made. The Creative Commons Public Domain Dedication waiver (http://creativecommons.org/publicdomain/zero/1.0/) applies to the data made available in this article, unless otherwise stated.
Authors' Affiliations
(1)
Division of Molecular Medicine, Bose Institute, Kolkata, India