Research article
Open Access
Open Peer Review
This article has Open Peer Review reports available.
A rapid, sensitive, reproducible and cost-effective method for mutation profiling of colon cancer and metastatic lymph nodes
Received: 12 August 2009
Accepted: 16 March 2010
Published: 16 March 2010
Abstract
Background
An increasing number of studies show that genetic markers can aid in refining prognostic information and predicting the benefit from systemic therapy. Our goal was to develop a high throughput, cost-effective and simple methodology for the detection of clinically relevant hot spot mutations in colon cancer.
Methods
The Maldi-Tof mass spectrometry platform and OncoCarta panel from Sequenom were used to profile 239 colon cancers and 39 metastatic lymph nodes from NSABP clinical trial C-07 utilizing routinely processed FFPET (formalin-fixed paraffin-embedded tissue).
Results
Among the 238 common hot-spot cancer mutations in 19 genes interrogated by the OncoCarta panel, mutations were detected in 7 different genes at 26 different nucleotide positions in our colon cancer samples. Twenty-four assays that detected mutations in more than 1% of the samples were reconfigured into a new multiplexed panel, termed here as ColoCarta. Mutation profiling was repeated on 32 mutant samples using ColoCarta and the results were identical to results with OncoCarta, demonstrating that this methodology was reproducible. Further evidence demonstrating the validity of the data was the fact that the mutation frequencies of the most common colon cancer mutations were similar to the COSMIC (Catalog of Somatic Mutations in Cancer) database. The frequencies were 43.5% for KRAS, 20.1% for PIK3CA, and 12.1% for BRAF. In addition, infrequent mutations in NRAS, AKT1, ABL1, and MET were detected. Mutation profiling of metastatic lymph nodes and their corresponding primary tumors showed that they were 89.7% concordant. All mutations found in the lymph nodes were also found in the corresponding primary tumors, but in 4 cases a mutation was present in the primary tumor only.
Conclusions
This study describes a high throughput technology that can be used to interrogate DNAs isolated from routinely processed FFPET and identifies the specific mutations that are common to colon cancer. The development of this technology and the ColoCarta panel may provide a mechanism for rapid screening of mutations in clinically relevant genes like KRAS, PIK3CA, and BRAF.
Trial Registration
ClinicalTrials.gov: NSABP C-07: NCT00004931
Keywords
Metastatic Lymph NodeKRAS MutationBRAF MutationMucinous TumorPIK3CA Mutation
Background
Recent evidence suggests that mutation profiling can assist in the prognosis and prediction for colon cancer. KRAS, PIK3CA and BRAF mutations are frequent in tumors of the colon and have been associated with poor prognosis [1–6]. However, these results remain controversial because other studies have shown that mutations in these genes are not prognostic. A large study, a meta analysis, of KRAS mutations, found that only KRASG12V was a bad prognostic marker; other KRAS mutations were not associated with bad prognosis [2]. Evidence has also demonstrated that KRAS mutations are potential markers for prediction because tumors with KRAS mutations are significantly associated with resistance to EGFR antibody based therapies [7–11]. Publications have reported the same phenomenon with BRAF and PIK3CA mutations, although these observations are still not well established [12, 13]. The published study suggesting that BRAF mutant tumors were resistant to EGFR therapies was a small study [13]. Predictive value of PIK3CA mutations remains controversial in that other publications have shown that these mutations have no predictive value [14, 15]. These inconsistencies, together with two other factors, have limited the impact of mutation profiling for prognosis and prediction in standard care of colon cancer. A large sample size is required to establish that a gene mutation has a significant impact for patient prediction or prognosis. Another limitation is that until recently conducting such large studies with the standard sequencing technologies was too time consuming and too expensive to be practical for clinical studies.
Moreover, while the high frequency of KRAS, BRAF and PIK3CA mutations in colon cancer is well documented, other potentially important mutations have not been profiled with a large number of clinical samples. Whole genome sequencing of a small number of colon samples demonstrated that somatic cancer mutations consist of a few genes that occur frequently and many more mutations that occur very infrequently in many different genes [16, 17]. Mutations in these infrequently mutated genes could have a similar effect or synergize with mutations in KRAS, PIK3CA, and BRAF.
Given these considerations, our goal was to find a cost-effective and high throughput methodology that would detect frequent and infrequent cancer mutations genes in a large number of samples. Furthermore, it was essential that the methodology would work with degraded DNAs isolated from FFPET.
The mass spectrometric SNP genotyping technology based on the Sequenom platform provided an ideal choice for mutation profiling to address these several criteria. It has been shown to work with small amounts of degraded DNAs (5 ng), and the high multiplexing capacity minimizes the use of irreplaceable clinical samples. In addition, a variety of studies have demonstrated that the sensitivity of mass spectrometric methods exceeds that of traditional Sanger sequencing and is highly concordant with Sanger sequencing, Pyrosequencing, and allele-specific PCR [16, 18, 19]. Furthermore, Sequenom has recently developed the OncoCarta Panel, an oncogene panel that offers a rapid and parallel analysis of 238 simple and complex cancer mutations across 19 genes.
The OncoCarta panel includes assays for most colon cancer mutations in the clinically relevant genes, BRAF (99%), KRAS (98%), and PIK3CA (78%), and in addition contains assays for other cancer mutations in genes that intersect with the same pathways as that of KRAS, BRAF, and PIK3CA, such as AKT1, EGFR, HRAS, NRAS, MET and others. The frequency of KRAS, PIK3CA, and BRAF mutations in the National Surgical Adjuvant Breast and Bowel Project (NSABP) trial C-07 were similar to the frequencies for colon samples listed in the COSMIC data base. This observation provides evidence that the mutation data obtained with the Sequenom platform is accurate. Our results also demonstrate that a majority of colon cancer samples have aberrant PIK(3) - RAS/RAF network; similar results have been seen previously [6].
Mutations in ABL1 and MET, not previously identified in colon cancer, were identified, and 13 other genes were screened and found not to be mutated in hot spot locations. Furthermore, this study identified the most frequent colon cancer mutations from OncoCarta, providing the necessary information to reduce the number of assays from 187 to 24, creating a smaller, more specific and economical panel, requiring less DNA, and thus conserving precious clinical samples.
Methods
Clinical samples and histological evaluation
Samples used in this study were from NSABP clinical trial C-07. This trial enrolled patients between 02/2000 and 11/2002 to compare oxaliplatin and bolus 5-FU/LV to bolus 5FU/LV alone for resected stage II and III colon cancer [20]. Tissue samples were obtained at surgery before the patients had received any treatment and were routinely processed with FFPE. C-07 was approved by an institutional review board, and informed consent was obtained from each subject. A pathologist categorized tumors into poor, moderate, well differentiated and signet cells carcinoma, according to the World Health Organization (WHO) criteria. Samples were graded for mucinous character, based on the amount of mucin retained within the tumor (1 = no mucin, 2 = < 50% mucinous volume/total tumor volume, 3 = >50% mucinous volume/total tumor volume). Only grade 3 tumors were considered mucinous tumors carcinoma, which is in accordance with WHO criteria.
DNA isolation
DNA was isolated from FFPE tumor blocks collected from patients participating in NSABP clinical trial C-07. FFPE tumor blocks were cut, and sections of the slide containing the most tumor cells were defined by a pathologist and isolated by macrodissection. Genomic DNA was extracted from 4 five μm unstained sections. After attempting several extraction procedures from a variety of manufacturers (Machery Negel, Qiagen, Ambion), it was determined that the Ambion RecoverAll™ Total Nucleic Acid isolation kit (Applied Biosystem, Foster City, CA) yielded the best DNA based on the quality, quantity, and the performance on the mass spectrometer (data not shown). The extraction was performed as recommended by the manufacturer, with two exceptions; the protease digestion was extended overnight and the elution volume was increased to 150 ul to maximize the total amount of DNA recovered. Additional protease was added to samples incompletely digested after the overnight treatment. DNA was measured with fluorescence, using the Quant-iT ™ PicoGreen® dsDNA Assay Kit (Invitrogen, Carlsbad, CA) and the InfiniteF200 fluorometer (Tecan, Mannedorf, Switzerland).
As a positive control for known mutations and to test the performance of the platform, annotated cell line DNAs (A2058, HS578T, HL60, MCF7, MDAMB231, NCI-H1299, NCI-H1395, UACC-893) were purchased from American Type Culture Collection (ATCC, Manassas, VA, US). Two cell lines, SKBR3 and MCF-7, were grown in culture and cell pellets were fixed in formalin, andembedded in paraffin and DNAs were isolated as described for the clinical samples.
Mass Spec Type Plex Technology and the OncoCarta Panel
For mutation detection, the Sequenom platform and the OncoCarta mutation panel were used and the protocol provided by Sequenom (San Diego, CA) was followed with minor modifications. A schematic of the procedure is shown in Fig.
1
. A Tecan Evo liquid handler was used to normalize the DNA samples and to set up the PCR reactions. The amount of DNA added to the PCR was reduced to 15 ng or less. DNAs were amplified using the OncoCarta PCR primer pools, unincorporated nucleotides were inactivated by shrimp alkaline phosphatase (SAP), and a single base extension reaction was performed using extension primers that hybridize immediately adjacent to the mutations and a custom mixture of nucleotides. Salts were removed by the addition of a cation exchange resin. Multiplexed reactions were spotted onto the SpectroChipII, and mutations, if present, were resolved by MALDI-TOF on the Compact Mass Spectrometer (Sequenom, San Diego, CA).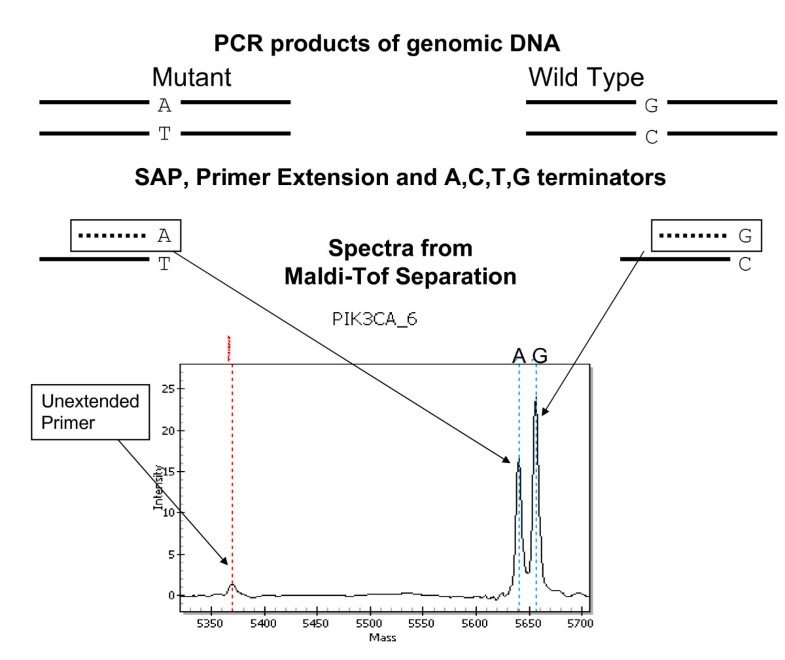 The OncoCarta™ Panel v1.0 (Sequenom, San Diego, CA) consists of 24 pools of primer pairs and 24 pools of extension primers, and has the capacity to detect 238 mutations in 19 genes, listed in Table
1
. Each pool consists of 5-9 primer pairs in the PCR reaction. Two types of assays have been designed in the OncoCarta panel, referred to as simple and complex. The simple assays are those in which a single assay is able to detect the amino acid changes at that codon. The complex assays are those that require more than one assay to identify codon changes or deletions and insertion, and thus are able to detect multiple different amino acid substitutions or deletions. An example of a complex assay is
KRAS_
1 and
KRAS
_2, which interrogate 2 different nucleotide positions within codon 12 and together identify all codon 12 amino acid changes. Much more complex assays are included in OncoCarta, which interrogate insertions and deletions within the
EGFR
gene.
Table 1
Mutations detected with OncoCarta
| | | |
| --- | --- | --- |
| ABL1-G250E | EGFR-L747_E749del, A750P | KIT-P585P |
| ABL1-Q252H | EGFR-E746_A750del | KIT-D579del |
| ABL1-Y253H | EGFR-L747_E749del, A750P | KIT-K642E |
| ABL1-Y253F | EGFR-L747_S752del, P753S | KIT-D816V |
| ABL1-E255K | EGFR-E746_T751del, V ins | KIT-D816H/D816Y |
| ABL1-E255V | EGFR-L747_S752del, Q ins | KIT-V825A |
| ABL1-D276G | EGFR-L747_S752del, Q ins | KIT-E839K |
| ABL1-F311L | EGFR-E746_T751del, S752D/SNP C2255T | KIT-M552L |
| ABL1-T315I | EGFR-D770_N771>AGG/V769_D770insASV/V769_D770insASV | KIT-Y568D |
| ABL1-F317L | EGFR-D770_N771insG | KIT-F584S |
| ABL1-M351T | EGFR-L747_T750del, P ins | KIT-P551_V555del |
| ABL1-E355G | EGFR-E746_A750del | KIT-P551_V555del |
| ABL1-F359V | EGFR-E746_T751del, I ins | KIT-Y553_Q556del |
| ABL1-H396R | EGFR-L747_T751del | KIT-Y553_Q556del |
| AKT1-rs11555435 | EGFR-L747_T751del | KRAS-G12V/A/D/C/S/R/F |
| AKT1-rs11555431 | EGFR-E746_A750del, V ins | KRAS-G13C/S/V/D |
| AKT1-rs11555432 | EGFR-E746_A750del, V ins | KRAS-A59T |
| AKT1-rs12881616 | EGFR-S752_I759del | KRAS-Q61E/K/L/R/P/H |
| AKT1-rs11555433 | ERBB2-L755P | MET-R970C |
| AKT1-rs11555436 | ERBB2-G776S/G776LC | MET-T992I |
| AKT1-rs34409589 | ERBB2-G776VC | MET-Y1230C |
| AKT2-S302G | ERBB2-G776VC/G776VC | MET-Y1235D |
| AKT2-R371H | ERBB2-M774_A775insYVMA | MET-M1250T |
| BRAF-G464R | ERBB2-A775_G776insYVMA | NRAS-G12V/G12A/G12D |
| BRAF-G464V/G464E | ERBB2-P780_Y781insGSP | NRAS-G12C/G12R/G12S |
| BRAF-G466V/G466G/G466E | ERBB2-P780_Y781insGSP | NRAS-G13V/G13A/G13D |
| BRAF-G466R | ERBB2-S779_P780insVGS | NRAS-G13C/G13R/G13S |
| BRAF-F468C | FGFR1-S125L | NRAS-A18T |
| BRAF-G469S/E/A/V/R | FGFR1-P252T | NRAS-Q61L/Q61R/Q61P |
| BRAF-D594V| G | FGFR3-R248C | NRAS-Q61H |
| BRAF-F595L | FGFR3-S249C | NRAS-Q61E/Q61K |
| BRAF-G596R | FGFR3-G370C | PDGFRA-V561D |
| BRAF-L597S/R/Q/V | FGFR3-Y373C | PDGFRA-T674I |
| BRAF-T599I | FGFR3-A391E | PDGFRA-F808L |
| BRAF-V600E/K/R/L | FGFR3-K650Q/E | PDGFRA-D846Y |
| BRAF-K601N/E | FGFR3-K650T/M | PDGFRA-N870S |
| CDK-R24C/H | FLT3-I836del | PDGFRA-D1071N |
| EGFR-R108K | FLT3_2 | PDGFRA-D842_H845del |
| EGFR-T263P | FLT3_3 | PDGFRA-I843_D846del |
| EGFR-A289V | FLT3-D835H/D835Y | PDGFRA-S566_E571>K |
| EGFR-G598V | HRAS-G12V/D | PDGFRA-I843_S847>T |
| EGFR-E709K/E709H | HRAS-G13C/R/S | PDGFRA-D842V |
| EGFR-E709A/E709G/E709V | HRAS-G13V/D | PIK3CA-R88Q |
| EGFR-G719S/G719C | HRAS-Q61H | PIK3CA-N345K |
| EGFR-G719A | HRAS-Q61H/L/R/P/K | PIK3CA-C420R |
| EGFR-M766_A767insAI | JAK2-V617F | PIK3CA-P539R |
| EGFR-S768I | KIT-D52N | PIK3CA-E542K |
| EGFR-V769_D770insASV | KIT-Y503_F504insAY | PIK3CA-E545K |
| EGFR-V769_D770insCV | KIT-W557R/W557R/W557G | PIK3CA-Q546K |
| EGFR-D770_N771>AGG/V769_D770insASV/V769_D770insASV | KIT-V559D/V559A/V559G | PIK3CA-H701P |
| EGFR-D770_N771insG | KIT-V559I | PIK3CA-H1047R/H1047L |
| EGFR-N771_P772>SVDNR | KIT-V560D/V560G | PIK3CA-H1047Y |
| EGFR-P772_H773insV | KIT-K550_K558del | PIK3CA-G1049R |
| EGFR-H773>NPY | KIT-K558_V560del | PIK3CA-R38H |
| EGFR-H773_V774insNPH/H773_V774insPH/H773_V774insH | KIT-K558_E562del | PIK3CA-C901F |
| EGFR-V774_C775insHV | KIT-V559del | PIK3CA-M1043I/M1043I |
| EGFR-T790 M | KIT-V559_V560del | RET-C634R |
| EGFR-L858R | KIT-V560del | RET-C634W/Y |
| EGFR-L861Q | KIT-Y570_L576del | RET-E632_L633del |
| EGFR-L747_T750del, P ins/E746_A750del, T751A | KIT-E561K | RET-M918T |
| EGFR-E746_T751del, I ins/S752_I759del | KIT-L576P | RET-A664D |
Data analysis
Data analysis was performed using MassArray Typer Analyzer software 4.0.4.20 (Sequenom), which facilitates visualization of data patterns as well as the raw spectra. Mutations were identified in two different ways. Typer automates the identification of mutants by comparing ratios of the wild type peak to that of all suspected mutants and generates an Onco Mutation report detailing specific mutations and the ratios of wild type and mutation peaks. In addition, raw data was exported to Excel and an in-house macro was used to duplicate the analysis. The area under the peaks allows for quantification for each allele, giving a direct evaluation of the proportion of mutated and wildtype (wt) allele in the sample [18].
All mutations from both the Onco mutation report and the in-house Excel report were reviewed manually by 3 investigators (DF, PGG, KPG). Manual review of mutations was necessary to identify "real" mutant peaks from salt peaks or other background peaks. Selected reviewed mutations from the Onco Mutation Report and from the in-house macro were compared and were concordant.
Discussion
The Sequenom platform provides a superior technology for the screening of many hot spot mutations in cancer samples. Sanger sequencing would require amplification of at least 60 different fragments per sample, and many reactions would require optimization, thus adding considerable time and expense. Multiplexing and the use of the OncoCarta panel allowed us to skip this time consuming step. Thus, conservatively, Sanger sequencing would be 40 times more expensive, and require at least 2 times more DNA. Other sequencing technologies, which employ differential melting of mutant and wt sequences, such as HRMA, still require that the PCR product be sequenced. This would add significant cost and time to the procedure because 60% of the colon samples contained one or more mutations. In addition the Sequenom platform is more sensitive than Sanger sequencing in that it was able to detect mutations that represented only 5% of the DNA. Pyrosequencing represented a potential alternative to the Sequenom platform, but in our hands assays needed to be optimized, and the lack of multiplexing made the procedure more time consuming and demanded more DNA. The Sequenom methodology also focuses on only those nucleotides that are known to be cancer mutations and thus makes review of the sequence information considerably faster than Sanger. Next-Generation sequencing was cost prohibitive and has not been shown to work with DNAs isolated from FFPET. Thus, the Sequenom platform and the OncoCarta Panel provided the simplest, most rapid, sensitive and cost-effective method for detecting hot spot cancer mutations in degraded DNAs isolated from archival and routinely processed FFPET. The ColoCarta panel provides a more specific panel for colon cancer mutation detection and greatly reduces the amount of DNA needed for mutation profiling.
The frequencies and specific amino acid mutations detected here were similar to the COSMIC database and other publications [6]. The small variation in frequency between our data and other reports may be attributed to differences in the stage of the samples analyzed, the number of samples considered, and the sensitivity of the technology [18]. These observations, combined with the perfect match that we obtained between the expected and the detected mutations in our control cell lines, both fresh and FFPE, and the fact that mutations detected with OncoCarta and ColoCarta were identical, suggest that the technology is reliable and reproducible in DNAs isolated from FFPE samples.
In our study, the majority of tumors (60.3%) had one or more mutations in KRAS, PIK3CA, and BRAF. Mutations in these genes are likely to perturb many different and overlapping signaling pathways, including PI3K/AKT, ERK/MAPK, SAPK/JNK, NFKβ, and others. We were also able to detect other less frequent mutations that are likely to perturb the same pathways and these may cause resistance to EGFR-targeted therapies, as reported for KRAS, PIK3CA and BRAF. For example, AKT1 and NRAS are molecules that are downstream mediators of the EGFR signaling pathway, and mutations in these genes are likely to affect the response to drugs that target EGFR.
Mutations in ABL, AKT1, and MET were detected here but were not listed in COSMIC, probably due to the small number of samples analyzed. The AKT1-E17K mutation was initially identified as a SNP, rs34409589, but in a recent publication it was found to be a somatic mutation and was found in 3 of 51 colon cancers [27]. The frequency of these mutations in this small study (51 samples) was 6% and is much greater than in the C0-7 samples (0.4%). This difference in frequencies may be because the Carpten et al [27] samples were from more advanced stages than those from the C-07 trial. Moreover, they selected large tumors (>100 mg) and containing more than 60% tumor cells. No such selection was done for our study, and samples were from stages II and III exclusively. The significance of ABL1 and AKT1 mutations for patient prediction and prognosis in our study is questionable given that they each were found in only in one sample and represented only 0.4% of the cases.
To our knowledge, this is the first report of MET mutations in the primary colon cancer, but a different MET mutation (N1118Y) was found in a lung metastasis of the large intestine [28]. The MET mutations, R970C and T992I, were detected in 8 out of 239 C-07 colon cancers. These mutations correspond to MET-R988C and MET-T1010I, respectively, in the long form of MET which is the isoform referred to in the COSMIC database [29]. The R970C and T992I mutations are located in the juxtamembrane segment of the protein and were detected in lung carcinoma [30]. These mutations, when introduced into a lung cell line, increased focus formation, formation of colonies in soft agar, cell motility, and migration. These mutations also resulted in constitutive tyrosine phosphorylation on several cellular proteins including paxillin at key tyrosine residues and may account for the increased motility of cells with this mutation. Another critical amino acid in this location is a Ser 985, which, when phosphorylated, has been found to diminish MET signaling [31]. If phosphorylation at Thr residue 992 (1010) reduces signaling, then the R992I mutation would inhibit this negative feedback and may result in constitutive signaling [30].
If MET mutations confer an alternative activated signaling pathway, then these mutations could also confer resistance to anti-EGFR-based therapies or provide a new target for directed therapies. Therapeutic drugs have been developed to specifically target MET, including small molecule kinase inhibitors, anti-MET monoclonal antibodies, and inhibitors of HGF, the MET ligand. Invitro assays have demonstrated that a number of MET targeted therapies were able to prevent MET signaling, decrease cell viability, and limit cell motility and migration in vitro [32]. The small molecule ARQ 197, a kinase inhibitor, has entered phase II clinical trials so may represent a possible therapeutic strategy for some colon tumors.
To our knowledge, this is also one of the most exhaustive analyses of mutation profiling of metastatic lymph nodes and their corresponding primary colon tumors. Our analysis showed that a majority of samples were concordant (89.7%) but in a few samples mutations were detected only in the primary tumor and not in the metastatic lymph node. Also in samples with 2 co-occurring mutations, the ratio of the double mutations varied in primary and lymph node tumors. Discordance in the genetic profile between primary tumors and the metastatic lymph nodes has been observed [33]. Such data may indicate that tumor cell migration selects different cell populations from the one in the primary tumor. However, it is also possible that these mutational differences between the lymph node and the primary tumor are a result of tumor heterogeneity.
Another interesting observation in our study was that BRAF mutations were significantly correlated with poorly differentiated tumors and the prevalence of mucin; similar observations have been reported [25, 26]. These characteristics are both associated with a worse prognosis and are consistent with other reports associating BRAF mutations with a bad prognosis [3]. However, in our study we found that there were 2 metastatic lymph nodes that did not maintain the BRAF mutation present in the corresponding primary tumor, suggesting that BRAF mutations are not essential for metastatic spread to the lymph node in all tumors. Clearly, additional studies would be required to understand these apparent inconsistencies; additional lymph node samples are not currently available but could be the subject of further studies when samples become available [3].
Conclusions
The Sequenom platform provided a superior technology for the screening of 238 common hot spot cancer mutations in 19 genes. The frequent occurrence of KRAS, PIK3CA, and BRAF was confirmed, and mutations not detected before in colon cancer were found in MET and ABL1. Twenty-five assays from the OncoCarta were replexed to form a new panel, termed ColoCarta, which will be used to screen an additional 800 tumors from NSABP clinical trial C0-7 with the purpose of identifying prognostic or predictive markers for stage II and III colon cancer.
Note Added in Proof: Although MET-R988C and MET-T1010I mutations were listed in COSMIC as somatic cancer mutations, these nucleotide changes correspond to SNPs rs34589476 and rs56391007 in the NCBI SNP data base, respectively. The frequency for these SNPs is unknown so whether these nucleotide changes are associated with cancer is unknown.
Declarations
Acknowledgements
The authors would like to thank Melanie Finnigan, Bill Hiller, and Theresa Oeler for help in cutting and cataloging slides, and Hema Liyanage from Sequenom for replexing the assays. This study was supported by Public Health Service grants U10-CA-37377, U10-CA-69974, U10-CA-12027, and U10-CA-69651 from the National Cancer Institute, National Institutes of Health, and Department of Health and Human Services. This project is funded, in part, under a grant with the Pennsylvania Department of Health. The Department specifically disclaims responsibility for any analyses, interpretations or conclusions. The authors retain the right to provide a copy of the final manuscript to the NIH upon acceptance for journal publication, for public archiving in PubMed Central as soon as possible but no later than 12 months after publication by the journal.
Authors' Affiliations
(1)
Department of Pathology, National Surgical Adjuvant Breast and Bowel Project (NSABP), Pittsburgh, USA
Copyright
© Fumagalli et al; licensee BioMed Central Ltd. 2010
This article is published under license to BioMed Central Ltd. This is an Open Access article distributed under the terms of the Creative Commons Attribution License (http://creativecommons.org/licenses/by/2.0), which permits unrestricted use, distribution, and reproduction in any medium, provided the original work is properly cited.