Research article

Open Access

Open Peer Review
This article has Open Peer Review reports available.
Molecular profile of 5-fluorouracil pathway genes in colorectal carcinoma
Received: 4 January 2016
Accepted: 30 September 2016
Published: 12 October 2016
Abstract
Background
This study addresses involvement of major 5-fluorouracil (5-FU) pathway genes in the prognosis of colorectal carcinoma patients.
Methods
Testing set and two validation sets comprising paired tumor and adjacent mucosa tissue samples from 151 patients were used for transcript profiling of 15 5-FU pathway genes by quantitative real-time PCR and DNA methylation profiling by high resolution melting analysis. Intratumoral molecular profiles were correlated with clinical data of patients. Protein levels of two most relevant candidate markers were assessed by immunoblotting.
Results
Downregulation of DPYD and upregulation of PPAT, UMPS, RRM2, and SLC29A1 transcripts were found in tumors compared to adjacent mucosa in testing and validation sets of patients. Low RRM2 transcript level significantly associated with poor response to the first-line palliative 5-FU-based chemotherapy in the testing set and with poor disease-free interval of patients in the validation set irrespective of 5-FU treatment. UPP2 was strongly methylated while its transcript absent in both tumors and adjacent mucosa. DPYS methylation level was significantly higher in tumor tissues compared to adjacent mucosa samples. Low intratumoral level of UPB1 methylation was prognostic for poor disease-free interval of the patients (P = 0.0002). The rest of the studied 5-FU genes were not methylated in tumors or adjacent mucosa.
Conclusions
The observed overexpression of several 5-FU activating genes and DPYD downregulation deduce that chemotherapy naïve colorectal tumors share favorable gene expression profile for 5-FU therapy. Low RRM2 transcript and UPB1 methylation levels present separate poor prognosis factors for colorectal carcinoma patients and should be further investigated.
Keywords
Colorectal carcinoma
5-fluorouracil
Methylation
Expression
Prognosis
Background
Colorectal carcinoma (OMIM: 114500) is the third most common malignancy and the fourth cause of cancer-related deaths in the adult population worldwide, with the highest incidence recorded in Central Europe [1, 2].
Colorectal cancer treatment consists of surgical removal of the tumor and, based on disease characteristics, of chemo- and or radiotherapy. 5-Fluorouracil (5-FU) is widely used drug in the first-line therapy of colorectal cancer [3]. Over 80 % of administered 5-FU dose is rapidly degraded [4] and only 1–3 % is converted into its active metabolite fluorodeoxyuridine monophosphate (FdUMP [5],). FdUMP then inhibits thymidylate synthase (TYMS, OMIM: 188350) and blocks deoxythymidine triphosphate (dTTP) synthesis. Subsequent dTTP depletion triggers "thymineless" death [6]. TYMS is considered as a potential prognostic marker for colorectal cancer. Recent studies have shown that overexpression of TYMS transcript predicts poor outcome in colorectal cancer patients [7, 8]. However, another contemporary study has not confirmed these observations as intratumoral TYMS transcript level was not predictive in patients with colorectal cancer of stage II and III [9].
Several studies have indicated potential prognostic or predictive role of 5-FU metabolizing enzymes expression for resistance to the treatment of colorectal cancer. Colorectal cancer patients with low protein expression of 5-FU inactivating enzyme dihydropyrimidine dehydrogenase (DPYD, OMIM: 612778) exhibited a longer survival after 5-FU-treatment than those with high levels [10]. Likewise, high DPYD transcript level was associated with poor outcome of stage IV colorectal cancer patients [11]. High thymidine phosphorylase (TYMP, OMIM: 131222, 5-FU activating enzyme) transcript level was associated with significantly better disease-free survival (DFS) following oral administration of 5-FU in stage III colorectal cancer patients [12].
The resistance of the tumor cells towards 5-FU is substantially modulated by the transport mechanisms. Especially solute carrier transporter 29A1 (SLC29A1, OMIM: 602193) plays a crucial role in cellular uptake of nucleoside drugs such as cytarabine, gemcitabine, or 5-FU [13]. Results of a recent small scale functional study suggested that high SLC29A1 mRNA levels in colorectal cancer tumor tissue correlate with poor clinical response to 5-FU [14].
In this study we aimed to address importance of gene expression and methylation profile of 15 5-FU genes in tumor and adjacent bowel mucosa tissues of colorectal cancer patients for the patient's prognosis and the response to 5-FU. Genes were selected from literature and PharmGKB database based on functional evidence from 5-FU pharmacokinetics data (https://www.pharmgkb.org/). Protein expression of two most relevant candidate markers was assessed as another chain underlying 5-FU mode of action.
Discussion
The questions connected with prognostic importance of molecular profile of 5-FU pathway in colorectal cancer remain attractive topics throughout last 15 years. Existing studies offered a plethora of mostly conflicting results. The absence of complex understanding, focused on mechanisms of action underlying the most promising biomarkers precludes their translation into clinical setting. Apparently, the final prognostic scheme will integrate clinical factors, e.g., stage and grade of the tumor with a cascade of molecular markers involving genetic, epigenetic, and phenotypic factors. The present study brings completely new insight into this area by comprehensive molecular profiling of major 5-FU pathway genes.
The present study shows for the first time that only three (DPYS, UPB1, and UPP2) out of 15 evaluated 5-FU genes, are subject to notable methylation in tumor and adjacent mucosa tissues.
Association of UPB1 promoter methylation with worse prognosis of colorectal cancer patients, reported here on two independent groups of patients and in the combined set irrespective of 5-FU treatment, poses a completely novel direction in pharmacogenomics of colorectal cancer. UPB1 is an 5-FU inactivating enzyme [24], responsible for degradation of pyrimidine bases (uracil and thymine) and its genetic defect causes severe forms of propionic acidemia [25]. We hypothesized that a high UPB1 expression in tumor cells caused by promoter demethylation could exert a negative impact on the colorectal cancer patients response to 5-FU. However, we did not prove such association in the combined set of 5-FU treated patients and moreover, UPB1 methylation level did not correlate with either the transcript or the protein levels suggesting that its prognostic role is most probably a complex phenomenon involving some other factors. The lack of such correlation may be explained by a number of effects, e.g., variation in DNA folding in the studied region, regulation of target gene by enhancers/silencers or by other than the followed CpGs or control of gene expression by histone modifications. A more refined screening of CpG methylation in the UPB1 surrounding area could provide more information about potentially linked epigenetic changes. Moreover, the function of the above mentioned gene may also be modulated by microRNA interference (e.g., hsa-miR-216a, predicted by TargetScan).
From the genetic point of view it is intriguing that recent study reported a strong association between the rs2070474 polymorphism and gastrointestinal toxicity in 5-FU treated cancer patients [26]. It is of interest that this polymorphism lies inside a large CpG island consisting of 98 CpG sites [27] and near to the transcription factor-binding motifs corresponding to a critical regulator of the intestine, the CDX2 (caudal-type homeobox transcription factor 2, OMIM: 600297 [28];). A potential linkage of genetic with epigenetic changes thus should also be considered.
On the basis of our gene expression data we may generalize, that colorectal tumors irrespective of the stage and localization share common downregulation of DPYD and upregulation of PPAT, UMPS, RRM2, and SLC29A1 transcripts. RRM2 and UMPS upregulations and DPYD downregulation in colorectal tumors comply with the previous study [29].
Interestingly, SLC29A1 was recently suggested as potential co-determinant of clinical response to 5-FU [
14
] and its upregulation demonstrated by the present study further underpins the potential for targeted therapy of colorectal cancer. On the basis of gene expression profile we may deduce that chemotherapy-naïve colorectal cancer patients have in general favorable expression profile shifted towards 5-FU activation (Fig.
5
). A potential change of this profile by chemotherapy or during metastatic process presents another interesting question that needs to be addressed.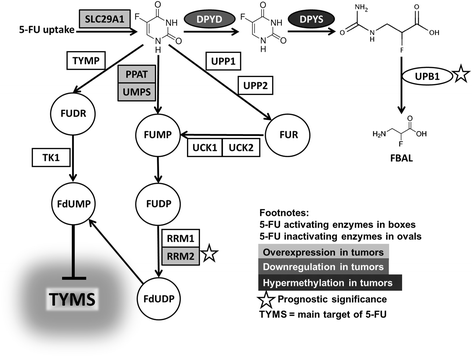 Moreover, promoter of the 5-FU inactivating enzyme DPYS was found hypermethylated in colorectal tumors by this study. We thus confirmed the previously published DPYS hypermethylation in colon carcinomas (and breast and prostate carcinomas) compared with paired normal tissues from the same patients [30]. Recently, it was reported that differential methylation of DPYS (and heat shock 27 kDa protein 1, HSPB1, OMIM: 602195 and cyclin D2, CCND2, OMIM: 123833) provides independent prognostic information for prostate carcinoma [31]. Based on the present and earlier studies, colorectal cancer-specific complex prognostic model based on gene expression and methylation profile seems to deserve further exploration.
Prognostic significance of low RRM2 transcript level for poor colorectal cancer patient's outcome observed by the present study contradicts the previously published data. High RRM2 level was poor survival predictor in colorectal cancer patients [32] reflecting the established in vitro ability of RRM2 to enhance cellular invasiveness and genetic instability [33]. We cannot rule out that the qPCR assay for RRM2 employed in the present study also covered the RRM2B (OMIM: 604712) subunit whose protein structure is 80 % identical to RRM2. RRM2B intriguingly exerts opposite activity to RRM2 and its expression associates with a better survival of colorectal cancer patients [34]. On the other hand, RRM2 is 5-FU activating enzyme [24] and thus the result observed by us seems logical from this point of view despite the fact that we have not observed a direct link between prognostic role of RRM2 and 5-FU therapy (perhaps due to the low number of the followed patients). Bearing in mind the issue of study size and publicly available gene expression data, we analyzed the prognostic power of RRM2 expression by SurvExpress [35] tool using data from GSE12945 set (n = 947). A borderline significant association towards higher risk of shorter disease-free survival of the patients with lower expression of RRM2 was apparent (p = 0.050, Additional file 1: Figure S8).
The present study in line with other authors [9], has not confirmed that overexpression of TYMS protein or transcript predicts poor outcome in colorectal cancer patients [7, 8]. Similarly, the results of studies indicating potential prognostic role of DPYD [10, 11] or TYMP [12] expression for survival of colorectal cancer patients after 5-FU-treatment were not replicated.
The small sample size and small patient's groups used for DFI analyses, especially of patients treated with 5-FU pose the major limitations of this study. Nevertheless, we compared the methylation profiles with the publicly available database MethHC (Methylation and gene expression in Human Cancer, http://methhc.mbc.nctu.edu.tw) integrating gene expression, methylation, and microRNA expression data from The Cancer Genome Atlas (TCGA) [36]. Our data complies with the results reported by this database, i.e., the highest levels in UPP2, UPB1, and DPYS (the rest of the genes below 25 %) and significantly higher methylation of DPYS in tumor compared with mucosa tissues (Additional file 1: Figure S9).
The variability among the patient cohorts could also explain the lack of replication of some results. On the other hand, the use of validation sets helped to achieve more convincing interpretation of the replicated results and where possible the analysis of combined sets increased the study power. The lack of tissue aliquots for simultaneous isolation of RNA and DNA necessitated the use of two different validation sets. This fact precluded us to perform the otherwise preferable combined analyses of both validation sets. Consequently, missing data for comparison of methylation levels with DFI may be seen as a study limitation.
Conclusions
In this study, we addressed importance of genes involved in the 5-FU pathway for the prognosis of colorectal cancer patients. In conclusion, chemotherapy-naïve colorectal tumors seem to have favorable 5-FU pathway gene expression profile. Additionally, low RRM2 gene expression and UPB1 methylation level represent treatment-independent poor prognostic factors for colorectal carcinoma patients and should be further investigated in relation to other epigenetic regulation pathways (such as microRNAs) and in a complexity with other relevant systems, such as DNA repair.
Abbreviations
5-FU:

5-fluorouracil
95 % CI:

95 % confidence interval
CCND2:

Cyclin D2
cDNA:

Complementary DNA
CDX2:

Caudal-type homeobox transcription factor 2
CpG:

Cytosine-phosphate-guanine
CR:

Complete response
DFI:

Disease-free interval
DFS:

Disease-free survival
DPYD:

Dihydropyrimidine dehydrogenase
DPYS:

Dihydropyrimidinase
dTTP:

Deoxythymidine triphosphate
EIF2B1:

Eukaryotic translation initiation factor 2B, subunit 1
FDR:

False discovery rate
FdUMP:

Fluorodeoxyuridine monophosphate
GEO:

Gene expression omnibus
HR:

Hazard ratio
HRM:

High resolution melting
HSPB1:

Heat shock 27kDa protein 1
ICD-10:

The international classification of diseases, version 10
MIQE:

Minimum information for publication of qPCR experiments
MRPL19:

Mitochondrial ribosomal protein L19
OMIM:

Online mendelian inheritance in man
PCR:

Polymerase chain reaction
PD:

Progression of the disease
PharmGKB:

The pharmacogenomics knowledgebase
POLR2A:

DNA-directed RNA polymerase II subunit A
PPAT:

Phosphoribosylpyrophosphate amidotransferase
PR:

Partial response
PSMC4:

Proteasome (prosome, macropain) 26S subunit, ATPase, 4
qPCR:

Quantitative real-time PCR
RECIST:

Response evaluation criteria in solid tumors
RRM1/2:

Ribonuclease reductase subunit M1/2
SD:

Stabilization of the disease
SLC29A1:

Solute carrier transporter 29A1
Ta:

Annealing temperature
TK1:

Thymidine kinase
Tm:

Melting temperature
TYMP:

Thymidine phosphorylase
TYMS:

Thymidylate synthase
UCK1/2:

Uridine cytidine kinase 1/2
UICC:

Union for international cancer control
UMPS:

Uridine monophosphate synthetase
UPB1:

Beta-ureidopropionase
UPP1/2:

Uridine phosphorylase 1/2
Declarations
Acknowledgements
Not applicable.
Funding
This work was supported by the Internal Grant Agency of the Czech Ministry of Health (project no.: NT/14329-3 to V.L.), Czech Science Foundation (project no.: P301/12/1585 to P.V.), Grant Agency of Charles University in Prague (project no. 1200314 to T.K.), and by the National Sustainability Program I (NPU I) (project no. LO1503 to P.S.).
Availability of data and materials
The datasets during and/or analyzed during the current study available from the corresponding author on reasonable request.
Authors' contributions
TK, PaP, IK, PB, PM, SS, and HV carried out the experimental studies, participated in the evaluation of results, and drafted the manuscript. PS, VL, and PP designed and coordinated the study, performed statistical analyses, and drafted the manuscript. NP, SM, PiP, BJ and VO recruited patients, collected clinical data, and drafted the manuscript. All authors read and approved the final manuscript.
Authors' information
Not applicable.
Competing interests
The authors declare that they have no competing interests.
Consent for publication
Not applicable.
Ethics approval and consent to participate
All patients, aware of the study aims, methods and potential risks, signed consensually an informed consent form. The study was approved by the Ethical Committees of the Medical Faculty and Teaching Hospital in Pilsen and General Teaching Hospital in Prague, Czech Republic.
Open AccessThis article is distributed under the terms of the Creative Commons Attribution 4.0 International License (http://creativecommons.org/licenses/by/4.0/), which permits unrestricted use, distribution, and reproduction in any medium, provided you give appropriate credit to the original author(s) and the source, provide a link to the Creative Commons license, and indicate if changes were made. The Creative Commons Public Domain Dedication waiver (http://creativecommons.org/publicdomain/zero/1.0/) applies to the data made available in this article, unless otherwise stated.
Authors' Affiliations
(1)
Department of Toxicogenomics, National Institute of Public Health, Prague, Czech Republic
(2)
Third Faculty of Medicine, Charles University, Prague, Czech Republic
(3)
Biomedical Centre, Medical School Pilsen, Charles University in Prague, Pilsen, Czech Republic
(4)
Department of Molecular Biology of Cancer, Institute of Experimental Medicine, Czech Academy of Sciences, Prague 4, Czech Republic
(5)
Deparment of Surgery, Teaching Hospital and Medical School Pilsen, Charles University in Prague, Pilsen, Czech Republic
(6)
Department of Surgery, General University Hospital in Prague, First Medical Faculty, Charles University, Prague, Czech Republic
(7)
Toxicogenomics Unit, National Institute of Public Health, Prague 10, Czech Republic