Research article

Open Access

Open Peer Review
This article has Open Peer Review reports available.
Activation of the steroid and xenobiotic receptor, SXR, induces apoptosis in breast cancer cells
Received: 06 August 2008
Accepted: 05 January 2009
Published: 05 January 2009
Abstract
Background
The steroid and xenobiotic receptor, SXR, is an orphan nuclear receptor that regulates metabolism of diverse dietary, endobiotic, and xenobiotic compounds. SXR is expressed at high levels in the liver and intestine, and at lower levels in breast and other tissues where its function was unknown. Since many breast cancer preventive and therapeutic compounds are SXR activators, we hypothesized that some beneficial effects of these compounds are mediated through SXR.
Methods
To test this hypothesis, we measured proliferation of breast cancer cells in response to SXR activators and evaluated consequent changes in the expression of genes critical for proliferation and cell-cycle control using quantitative RT-PCR and western blotting. Results were confirmed using siRNA-mediated gene knockdown. Statistical analysis was by t-test or ANOVA and a P value ≤ 0.05 was considered to be significant.
Results
Many structurally and functionally distinct SXR activators inhibited the proliferation of MCF-7 and ZR-75-1 breast cancer cells by inducing cell cycle arrest at the G1/S phase followed by apoptosis. Decreased growth in response to SXR activation was associated with stabilization of p53 and up-regulation of cell cycle regulatory and pro-apoptotic genes such as p21, PUMA and BAX. These gene expression changes were preceded by an increase in inducible nitric oxide synthase and nitric oxide in these cells. Inhibition of iNOS blocked the induction of p53. p53 knockdown inhibited up-regulation of p21 and BAX. We infer that NO is required for p53 induction and that p53 is required for up-regulation of cell cycle regulatory and apoptotic genes in this system. SXR activator-induced increases in iNOS levels were inhibited by siRNA-mediated knockdown of SXR, indicating that SXR activation is necessary for subsequent regulation of iNOS expression.
Conclusion
We conclude that activation of SXR is anti-proliferative in p53 wild type breast cancer cells and that this effect is mechanistically dependent upon the local production of NO and NO-dependent up-regulation of p53. These findings reveal a novel biological function for SXR and suggest that a subset of SXR activators may function as effective therapeutic and chemo-preventative agents for certain types of breast cancers.
Keywords
Nitric Oxide
Breast Cancer Cell
Tamoxifen
Rifampicin
Breast Cancer Cell Line
Background
Anti-estrogens such as tamoxifen are important therapeutic agents in the treatment and chemoprevention of breast cancer [1]. Other compounds such as fatty acid amides and retinoid × receptor (RXR) agonists are also effective against breast cancer in cell lines and in animal models [2, 3]. Interestingly, a macrolide antibiotic-rifampicin, the antimycotic drug clotrimazole, endogenous cannabinoids such as anandamide, RXR agonists (rexinoids) such as targretin, and tocotrienol forms of Vitamin E share the ability to inhibit the growth of various types of cancer [2–8]. Some of these compounds such as rifampicin, targretin, and tocotrienols have also been shown to have synergistic or additive effects against cancer when used together with tamoxifen [4, 7, 9]. Although it is certainly possible that they act through separate and distinct pathways, the ability of these structurally and functionally distinct compounds to inhibit the growth of cancer cells and their additive effects with tamoxifen raise the possibility that they might also act through a common molecular target. Notably, these compounds (including tamoxifen) share the ability to activate a heterodimer of the steroid and xenobiotic receptor (SXR [10], also known as PXR [11], PAR [12], and NR1I2 [13]) and retinoid × receptor (RXR) [14].
SXR is an orphan nuclear receptor activated by a large number of endogenous steroids and bile acids, prescription drugs, dietary compounds and xenobiotic compounds [15–18]. SXR is highly expressed in the liver and intestine where it acts as a broad-specificity chemical sensor. SXR activation induces expression of genes involved in all three phases of drug and xenobiotic metabolism: hydroxylation by cytochrome P450 enzymes, conjugation to glutathione, sulfates and sugars, and transport by ABC family transporters (reviewed in [19–21]). We and others have shown that SXR is also expressed in tissues such as bone, kidney, lung, endometrium, and breast [22–26], where it may play roles other than its conventional role in metabolism. For example, activation of SXR in bone is associated with increased expression of bone biomarkers involved in maintaining bone homeostasis [27, 28]. SXR activation in liver is associated with decreased fibrogenesis and increased expression of anti-apoptotic genes such as BCL2 and BCL-XL [29–31]. Expression of SXR in endometrial cancer tissues is associated with decreased sensitivity to anti-cancer agents [22, 32]. Recently, one report has shown that activation of SXR leads to heightened sensitivity to oxidative cellular damage and apoptosis in transgenic mice and in cancer cells [33]. Another suggested an anti-apoptotic role for SXR in colon cancer cells and in normal mouse colon epithelium [34]
SXR is expressed in breast cancer cells and tissues [23, 25]. The expression of SXR in breast cancer cells and tissues and the ability of numerous compounds active against breast cancer to activate SXR led us to hypothesize that SXR might serve as a common molecular target for their action. Here we show that SXR activation can inhibit breast cancer cell growth by inducing cell cycle arrest and apoptosis. We define a molecular pathway wherein activation of SXR inhibits proliferation of estrogen receptor positive (ER+) and p53 wild type (p53wt) breast cancer cell lines (MCF-7 and ZR-75-1) via induction of inducible nitric oxide synthase (iNOS), increased expression of nitric oxide (NO), and NO-dependent stabilization and accumulation of p53. SXR-mediated stabilization of p53 protein and up-regulation of p53 mRNA leads to increased expression of p53-dependent cell cycle regulators and pro-apoptotic genes such as p21, BAX and PUMA. Gain- and loss-of-function studies confirm that SXR is the mediator of this pathway. We conclude that activation of SXR is anti-proliferative in MCF-7 and ZR-75-1 breast cancer cells and that these effects are mediated through a NO and p53-dependent pathway. Our results identify a novel molecular pathway for SXR action in breast cancer and widen the biological relevance of SXR beyond xenobiotic metabolism.
Methods
Cell culture
Rifampicin, anandamide and camptothecin were from BioMol (Plymouth Meeting, PA) and all other compounds were from Sigma. Compounds were freshly diluted in DMSO prior to addition to cell culture media. The final DMSO concentration was < 0.05%. Breast cancer cell lines were maintained in phenol red free Improved Minimum Essential Media (IMEM; Mediatech, Kansas City, MO) supplemented with 10% fetal bovine serum (FBS; Invitrogen Corporation) (IMEM/FBS). LS180 cells were maintained in Dulbecco Modified Eagle Medium (DMEM; Cellgro) supplemented with 10% FBS.
Quantitative real-time RT-PCR
Cell lines were treated with SXR ligands for the indicated times followed by isolation of total cellular RNA using Trizol reagent (Invitrogen). After removal of potentially contaminating genomic DNA by DNAse digestion and LiCl precipitation, 1 μg total RNA was reverse transcribed using Superscript III (Invitrogen) following the manufacturer's recommended protocol. Quantitative real time RT-PCR (QRT-PCR) was performed using primer sets as shown in Table
1
using SYBR Green PCR Master Mix (Applied Biosystems, Foster City, CA) or FastStart SYBR Green Master Mix (Roche Applied Science, Indianapolis, USA) in a DNA Engine Opticon-Continuous Fluorescence Detection System (MJ Research, Reno, NV). All samples were quantitated by the comparative cycle threshold C(t) method for relative quantitation of gene expression, normalized to either GAPDH or β-actin [
35
].
Table 1
Primer sequences used in Q-RTPCR analysis
| Name | Forward | Reverse |
| --- | --- | --- |
| SXR | AGGATGGCAGTGTCTGGAAC | AGGGAGATCTGGTCCTCGAT |
| iNOS | CACCATCCTGGTGGAACTCT | TCCAGGATACCTTGGACCAG |
| eNOS | GTTACCAGCTAGCCAAAGTC | GACAGGAAATAGTTGACCATCTC |
| nNOS | GAAGAAAGCAACCAGAGTCAG | GTCCAAATCTCTGTCCACCT |
| p53 | CCGCAGTCAGATCCTAGC | AATCATCCATTGCTTGGGACG |
| p21 | GCGATGGAACTTCGACTTTG | CAGGTCCACATGGTCTTCCT |
| BAX | GGGGACGAACTGGACAGTAA | CAGTTGAAGTTGCCGTCAGA |
| PUMA | GACCTCAACGCACAGTACGA | CTAATTGGGCTCCATCTCG |
| CYP3A4 | GGCTTCATCCAATGGACTGCA TAAAT | TCCCAAGTATAACACTCTACACAGACAA |
| Calmodulin | TTGACTTCCCCGAATTTTTGACT | CTGCACTGATATAACCATTGCCA |
| β-actin | GGACTTCGAGCAAGAGATGG | AGGAAGGAAGGCTGGAAGAG |
| GAPDH | GGCCTCCAAGGAGTAA | AGGGGAGATTCAGTGTGGTG |
Western blotting
Cells growing in culture were washed three times with ice-cold PBS and then lysed in RIPA buffer (137 mM NaCl, 20 mM Tris-HCl, pH 7.5, 1% Triton X-100, 0.5% NP-40, 10% glycerol, 2 mM EDTA, pH 8.0) plus protease inhibitors (Roche). Lysate protein concentrations were determined using the Bradford method and equal amounts of protein were separated on 8–10% SDS-polyacrylamide gels. For CaM protein, the proteins were separated on 4–20% gradient Tris-HCl gels. Proteins were transferred to Immobilon membrane (Millipore) using the semi-dry method (BioRad, Hercules, CA). Membranes were blocked for 1 hr with 5% non-fat dried milk in TBST (25 mM Tris-HCl pH 7.4, 135 mM NaCl, 2.5 mM KCl, 0.1% Tween-20) and then incubated overnight at 4°C with SXR (Anti-412, or PP-H4417, Perseus Proteomics inc., Japan) or p53 (FL-393 HRP, Santa Cruz Biotechnology Inc., USA) antibodies. The membranes were fixed in 0.2% glutaraldehyde in TBS for CaM protein before blocking in 3% BSA overnight followed by 1 hr incubation in mouse monoclonal CaM antibody (C-7055, Sigma-Aldrich, USA) at RT. The anti-412 SXR antibody was raised against a synthetic peptide sequence starting at amino acid 412 (CLRIQDIHPFATPLMQE), by Bethyl Laboratories, Inc., Montgomery, TX. Isolated IgG was affinity purified against this peptide prior to use. The primary antibody incubation was followed by 1 hr incubation at room temperature with HRP-conjugated secondary antibody (1:10,000; Santa Cruz Biotechnology Inc., USA). The bands were detected using the ECL Plus Western Blotting Detection System (Amersham Bioscience, USA). Chemiluminescence was assayed using an Alpha Innotech Fluorchem SP imager (Alpha Innotech Inc., CA, USA) and analyzed by densitometry using FluorChem AlphaEase FC software (Alpha Innotech).
Proliferation assays
MCF-7 cells were seeded at 500 cells/well and ZR-75-1 cells were seeded at 2500 cells/well in 96-well plates in IMEM supplemented with 10% FBS. Cells were treated with ligands at the indicated concentrations every other day for seven days. Cell proliferation was measured using a fluorescence assay (CyQuant, Molecular Probes) and a Cytofluor 4000 Fluorescence Multi-Well Plate Reader (PerSeptive Biosystems).
Flow Cytometry
MCF-7 cells were incubated with 10 μM of SXR agonists (rifampicin, tamoxifen, anandamide, clotrimazole, RU486) or DMSO solvent control for 24 h. Cells were subsequently harvested using trypsin (0.5% w/v), centrifuged (140 g for 12 min), washed with PBS, and fixed with 2 ml ice-cold 70% ethanol overnight. Cells were centrifuged and resuspended with 10 μg/ml Propidium Iodide and 100 μg/ml RNase A at 37°C for 30 min. Samples were acquired on a FACSCalibur (BD Biosciences), and data were analyzed by CellQuest (BD Biosciences) and FlowJo (Tree Star, San Carlos, CA) software. Modfit (Verity Software, Topsham, ME) software was used to quantitate cell cycle using the fluorescence values of the FL2-area channel.
Detection of apoptosis
MCF-7 cells growing in culture were treated with 10 μM SXR ligands for 24, 48 and 72 hrs. Cells were also treated with 10 μM camptothecin for 24 hrs as a positive control for apoptosis. After the indicated period of treatment, cells were trypsinized and counted. Apoptosis was measured in the cytoplasmic fraction of equal numbers of cells using the Cell Death Detection ELISA (Roche Applied Science, Germany) using the manufacturer's recommended protocol.
NOS activity in cell lysates
MCF-7 cells were treated with 10 μM rifampicin or DMSO for indicated time periods. The cells were also treated with a cocktail of IL-1β (20 ng/ml), TNFα (15 ng/ml) and LPS (1 mg/ml) as a positive control for iNOS induction. After the indicated time periods, cell lysates were made in 1× homogenization buffer (25 mM Tris-Hcl pH7.4, 1 mM EDTA, 1 mM EGTA) by sonicating cells twice for 10 s at 10 amp. NOS activity was detected by measuring the conversion of 14C L-arginine (Amersham Bioscience, USA) into 14C L-citrulline by using nitric oxide synthase assay kit (Calbiochem Inc., USA). Radioactivity was measured by liquid scintillation counting and normalized to protein content.
Nitrite concentration in culture medium
NO production was measured as nitrite concentration in cell culture supernatants using the Griess method [36]. Briefly, aliquots of media were removed from cells growing in culture in the presence or absence of SXR activators, followed by centrifugation to remove cells. In the cell-free supernatants nitrate, a stable metabolite of NO, was reduced to nitrite by incubating sample aliquots for 15 min at 37°C in the presence of 0.1 U/ml nitrate reductase (from Aspergillus species, Roche), 50 μM NADPH (Sigma, USA) and 5 μM FAD (Sigma, USA). When nitrate reduction was complete, NADPH was oxidized to avoid interference with subsequent nitrite determination. For this purpose, the reduced samples were incubated with 10 U/ml L-lactate dehydrogenase (from rabbit muscle) and 10 mM sodium pyruvate for 5 min at 37°C, followed by addition of 50 μl of 1% sulfanilic acid in 5% phosphoric acid and 50 μl of 0.1% N-(1-naphthyl) ethylenediamine dihydrochloride to 100 μl of the reduced cell-free supernatant [36]. After 10 minutes at 23°C, the absorbance at 546 nM was determined. Concentrations of nitrite in samples were calculated from standard curves using sodium nitrite as the reference compound.
RNA Interference
Small interfering RNA (siRNA) duplexes targeting human SXR and p53 were custom synthesized by Qiagen (Qiagen Inc. USA). The most effective SXR siRNA target sequence was 5'-GGCCACTGGCTATCACTTC-3' [27, 37] and p53 siRNA sequence was 5'-AAACCACTGGATGGAGAATATTT-3'. Non-silencing control siRNA sequence 5'-AATTCTCCGAACGTGTCACGT-3' (Qiagen Inc. USA) was used as a negative control. The cells were transfected using Lipofectamine™ RNAiMAX transfection reagent (Invitrogen Inc., USA). The knock down efficiency by mRNA and protein were determined after 48 and 72 hrs of transfection, respectively. For gene expression assays, the cells were transfected with siRNA two day prior to ligand treatment, or the day of ligand treatment. After 48 hr of treatment with SXR ligands, RNA was isolated, cDNA synthesized and QRT-PCR analysis performed.
Statistical analyses
Data are shown as the mean values ± SEM. Results of two groups were analyzed using "unpaired" Student's t tests. Multiple comparisons were analyzed using one-way analysis of variance (ANOVAs). P ≤ 0.05 was taken to be statistically significant.
Discussion
The orphan nuclear receptor SXR is known to regulate the expression of target genes involved in all three phases of steroid and xenobiotic metabolism in the liver and gut. However, SXR is also expressed in bone, kidney, lung, endometrium and breast tissue [22, 24–26, 39]. Most of these tissues do not contribute significantly to xenobiotic metabolism; hence, SXR may be performing other functions. Here we have defined a new mechanism by which SXR transcriptional activation affects the growth of breast cancer cells. Activation of SXR in ER+p53wt breast cancer cells inhibits their proliferation through a cascade of events beginning withinduction of iNOS and production of NO that ultimately leads to cell cycle arrest and apoptosis.
Our experiments demonstrated increased steady state levels of iNOS mRNA in both MCF-7 and ZR75-1 cells, as well as increased iNOS activity accompanied by accumulation of NO in MCF-7 cells treated with SXR activators. We also observed increase in CaM mRNA and protein levels following SXR activation in both MCF-7 and ZR-75-1 cells. Consistent with this observation, increased CaM is expected to accompany induced iNOS expression since CaM binds to, and is required for activity of newly synthesized iNOS [
57
]. Increases in NO (48 hour post-treatment) levels were followed by increased expression of p53, and p53 target genes such as p21, BAX and PUMA (72 hour post-treatment), which finally led to apoptosis and G1 arrest (Figure
7
) in MCF-7 cells. Other reports demonstrated increased stability and accumulation of p53 by NO [
56
] and a strong association of p53 expression with iNOS expression [
55
]. Previous work has also established that accumulated p53 leads to up-regulation of cell cycle regulatory proteins, and pro-apoptotic proteins such as p21 and BAX [
50
,
51
] and induction of these genes leads to G0/G1 arrest [
50
] and apoptosis [
46
,
47
,
50
]. Therefore, the mechanism we have identified links SXR activation with a well-characterized pathway capable of mediating cell proliferation and apoptosis. Loss-of-function and gain-of-function studies shown above demonstrated that SXR activation is necessary and sufficient for this pathway. Therefore, we infer that the regulation of cell proliferation and apoptosis in response to xenobiotic ligands in breast cancer cells is a novel cellular function for SXR that requires further exploration.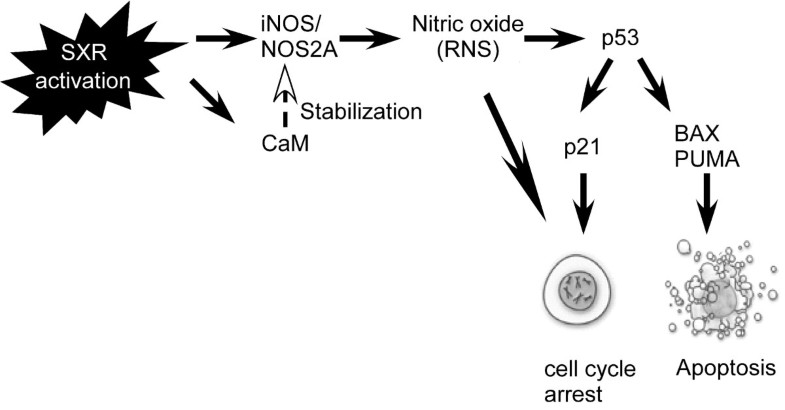 It was previously established that RNS/NO cause p53 stabilization and that the stabilized p53 is transcriptionally active [51]. NO-induced p53 stabilization is hypothesized to result from phosphorylation at serine-15 of p53 [49]. This phosphorylated form of p53 has been associated with attenuated p53 nuclear export [64]. In turn, nuclear levels of activated p53 are subject to negative regulation by Mdm2, which functionally inactivates p53, facilitates p53 ubiquitination, nuclear export, and proteasomal degradation. Whether or not phosphorylation at serine 15 disrupts the p53/Mdm2 interaction is currently controversial [65]. However, it is clear that blocking p53 nuclear export stabilizes active p53 [66] and that NO exposure leads to nuclear p53 accumulation [56]. Moreover, expression of the iNOS gene has been shown to have a strong association with p53 expression at both mRNA and protein levels [55]. Increased BAX, PUMA and p53 mRNA levels were not observed by all three SXR activators until 72 hours in MCF-7 cells, whereas iNOS was up-regulated as early as 24 hrs after treatment with SXR activators in our experiments (Figure 3A and Figure 4A). This timing supports our model that the primary effect of SXR activation in these breast cancer cells is to increase steady-state levels of iNOS mRNA which then leads to increased production of NO. Increased NO levels up-regulate expression of p53. The elevated levels of p53 further up-regulate expression of p21 and that of the pro-apoptotic p53 target genes BAX and PUMA in breast cancer cells (Figure 7). Inhibition of NOS blocked the induction of p53 and knock down of p53 inhibited the induction of p21 and BAX in response to SXR activators. Both of these results further confirmed our model that p53 is acting down-stream of NOS and is required for up-regulating the expression of cell cycle regulatory and pro-apoptotic genes such as p21, BAX and PUMA in breast cancer cells in response to SXR activation.
Interestingly, expression of the cell cycle regulatory gene p21(Waf1/Cip1) can also be induced by NO [50, 67]. Moreover, nitric oxide can have cytostatic effects on cells by directly influencing the cyclin D1 expression, independent of p53 [54]. In our experiments MCF-7 accumulated in G1/S phase of cell cycle starting as early as 24 hours post-treatment. In contrast, p53 and its target genes did not started going up until 48 hours, indicating p53 independent cytostatic effects of nitric oxide at earlier time points.
Experiments in p53 null mice as well as in p53wt versus p53mut lymphoblastoid cells have demonstrated that NO induces apoptosis, and that this effect is dependent upon the presence of wild type p53 [68]. We detected elevated NO and apoptosis in MCF-7 cells treated with SXR activators, and increases in iNOS mRNA as well as mRNAs encoding p53 and p53-target genes in MCF-7 and ZR75-1 cell lines. Both of these cell lines are p53 wild type; therefore, our results are consistent with the earlier findings. As expected, we did not observe the induction of p53 target genes by SXR activators in cells transfected with p53 siRNA which again emphasize the role of p53 in our model.
Previously published reports have suggested that there is an inverse relationship between ER and SXR levels in breast and endometrial tissues [22, 25]. Both of the cell lines tested in this study are ER positive. However, in our preliminary experiments with ER+ and ER- breast cancer cell lines and consistent with previously published reports with breast cancer cell lines [25], we did not observe an inverse relationship between ER and SXR protein levels (data not shown). It is possible that this may be because insufficient samples have been examined and this point requires further exploration with bigger sample size. It would also be of interest to see if the anti-proliferative effects of SXR are limited to ER+ breast cancer cells.
Interestingly, in this study we also found that although MCF-7 and ZR-75-1 cells express almost equal amount of SXR protein (Figure 1), the MCF-7 cells were considerably more sensitive in anti-proliferative response to SXR activators in comparison to ZR-75-1 cells (Figure 2A). There can be many reasons for differences in the sensitivity of these cells towards SXR activators. One plausible and likely explanation is that ZR-75-1 cells express much lower levels of p53 in comparison to MCF-7 cells http://www.mdanderson.org/departments/cancerbiology/dIndex.cfm?pn=31062032-B0EB-11D4-80FB00508B603A14. The topoisomerase I inhibitor, camptothecin can only induce a ~3 fold increase in p53 protein levels in ZR75-1 cells compared with ~18 fold increase in MCF-7 cells (please compare figure 3C and Figure 3D). This is consistent with the possibility that differences in the sensitivity of these cells to SXR activators is more closely related to the inducibility of p53, than to the levels of SXR.
A very recent study has shown that SXR activators increased the expression of organic anion transporter, enhancing estrogenic effects in breast cancer [69]. The differences in the pro-proliferative vs. pro-apoptotic effects of SXR in this study vs. our study can have several possible causes. There was a different experimental design in that the other study grew the breast cancer cells in estrogenic conditions vs. our experiments in which the cells were grown in estrogen depleted conditions (stripped medium, phenol red free) or the choice of breast cancer cell lines (MCF-7 and ZR-75-1 vs. T47-D). In addition, MCF-7 cells express much lower level of OATP1a2 than T47-D and T47-D are p53mut.
Recent studies have reported anti-apoptotic effects of SXR in liver and colon cancer cells [29, 34] and proliferative effects in ovarian cancer cells in-vitro [70], whereas SXR activation, in-vivo, has been suggested to have pro-apoptotic effects in colon tissues [33]. Here we have shown that activation of SXR is pro-apoptotic in breast cancer cells. The ability of SXR to be pro-apoptotic in one tissue and anti-apoptotic in others may result from cell-type specific effects of SXR, or of SXR-induced NO. We previously, showed that SXR can regulate gene expression in a tissue specific manner based on the levels of co-repressor NCoR expressed in these tissues [71]. Therefore, we propose that SXR activation might activate a different panel of gene in liver or colon tissue in comparison to breast tissue which may explain its different role between tissues. Moreover, the association between RNS/NO and apoptosis is also very complex. RNS/NO can provoke apoptosis or alternatively antagonize cell death pathways, depending on the cell type, NO concentration, redox state of the cell, pro-versus anti-apoptotic balance of an individual cell, and the subcellular localization of NO synthesis (reviewed in [53]). Therefore, the threshold levels for RNS to trigger apoptosis will likely differ from one cell to another. Interestingly, in accordance with our results different groups have reported induction of NO by many different SXR activators such as rifampicin, tamoxifen and anandamide in different cell types [72–74]. These studies from different groups suggest that SXR might commonly activate NO in different cells but depending on the cellular milieu, SXR generated NO can be pro-apoptotic or anti-apoptotic. Taken together, these studies suggest that SXR may have cell type specific effects on proliferation/apoptosis pathways, particularly in cancer cells.
These results also raise an intriguing question – is SXR expression pro- or anti-proliferative in breast cancers, in vivo? Understanding whether SXR is pro- or anti-proliferative in breast cancers is very important for optimizing breast cancer therapies because many commonly used chemotherapeutic agents (tamoxifen, taxol, cyclophosphamide, cisplatin) are SXR activators. The novel link we have established between SXR and breast cancer requires further investigation using appropriate in vivo systems. If, as we have shown, SXR activation is anti-proliferative, then therapies or preventive measures that target SXR without inducing their own metabolism will provide an important adjunct to current therapies. If SXR expression promotes, rather than inhibits the growth of cancer cells, then treatment with drugs that activate SXR will ultimately be counterproductive to tumor treatment. In this event, treatment of patients with standard therapies together with SXR antagonists [28, 75], or with SXR-transparent chemotherapeutic agents could prove beneficial both in blocking tumor growth and in improving the therapeutic efficacy of existing agents.
Conclusion
Taken together, the data presented above show that activation of SXR induces apoptosis in p53wt breast cancer cells that is mechanistically dependent upon induction of iNOS and NO-induced accumulation of p53 in cells. Our results have established a novel link between SXR and p53 induction and apoptosis in breast cancer cells. There have been scattered reports on xenobiotic metabolism and breast cancer. However, it was not clear what pathways or genetic factors are involved. Our results represent the first identification of an association between a well established xenobiotic receptor, SXR and apoptosis of breast cancer cells. Further in depth studies providing mechanistic insights into the role of SXR in proliferation and apoptosis of mammary epithelial cells in-vivo will have significant impact on breast cancer.
Abbreviations
iNOS/NOS2A:

Inducible Nitric Oxide Synthase
NO:

Nitric Oxide, QRT-PCR: Quantitative Real Time RT-PCR
ELISA:

Enzyme-Linked ImmunoSorbent Assay
ROS:

Reactive Oxygen Species
RNS:

Reactive Nitrogen Species
eNOS:

Endothelial NOS
CaM:

Calmodulin
L-NMMA:

L-N(G)-MonoMethylArginine.
Declarations
Acknowledgements
Supported by grants from the NIH (CA087222), DOD (DAMD17-02-1-0323) and Avon Breast Cancer Foundation to BB. SV is the recipient of a predoctoral fellowship from the DOD (W81XWH-06-1-0453). MMT was supported by a training grant from the NIH (Ruth L. Kirschstein NRSA T32 HD-07029) and the California Breast Cancer Research Program (5FB-0100). We thank R. Brachmann for providing us with p53 siRNA. We also thank E. Lee, R. Kaigh, C. Walsh, R. Brachmann and members of Blumberg lab for constructive comments on the manuscript, P. Brown for stimulating discussions in the early phases of this work, and D. Fruman and C. Walsh for access to the FACSCalibur analyzer, software and help in data analysis. We thank A. Shah for help in conducting p53 experiments and A. Sun for early characterization of the anti-412 antiserum.
Authors' Affiliations
(1)
Department of Developmental and Cell Biology, 5205 McGaugh Hall, University of California, Irvine, USA
Copyright
© Verma et al; licensee BioMed Central Ltd. 2009
This article is published under license to BioMed Central Ltd. This is an Open Access article distributed under the terms of the Creative Commons Attribution License (http://creativecommons.org/licenses/by/2.0), which permits unrestricted use, distribution, and reproduction in any medium, provided the original work is properly cited.