Research article

Open Access

Open Peer Review
This article has Open Peer Review reports available.
High-resolution array CGH clarifies events occurring on 8p in carcinogenesis
Received: 04 June 2008
Accepted: 07 October 2008
Published: 07 October 2008
Abstract
Background
Rearrangement of the short arm of chromosome 8 (8p) is very common in epithelial cancers such as breast cancer. Usually there is an unbalanced translocation breakpoint in 8p12 (29.7 Mb – 38.5 Mb) with loss of distal 8p, sometimes with proximal amplification of 8p11-12. Rearrangements in 8p11-12 have been investigated using high-resolution array CGH, but the first 30 Mb of 8p are less well characterised, although this region contains several proposed tumour suppressor genes.
Methods
We analysed the whole of 8p by array CGH at tiling-path BAC resolution in 32 breast and six pancreatic cancer cell lines. Regions of recurrent rearrangement distal to 8p12 were further characterised, using regional fosmid arrays. FISH, and quantitative RT-PCR on over 60 breast tumours validated the existence of similar events in primary material.
Results
We confirmed that 8p is usually lost up to at least 30 Mb, but a few lines showed focal loss or copy number steps within this region. Three regions showed rearrangements common to at least two cases: two regions of recurrent loss and one region of amplification. Loss within 8p23.3 (0 Mb – 2.2 Mb) was found in six cell lines. Of the genes always affected, ARHGEF10 showed a point mutation of the remaining normal copies in the DU4475 cell line. Deletions within 12.7 Mb – 19.1 Mb in 8p22, in two cases, affected TUSC3. A novel amplicon was found within 8p21.3 (19.1 Mb – 23.4 Mb) in two lines and one of 98 tumours.
Conclusion
The pattern of rearrangements seen on 8p may be a consequence of the high density of potential targets on this chromosome arm, and ARHGEF10 may be a new candidate tumour suppressor gene.
Keywords
Copy Number Change
Translocation Breakpoint
Wellcome Trust Sanger Institute
Candidate Cancer Gene
DLC1 Expression
Background
Rearrangements of the short arm of chromosome 8 (8p) are one of the most common genetic events in breast [1–3], pancreatic [4] and many other epithelial carcinomas [5]. Although these rearrangements have been studied using a variety of techniques, including cytogenetics, CGH (comparative genomic hybridisation), array CGH and LOH (loss of heterozygosity) analysis [1–4], their resolution, with the exception of studies on 8p12 which are discussed below, has been insufficient to provide a feasibly small number of candidate genes for further analysis.
Loss of heterozygosity (LOH) studies suggest that there are at least three tumour suppressor genes on 8p, in bands 8p23, 8p22, and 8p21, lost in several epithelial tumour types [6–8]. The highest resolution of these studies is just over 1 Mb, showing that bladder tumours have a common region of LOH between microsatellite markers D8S504 (1.0 Mb) and D8S264 (2.1 Mb) in 8p23.3 [8]. In support of this a lower resolution LOH study of ovarian adenocarcinomas identifies D8S264 (2.1 Mb) as showing the second highest rate of LOH on 8p, with the highest rate at D8S1827 (14.9 Mb) in 8p22 [7].
Cytogenetic and array CGH studies suggest that distal 8p is frequently lost through an unbalanced translocation that breaks in 8p11-12 [3, 9]. The 8.8 Mb between 29.7 Mb and 38.5 Mb, encompassing 8p12, is the only region of 8p that has been extensively studied at high resolution, using tiling-path BAC array CGH [10, 11]. The translocation breakpoints are usually within, or proximal to, the chromosome band 8p12 and several of them are within the NRG1 (neuregulin 1) gene (32.2 Mb; midpoint on NCBI Build 36) [12, 13]. Most recent research has focussed on this breakpoint region and more proximal changes and array CGH has not been applied to the distal candidate regions identified by the earlier LOH studies.
The other known recurrent feature of 8p rearrangements, at least in breast cancer, is amplification of 8p11-12 in 10–25% of cases, correlating with poor prognosis [11, 13–15]. This amplicon was originally suggested to target the FGFR1 (Fibroblast Growth Factor Receptor 1) gene [16], a member of the same family as FGFR2 (Fibroblast Growth Factor Receptor 2), a known oncogene and driver of amplification. However, it has subsequently been shown that FGFR1 is not always included in the minimal region of amplification and other candidate oncogenes have been suggested [11, 13–15, 17, 18]. Detailed analysis of 8p11-12 amplification shows that there may be as many as four sub-regions of amplification [11, 17], raising the possibility that there are multiple cancer-relevant genes in 8p11-12.
Array CGH studies at around 1 Mb resolution of breast [19] and pancreatic cancer [20] confirm the general pattern of loss of 8p but are of insufficient resolution to study individual changes and identify candidate target genes. Two tiling-path array CGH studies have been carried out on seven [21] and ten [22] breast cancer cell lines. The first mentions two changes on 8p [21]. MCF-7 has lost the whole of 8p and T47D has two small deletions in 8p23.1, although we now suggest that this is due to normal copy number variation (see results). At least two further changes – breaks at 8p12 with distal loss – are visible on the ZR-75-30 and T47D karyograms included in the supplementary data, but the raw data is not available for further analysis. The second study identifies amplification of 8p11-12 in JIMT-1 [22].
Overall the picture of events occurring on 8p, and especially distal 8p, is rather confused, due at least in part to the lack of high-resolution data on 8p rearrangements and the lack of array CGH data for the regions highlighted by LOH as likely to contain tumour suppressor genes. Array CGH suggests that a tumour suppressor gene is located at, or just distal to, the 8p12 breakpoint cluster [10], while LOH analysis suggests the existence of several more distal tumour suppressor genes [6–8]. In spite of recent analyses that might suggest a relatively small overlap in alterations across different tumour types [23], the general pattern of changes on 8p is similar across several tumour types and is therefore potentially driven by the same selective pressures.
Our objectives were to investigate whether there were recurrent events on 8p outside the well-studied 8p11-12 region; in particular to look for deletions in distal regions, previously suggested by LOH to harbour a tumour suppressor gene; and to try and make sense of the overall pattern of changes seen on 8p. We set out to analyse the whole of 8p by tiling-path-resolution array CGH in a panel of breast cancer cell lines, and to investigate further regions of recurrent rearrangement. We had previously obtained SKY karyotypes for 27 of the 32 breast cancer cell lines used in this study. Additionally we included six pancreatic cancer cell lines that show rearrangements of 8p at cytogenetic resolution http://www.path.cam.ac.uk/~pawefish/index.html.
Methods
Cell lines and primary tumours
Details of cancer cell lines can be found in Additional file 1. Immortalised human breast luminal epithelial line HB4a [24] was obtained from Professor Mike O'Hare (LICR/UCL Breast Cancer Laboratory, University College, London, UK) and normal male lymphoblastoid line m62 obtained from Dr Chris Tyler-Smith (Wellcome Trust Sanger Institute, Hinxton, UK). Both were cultured in DMEM:F12 (Invitrogen, Paisley, UK).
All tumours were invasive breast carcinomas of small size (91% < 3 cm) and low Nottingham Prognostic Index, collected between 1990 and 1996 as part of the Nottingham/Tenovus series [25–29]. 65% were ER positive. The tissue microarray consisted of over 100 breast tumours. Matching RNA, TRIzol®-extracted from fresh-frozen tissue, was available for 61 of these tumours.
Array construction
For the 8p tiling path array, 328 overlapping BAC clones for the length of 8p were selected from the 32 k clone set available from the BACPAC Resource Centre (CHORI, CA, USA) [30]. Additional clones to close gaps were obtained from Invitrogen and the Wellcome Trust Sanger Institute. A subset of 6% of these BACs was sequenced to confirm their identity. All except one matched their expected position on the human genome. The remaining clone showed evidence of containing more than one sequence and was substituted on the final array. The selected overlapping BAC clones for 8p provided an average clone spacing of 138 kb. A spot failure rate of around 10% resulted in an actual resolution averaging 155 kb. For the fosmid array, 123 fosmids were obtained from the Sanger Institute, mainly covering the regions of 8p21.3 (27 clones between 21.59 Mb and 22.25 Mb) and 8p22 (43 clones between 12.97 Mb and 15.68 Mb tiling three genes but not intergenic regions), identified by BAC array CGH as containing multiple rearrangements, to a resolution of 0.04 Mb. BACs were amplified by the method of Fiegler et al. [31] and printed with the custom genomic 8p12 array first described in Huang et al. [32] on CodeLink slides (Amersham Biosciences, Amersham, UK). Fosmids were prepared by the same method and printed as a separate array.
Array hybridisation
Array hybridisations were carried out essentially as described in Garcia et al. [14] and Pole et al. [10]. Tumour genomic DNA was labelled with Cy3-dCTP and a pool of normal female genomic DNA with Cy5-dCTP (Amersham Biosciences) using Bioprime labelling kits (Invitrogen). Samples were hybridized to arrays overnight in the presence of Cot1 DNA (Invitrogen), and washed in PBS/0.05% Tween-20 at room temperature, 50% formamide/SSC at 42°C and then again in PBS/0.05% Tween-20. Arrays were scanned on an Axon 4100A scanner with data collected using GenePix Pro 4.1 software (Axon Instruments, CA, USA) and analyzed in Excel. For array painting, chromosomes (provided by Dr Karen Howarth, University of Cambridge, UK) were sorted by flow-cytometry and amplified by GenomiPhi (GE Healthcare, Buckinghamshire, UK) according to the method of Howarth et al. [33]. They were hybridised against GenomiPhi-amplified normal female genomic DNA.
The array performance was tested by self-self and male-female hybridisations and using known 8p rearrangements in T47D (Additional file 2). Self-self hybridisation gave a standard deviation (SD) of ± 0.08 and male-female hybridisation ± 0.04 SD. Log2 ratio shifts in response to copy number changes were tested by hybridisation of T47D against normal female gDNA. Copy number changes were estimated by inspection, taking into account both the shift in log2 ratio and the level of noise for each sample. In general a change in log2 ratio of 0.5 or more was scored as a change in copy number and a gain in log2 ratio of 2 or more was scored as amplification.
Chi-squared test
The probability of the observed distribution of rearrangements on 8p occurring in the absence of any selection or pre-disposition to breakage at certain sites was calculated by chi-squared test. Chromosome 8 was divided into the major bands (8p11, 12, 21, 22, 23) and the observed number of rearrangements in each band tested against the number expected at random according to the size of each band.
Fluorescence in situhybridization (FISH)
Metaphase preparation and FISH was carried out as described previously [10, 34]. Chromosome 8 paint was made using flow sorted chromosomes kindly provided by Patricia O'Brien and Professor Ferguson-Smith (University of Cambridge, UK). All BACs used for FISH were tested individually on normal (m62) metaphases for hybridisation to the correct region of chromosome 8.
FISH on paraffin embedded tumours
Tissue microarray slides were prepared from formalin-fixed paraffin embedded tissue and analysed according to the method of Chin et al. [35]. Probes for FISH on paraffin embedded tumours were prepared in the same way as for conventional FISH. A pool of three BACs, RP11-529P14 (21.8 Mb; positions are given as BAC midpoints according to NCBI Build 36), RP11-67H12 (21.9 Mb) and RP11-70D12 (22.0 Mb), was used for the test region and a pool of two BACs, RP11-381G11 (19.4 Mb) and RP11-222M11 (19.5 Mb), was used as a reference.
RT-PCR
RNA was reverse transcribed using SuperScript III Reverse Transcriptase (Invitrogen) and oligo dT primer. Quantitative real-time PCR was carried out, in triplicate, in 10 μl reactions containing 1× SYBR Green PCR Master Mix (Applied Biosystems, CA, USA), 2.5 pmol both forward and reverse gene specific primer and 1 μl of 10-fold diluted cDNA. Cycling conditions were 50°C for 2 min, 95°C for 10 min then 40 cycles of 95°C for 15 s, 60°C for 1 min and a final dissociation step of 95°C for 15 s, 60°C for 15 s and 95°C for 15 s in an ABI PRISM 7900 HT Sequence Detection System (Applied Biosystems).
Primer sequences are given in Additional file 3. Standard curves for each primer pair were used to calculate amplification efficiency coefficients and melting curve analysis following qPCR confirmed that each primer amplified a single product. Relative expression levels were calculated as:
For primary samples expression levels were compared to the median-expressing tumour. Purified luminal cells, purified basal cells [36] (both kindly provided by Professor Mike O'Hare, UCL, London), a range of commercial normal RNAs (Stratagene (Cambridge, UK), USBiological (Europa Bioproducts Ltd, Wicken, UK), Ambion (Huntingdon, UK), BioChain (AMS Biotechnology, Abingdon, UK), Clontech (Basingstoke, UK)), and normal breast line HB4a were used as normal controls.
Results
Array CGH results were obtained for a set of 32 breast and six pancreatic cancer cell lines (Figure
1
, Additional files
4
). Five cell lines had lost the whole of 8p with respect to 8q, five had no copy number change on 8p, and the remaining 28 had at least one unbalanced rearrangement (Additional file
5
). By chi-squared analysis the distribution of breakpoints across the different chromosome bands was non-random (p = 0.0001), suggesting that rearrangements of 8p are under selective pressure or that breaks occur non-randomly due to breakage-prone regions. We identified, in addition to the expected translocation breakpoints and amplicon in 8p11-12 (29.7 Mb – centromere), three further regions of recurrent rearrangement (Figure
1
). These are located more distally on 8p: two overlapping amplicons, which defined a possible novel region of amplification in 8p21.3 (19.1 Mb – 23.4 Mb), a region of recurrent rearrangement in 8p22 (12.7 Mb – 19.1 Mb) and a region of focal recurrent loss in 8p23.3 (0 Mb – 2.2 Mb). They identify a limited number of candidate genes in these regions for further study.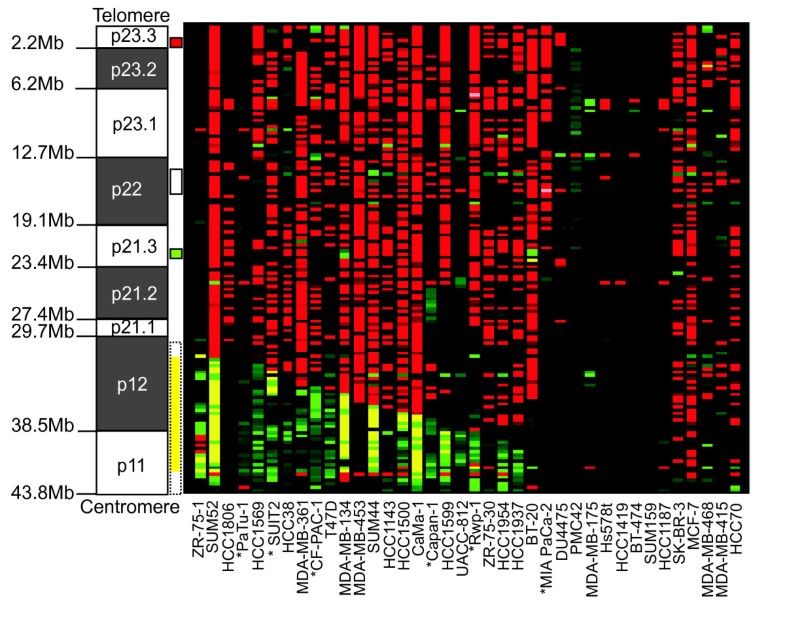 Normal copy number polymorphisms were observed at around 7 Mb in 8p23.1, where there is a high level of segmental duplication and a family of homologous and highly polymorphic genes, the defensins [37, 38]. FISH with BACs RP11-185K20 (7.80 Mb; positions are given as BAC midpoints according to NCBI Build 36) and RP11-43B8 (7.76 Mb) from this region on normal lymphoblastoid interphase nuclei confirmed copy number differences were present between the homologous chromosomes (Additional file 2).
Discussion
This high-resolution array CGH study of 8p in carcinomas has allowed us to build a picture of the more distal events on 8p and to put each change into context. Previous array CGH studies have focused on 8p11-12 as a site of recurrent translocation and amplification [10, 11, 14, 17, 19]. We now present a high-resolution dataset for the whole of 8p with specific follow-up of recurrent events occurring on distal 8p – a relatively unstudied 30 Mb of DNA.
We identified three novel regions of interest on distal 8p: 8p21.3, which contained a novel amplicon centred at 21.8 Mb; 8p22, which had a variety of rearrangements between 12.9 Mb and 15.6 Mb; and a region of consistent loss centred at 1.8 Mb in 8p23.3. These results show that high-resolution BAC array CGH is a good approach for characterising genomic rearrangements to a resolution that provides a manageable number of candidate genes for further study in a cost-effective way.
Conclusion
While early work on 8p, driven by LOH analysis [6, 7] focused on distal 8p, more recent studies have concentrated on 8p11-12 [10, 11] in an attempt to explain the role of this chromosome arm in cancer. This present study suggests that, in addition to the frequently observed loss from 8p12 to the telomere with proximal amplification, there are additional rarer events that occur on distal 8p. While loss of specific distal loci may occur in only a few cases, loss of these distal sequences may also add to selection for general distal loss following the commonly observed breakage at 8p12 in many tumours.
Declarations
Acknowledgements
We thank Rachel Lyman for help with cell culture and metaphase preparation, Dr Karen Howarth and Patricia O'Brien for providing sorted chromosomes, Professor Mike O'Hare for providing cells, Sarah Hyland for assistance with sequencing, and Dr Cherie Blenkiron and Dr Yii Leng Chua for tumour RNA extraction and reverse transcription. The arrays were printed by Dr Anthony Brown at the University of Cambridge, Department of Pathology, Centre for Microarray resources. Research is supported by CRUK, Breast Cancer Campaign, BBSRC and MRC (studentship for SLC).
Authors' Affiliations
(1)
Department of Pathology and Hutchison/MRC Research Centre, University of Cambridge, Cambridge, UK
(2)
CRUK Cambridge Research Institute and Department of Oncology, University of Cambridge, Cambridge, UK
(3)
Department of Histopathology, Nottingham City Hospital NHS Trust and University of Nottingham, Nottingham, UK
Copyright
© Cooke et al; licensee BioMed Central Ltd. 2008
This article is published under license to BioMed Central Ltd. This is an Open Access article distributed under the terms of the Creative Commons Attribution License (http://creativecommons.org/licenses/by/2.0), which permits unrestricted use, distribution, and reproduction in any medium, provided the original work is properly cited.