Review

Open Access

Open Peer Review
This article has Open Peer Review reports available.
Sodium iodide symporter (NIS) in extrathyroidal malignancies: focus on breast and urological cancer
Received: 17 November 2013
Accepted: 17 April 2014
Published: 30 April 2014
Abstract
Background
Expression and function of sodium iodide symporter (NIS) is requisite for efficient iodide transport in thyrocytes, and its presence in cancer cells allows the use of radioiodine as a diagnostic and therapeutic tool in thyroid neoplasia. Discovery of NIS expression in extrathyroidal tissues, including transformed cells, has opened a novel field of research regarding NIS-expressing extrathyroidal neoplasia. Indeed, expression of NIS may be used as a biomarker for diagnostic, prognostic, and therapeutic purposes. Moreover, stimulation of endogenous NIS expression may permit the radioiodine treatment of extrathyroidal lesions by concentrating this radioisotope.
Results
This review describes recent findings in NIS research in extrathyroidal malignancies, focusing on breast and urological cancer, emphasizing the most relevant developments that may have clinical impact.
Conclusions
Given the recent progress in the study of NIS regulation as molecular basis for new therapeutic approaches in extrathyroidal cancers, particular attention is given to studies regarding the relationship between NIS and clinical-pathological aspects of the tumors and the regulation of NIS expression in the experimental models.
Keywords
Sodium iodide symporter (NIS)
Extrathyroidal tissues
Breast cancer
Urological malignancies
Gene therapy
Introduction
The sodium iodide symporter (NIS) is a glycosylated protein with 13 trans-membrane domains, belonging to the solute carrier family [
1
,
2
] (Figure
1
). It is able to transport 2 Na
+
and one I
-
through the membranes, depending on the Na
+
gradient maintained by Na
+
/K
+
ATPase [
3
]. The highest expression levels are detectable in the thyroid, where is located in the basolateral membrane of the thyrocytes [
3
]. NIS activity is necessary to provide the iodide concentration gradient inside thyroid cells, used for the synthesis of thyroid hormones in a multistep process requiring the action of pendrin, thyroid peroxidase (TPO), dual oxidase-2, and thyroglobulin. The thyroid stimulating hormone (TSH) is the main regulator of the iodide transport in the thyrocytes, and it does so by acting on NIS transcription, NIS protein half-life, and its translocation to the thyrocyte basal plasma membranes [
3
–
5
].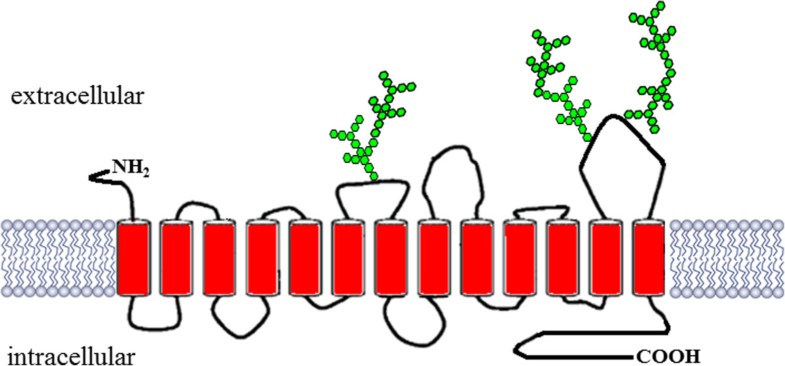 Review and Conclusions
Radioiodine administration after TSH stimulation of iodide uptake is a validated treatment effective in most differentiated thyroid cancer. Its success may be likely attributed to the TSH-induced increase of NIS expression and function in the plasma membrane of thyroid cancer cells. Moreover, novel therapeutic approaches targeting the molecular pathways responsible for the loss of differentiation (and subsequent reduction of NIS) are showing promising results in those radioiodide-refractory cancers [115].
These finding justify the efforts to set up a similar strategy, radioiodine-based treatment after stimulation of NIS expression, as a reasonable approach for those extrathyroidal tumors in which NIS can be induced in the membrane of neoplastic cells. Such a therapy would present the advantage of short duration of treatment, reducing the frequency and severity of the eventual side effects.
Introduction of exogenous NIS into non-thyroidal cancer have demonstrated efficient tumor shrinkage by 131I in several in vivo studies [116]. The major improvement of NIS gene-based therapy strategy has come from the use of vectors of oncolytic viruses or replication-defective adenoviruses, thus preventing unfavorable genomic integration. Even non-viral vectors have been efficiently tested for the same purpose (see Table 5).
Also, the use of promoter-specific driving of NIS in the target tissue has been adopted in xenograft models of many tumors. After the successful test of the first construct containing the PSA promoter used to confer efficient functional NIS expression in prostate cancer xenografts [77], several other tumor-specific promoters have shown the capacity to drive NIS expression in specific tumor tissue and determine the radioiodide inhibition of tumor growth in animal experimental models. Finally, synergistic and/or additive cytotoxic effects have been achieved combining treatments with NIS gene therapy and other tumor targeting strategies [9]. An unresolved question is the real feasibility of the application of such a strategy on human patients.
In addition, endogenous NIS stimulation also appears to be a promising approach. It may take advantage of the enormous progress obtained in thyroid cancer field of research in the elucidation of the molecular mechanism that controls thyrocyte differentiation and, in particular, NIS expression. For example, inhibitors of signal transduction pathways, as PI3K/AKT inhibitors and MEK/ERK inhibitors, or HDAC inhibitors, have demonstrated the ability to enhance the functional NIS expression in some thyroid cancer, as well as non-thyroid cancer cells [85, 117, 118] and, very recently, a clinical pilot study has actually demonstrated the effectiveness of the MEK inhibitor selumetinib to increase radioiodide uptake in a number of patients with advanced thyroid cancer [114].
Isoform-specific signal transduction pathways are probably involved in the tissue-specific regulation of NIS expression. Thus, elucidation of the molecular mechanism underlying such regulatory pathways may contribute to achieving a further enhancement of functional NIS expression in extrathyroidal cancer tissues, expanding the application of radioiodide therapy to all NIS-expressing neoplasia.
Abbreviations
AFP:

Alpha-fetoprotein
BC:

Breast cancer
CMV:

Cytomegalovirus
CRAd:

Conditionally replicating adenovirus
ER:

Estrogen receptor
HDAC:

Histone deacetylase
HDACi:

Histone deacetylase inhibitor
HER2:

Human epidermal growth factor receptor 2
HIP:

Hepatocarcinoma-intestine-pancreas gene
hTERT:

Human telomerase reverse transcriptase
hTR:

Human telomerase subunits RNA
IGF:

Insulin growth factor
131I:

Radioiodide-131
MUC-1:

Mucin 1
NIS:

Sodium iodide symporter
PI3K:

Phosphoinositide 3-kinase
PPARγ:

Peroxisome proliferator-activated receptor γ
PR:

Progesterone receptor
PSA:

Prostate-specific antigen gene
RA:

Retinoic acid
RARα:

Retinoic acid receptor-alpha
RT-PCR:

Reverse transcriptase polymerase chain reaction
SAHA:

Suberoylanilide hydroxamic
TNBC:

Triple-negative BCs
TPO:

Thyroid peroxidase
TSH:

Thyroid stimulating hormone
VPA:

Valproic acid.
Declarations
Acknowledgements
We thank Paul Casella for editorial feedback on the manuscript. This work was supported by Fondazione Umberto Di Mario ONLUS and was supported by the Associazione Italiana per la Ricerca sul Cancro (AIRC) (grant n° IG 10296).
Authors' Affiliations
(1)
Department of Urology, University of Modena and Reggio Emilia, Modena, Italy
(2)
Department of Health Sciences, University of Catanzaro 'Magna Graecia', Catanzaro, Italy
(3)
Department of Medical and Biological Sciences, University of Udine, Udine, Italy
(4)
Department of Drug Sciences and Products for Health, University of Messina, Messina, Italy
(5)
Department of Internal Medicine and Medical Specialties, University of Rome 'Sapienza', Rome, Italy
Copyright
© Micali et al.; licensee BioMed Central Ltd. 2014
This article is published under license to BioMed Central Ltd. This is an Open Access article distributed under the terms of the Creative Commons Attribution License (http://creativecommons.org/licenses/by/2.0), which permits unrestricted use, distribution, and reproduction in any medium, provided the original work is properly credited. The Creative Commons Public Domain Dedication waiver (http://creativecommons.org/publicdomain/zero/1.0/) applies to the data made available in this article, unless otherwise stated.