Research article
Open Access
Open Peer Review
This article has Open Peer Review reports available.
In B-CLL, the codon 72 polymorphic variants of p53 are not related to drug resistance and disease prognosis
Received: 06 May 2005
Accepted: 18 August 2005
Published: 18 August 2005
Abstract
Background
A common sequence polymorphism at codon 72 of the p53 gene encoding either arginine or proline was recently shown to be functionally relevant for apoptosis induction in vitro. In B-type chronic lymphocytic leukemia (B-CLL), p53 gene mutations occur in a subset of patients and are associated with impaired survival and drug resistance. Here, we address the functional relevance of the codon 72 single nucleotide (SNP) polymorphism for cell death sensitivity following exposure to clinically employed cytotoxic drugs and γ-irradiation.
Methods
138 B-CLL samples were analysed by SSCP-PCR and sequencing for single nucleotide polymorphism at codon 72 of the p53 gene. The in vitro cytotoxicity assay (DiSC-assay) was performed with 7 drugs (chlorambucil, mafosfamide, fludarabine phosphate, methylprednisolone, doxorubicin, vincristine) or γ-irradiation.
Results
Of the138 B-CLL samples, 9 samples were homozygous for proline (Pro/Pro), 78 samples homozygous for arginine (Arg/Arg), and 49 samples heterozygous (Arg/Pro). No differences were found for patient survival and cell death triggered by 7 cytotoxic drugs or γ-irradiation.
Conclusion
These data indicate that polymorphic variants of p53 codon 72 are not clinically relevant for apoptosis induction or patient survival in B-CLL.
Keywords
Single Nucleotide PolymorphismChlorambucilMafosfamideBinet StageFludarabine Phosphate
Background
The tumor suppressor gene p53 plays a central role in the induction of cell cycle arrest, senescence and apoptosis [1–5]. The polyproline domain (PP domain) of p53 spanning amino acids 62–91 is involved in apoptosis induction and facilitates transactivation of pro-apoptotic genes by p53 [6].
Located in this PP domain is at codon 72 a common single nucleotide polymorphism (SNP), resulting in either a proline residue (p53Pro) or an arginine residue (p53Arg). Thus, each individual inherits a p53 genotype that can be heterozygous (Arg/Pro) or homozygous for either arginine (Arg/Arg) or proline (Pro/Pro). The polymorphism is balanced, varies with latitude and race, and is maintained at different allelic frequencies across the population [7]. These two SNPs appear to be different both biochemically and biologically [8–11]. Differences in apoptosis susceptibility to cytotoxic drugs were described [12, 13], and the response and survival to radiochemotherapy in clinical samples of squamous cell carcinomas was found to be increased in case the arginine allele is retained [13].
Chronic lymphocytic B-cell lymphoma is still an incurable disease and may be addressed as a disease of intrinsic apoptosis deficiency. It is a disease where the mutational status of the p53 gene is linked to patient survival [14] (and references herein). We therefore asked whether the codon 72 polymorphism is of clinical relevance for in vitro resistance to cytotoxic drugs, γ-irradiation and patient prognosis.
Discussion
Recently, a sequence polymorphism at codon 72 the p53 gene (exon 4) encoding either arginine (CGC) or proline (CCC) was suggested to result in a drastically altered biological and biochemical behaviour of p53 in vitro. Compared to the proline encoding allele, the arginine allele appeared to trigger a more pronounced apoptosis response, whereas the proline allele induced significantly more G1 arrest [8, 10, 13].
The question of clinical relevance was addressed in a few case control studies. There, the proline allele was associated with urothelial [20], thyroid [21, 22], and colorectal carcinomas [23] and chronic myeloid leukemia [24], whereas homozygosity for arginine was associated with advanced lung cancer [25]. Concerning patient outcome, in Italian breast cancer patients, the retention of an arginine allele was correlated with a reduction of survival in one study [26]. Another study addressed the clinical relevance of this SNP for treatment response in solid tumors. There, the homozygous proline genotype was correlated with impaired response to radiochemotherapy and reduced survival in head and neck carcinoma [13]. Furthermore, p53 protein encoded by the arginine allele appears to be more susceptible to HPV-E6 protein-induced degradation [27]. Although many studies investigated the relationship of the allelic distribution and susceptibility to HPV-associated cervical carcinoma, two recent meta-analyses could not establish such a correlation with the p53 gene codon 72 SNP [28, 29].
In B-CLL, the p53 gene is known to be of clinical relevance concerning survival and treatment response [14]. We therefore investigated the potential clinical relevance of the p53 gene codon 72 SNP in a cohort of 138 samples from patients with B-CLL with respect to survival and drug sensitivity.
The distribution of the proline and arginine alleles in the B-CLL samples was, however, not different of frequency distributions observed in the general population [7]. Moreover, we found no correlation between codon 72 p53 SNP and p53 Exon 5–8 mutations or the IgVH hypermutation status or clinical Binet stage. Likewise, survival was not different in the p53 codon 72 SNP subgroups. Furthermore, no correlation with in vitro drug sensitivities was seen. The trend for reduced sensitivity to irradiation in case of homozygosity for proline is in accordance with a previous report in head and neck cancer [7], but fails to reach statistical significance. These data indicate that the codon 72 SNPs of p53 have per se no clinical relevance, at least in B-CLL. This may indicate either that B-CLL differs significantly from other tumors with regard to the regulation of cell death induced by cytotoxic anticancer therapies or that positive reports from other studies in clinical samples are false positive, eg. due to small sample size.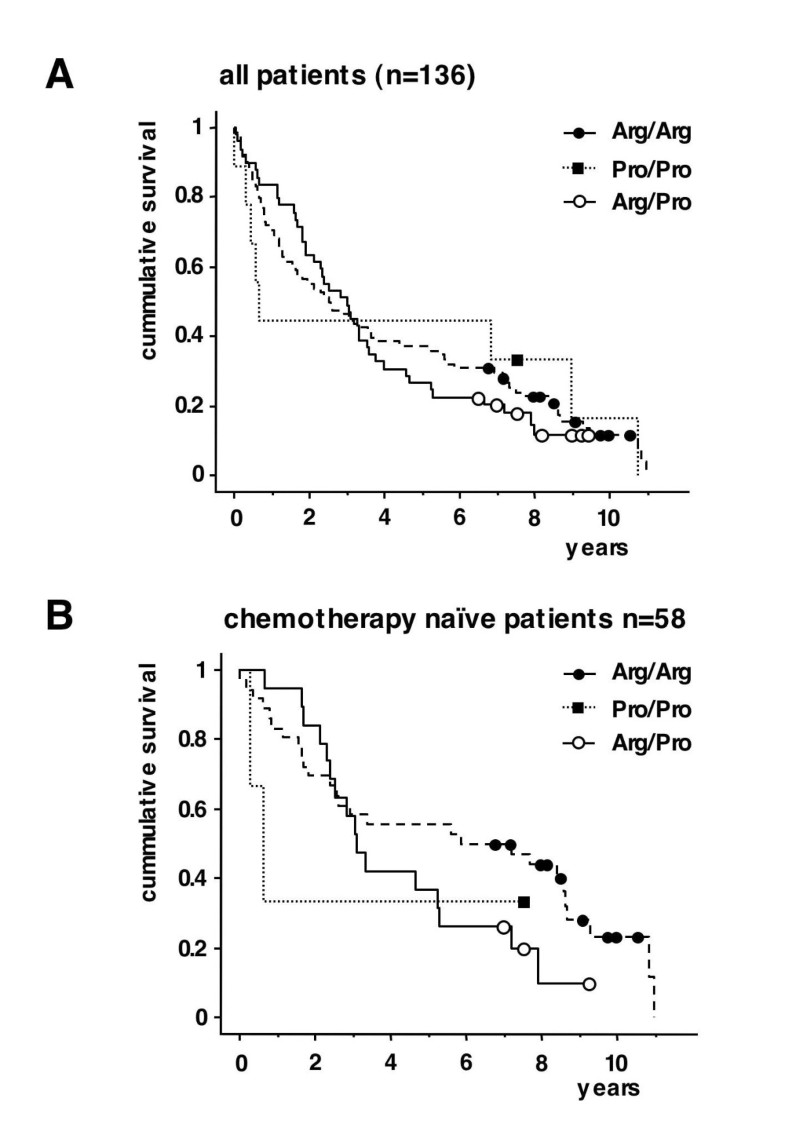 Conclusion
Although p53 gene mutations in the DNA-binding domain are clinically relevant for patients with B-CLL, the p53 gene codon 72 SNP was not found to be of clinical relevance in patients with B-CLL, neither for patient survival nor for ex vivo sensitivity for cytotoxic drugs and γ-irradiation.
Declarations
Acknowledgements
We thank Sylvia Scheele, Alison Burlton, Philip Bell, and David Head for expert technical assistance. The following drug companies kindly supplied drugs: Asta (mafosfamide), Schering (fludarabine). This work was funded in part by the following grants: "Schwerpunktprogramm Apoptose" by the Deutsche Krebshilfe and by the Deutsche Forschungsgemeischaft (grants to IS and PTD).
Authors' Affiliations
(1)
Department of Hematology, Oncology and Tumor Immunology, University Medical Center Charité, Campus Berlin-Buch and Department of Hematology and Oncology, University Medical Center Charité, Campus Virchow Klinikum, Humboldt University, Berlin, Germany
(2)
Clinical and Molecular Oncology, Max Delbrück Center for Molecular Medicine, Berlin, Germany
(3)
Bath Cancer Research, Royal United Hospital, Bath, UK
(4)
Institute of Pathology, University Medical Center Charité, Campus Benjamin Franklin, Humboldt University, Berlin, Germany
Copyright
© Sturm et al; licensee BioMed Central Ltd. 2005
This article is published under license to BioMed Central Ltd. This is an Open Access article distributed under the terms of the Creative Commons Attribution License (http://creativecommons.org/licenses/by/2.0), which permits unrestricted use, distribution, and reproduction in any medium, provided the original work is properly cited.