Case report
Open Access
Open Peer Review
This article has Open Peer Review reports available.
Leukemoid reaction in cervical cancer: a case report and review of the literature
Received: 27 March 2014
Accepted: 8 September 2014
Published: 15 September 2014
Abstract
Background
The presentation of a leukemoid reaction in cervical cancers is rare. A leukemoid reaction is defined as leukocytosis associated with a cause outside the bone marrow, with the white blood cell count (WBC) exceeding 50*109/L. Two cervical cancers presenting with leukemoid reactions were previously reported. However, the cancers in these cases were mainly in the advanced stages and had a poor outcome.
Case presentation
Here we report a 40-year old patient with clinical stage (FIGO IIA1) cervical squamous carcinoma suffering from vaginal cuff recurrence with a leukemoid reaction two months after laparoscopic radical hysterectomy. The patient suffered from persistent fever and leukocytosis after one month of antibiotic treatment accompanied by rapid growth of the vaginal mass indicated that the leukocytosis could not be caused only by infection. After paclitaxel injection, the WBC count increased to 70.37*109/L. Bone marrow aspirates and biopsy showed left-shift neutrophilia, which confirmed leukemoid reaction. After two courses of paclitaxel and cisplatin treatment, the white blood cell counts decreased to normal, the fever disappeared, and the vaginal mass was reduced dramatically. She achieved completed remission after subsequent chemo-radiation and two additional courses of chemotherapy.
Conclusion
In our case, leukemoid reaction was related to recurrent cervical carcinoma and sensitive to chemotherapy. To our knowledge, this is the third case to be reported in the literature. Furthermore, this is the only case described that shows an unequivocal correlation between tumor response and leukemoid reaction.
Keywords
Leukemoid reactionCervical cancer
Background
Cervical cancer is the third most common cancer and the fourth leading cause of cancer death in women worldwide, and more than 85% of cases occur in developing countries [1]. Clinically, the primary treatment for early stage cervical cancer is surgery, radiation therapy, or concurrent chemoradiation. The 5-year survival rate for early stage cervical cancer is 70% [2].
A white blood cell count (WBC) exceeding 50*109/L associated with a cause outside the bone marrow is termed a leukemoid reaction (LR). LR is generally benign, although it could resemble more serious conditions that are medical dilemmas. Its frequency in patients with nonhematologic cancers remains unclear, although it has been reported to range from 1% to 4% in small case series. LR has been reported in nearly all solid tumor types as a paraneoplastic syndrome and is historically associated with poor outcome. Cervical cancers presenting with LR are rarely reported. Only two authors, Nimieri [3] and Kyo [4], have reported LR in cervical cancer patients. However, the cancers in these cases were mainly in advanced stage. Here, we report a patient with relatively early stage (International Federation of Gynecology and Obstetrics, FIGO IIA1) cervical squamous carcinoma suffering from recurrence with LR two months after laparoscopic radical hysterectomy. The clinical and histological features are described. The literature describing these rare cases is also reviewed.
Case presentation
Case report
A 40-year-old woman who was experiencing increased discharge and postcoital bleeding for 2 months was admitted to the Obstetrics and Gynecology Hospital of Fudan University on April 18, 2012. A 3.5 cm cervical stump was found via bimanual examination, and tissue biopsy results verified that it was infiltrative cervical squamous carcinoma. Magnetic resonance imaging (MRI) examination indicated a 2.7*2.2*3.4 cm lesion in the posterior cervix, accompanied by disappearance of the posterior fornix. (Figure
1
A) Preoperative examinations, including a routine blood test (WBC: 5.93*10
9
/L, neutrophils: 58%, lymphocytes: 33%, monocytes: 6%, eosinophils: 2%), analysis of tumor markers (squamous cell cancer antigen, SCCA: 0.7 ng/mL; CA125: 14.32 U/L), and determination of the leukocyte alkaline phosphate score (LAP: 145 U/L), produced normal results (Figure
2
). Because the patient was diagnosed with Federation of Gynaecology and Obstetrics (FIGO) IIA1 cervical cancer, she underwent surgery (laparoscopic radical hysterectomy, pelvic lymphadenectomy, vaginoplasty, and ovarian transposition) on April 24, 2012. A pathological examination revealed a 3 cm non-keratinized squamous carcinoma located in 3°-9° of the cervix, with distances of 1.5 cm up to internal orifice and 0.5 cm down to the fornix. The tumor was confined to the inner half of the cervical stroma; lymphovascular invasion and pelvic lymph node metastasis were not detected. Immunohistochemical staining showed positivity for p16 (+++), p53 (+), and Ki-67 (90%+), and CD31 and D240 staining confirmed that the vessels were intact (Figure
3
). Because the patient had no risk factors for adjuvant therapy, she was dismissed from the hospital 7 days after the operation.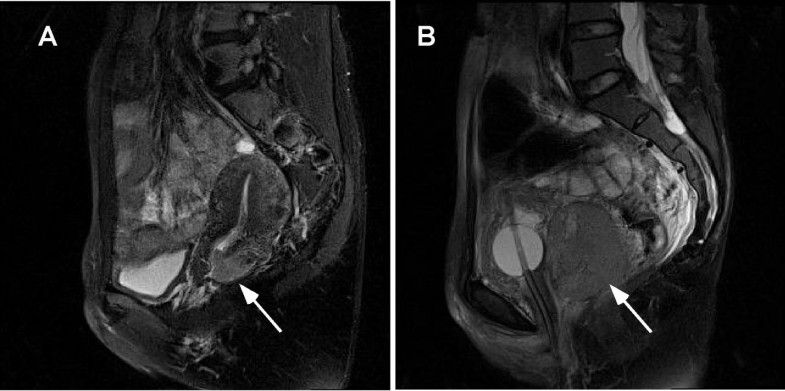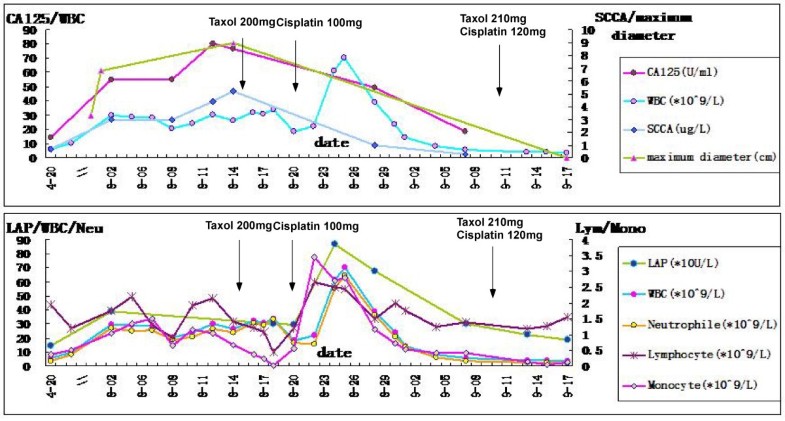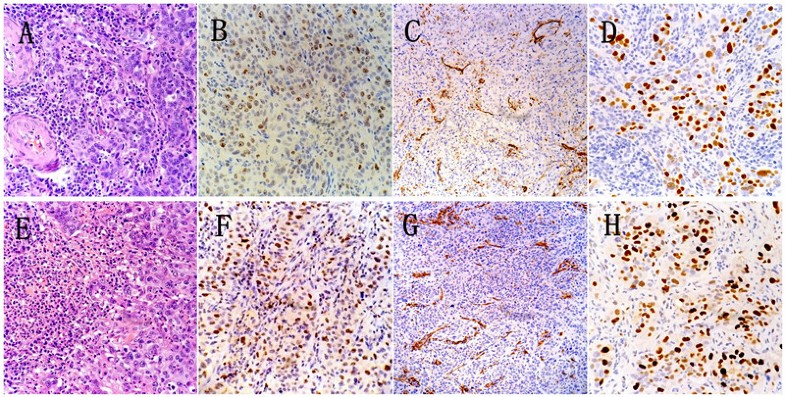 On July 2, 2012 (68 days after the operation), she presented to the outpatient clinic with increasing discharge. A 2*3 cm swollen cystic area was found in the posterior vagina. As purulent cells were found in her vaginal discharge, she was diagnosed with vaginitis and prescribed ornidazole to control the infection. On July 16, 2012, due to a high fever of 39.2°C and urine retention, she went to the urological outpatient clinic to receive catheterization. With a white blood cell count of 23*109/L, she was diagnosed with a urinary tract infection and received intravenous cefotiam and levofloxacin. However, her fever was not well controlled. On July 30, 2012, a 60 mm diameter solid mass on the posterior vagina with an ulcerous surface was found by gynecological examination. MRI scan confirmed a homogeneous solid 68*63*58 mm mass located in the space between the bladder and the rectum (Figures 1B and 4). MRI well displayed the tumor itself and its margin. After injection of contrast materials, the relationship between the tumor and surrounding tissues also was well appreciated on serial MRI scans. Hydronephrosis of both kidneys and distension of upper region of the left ureter were confirmed by ultrasonic inspection. Biopsy was performed on the mass, which demonstrated degenerated squamous cells within necrotic tissue.
She was admitted to the inpatient ward again on August 2. 2012. Because of an uncontrollable fever (range: 39–40.5°C) and leukocytosis (WBC: 29.66*109/L), samples of her blood, urine, and vaginal discharge were taken for bacterial culture to identify the source of infection. The cultures were all negative on August 2, 2012; however, Escherichia Colli, ESBLs (extended-spectrum β-Lactamase) sensitive to tienam and amikacin were found in a vaginal bacterial culture on August 5, 2012. Repeated discharge culture on August 12, 2012 was negative and became ESBLs positive again on August 17, 2012, then turned to negative on August 29, 2012. Since admission, empiric therapy with ceftriaxone sodium and metronidazole had been used; however, this was subsequently changed to a combination of tienam and vancomycin according to a drug sensitivity test on Aug 5, 2012. From August 12, 2012 to August 24, 2012, the patient was treated with norvancomycin and cefoperazone-sulbactam and subsequently with piperacillin-tazobactam plus amikacin for an additional 7 days.
On the other hand, although a biopsy on July 30, 2012 showed no malignancy (the possible negative result might be attributed to superficial biopsy sample), the recurrence of cervical carcinoma was highly suspected because the vaginal mass increased from 22*33*22 mm on July 2, 2012 to 63*65*58 mm on July 30, 2012 and the characteristics showed by MRI highly suggested a recurrent tumor. The tumor mass increased to 80 mm in diameter by palpation on August 6, 2012. A second bulky biopsy was performed on August 7, 2012. In order to get enough tissue, we cut the surface open, and excised a 60*40*20 mm mass. The whole mass was solid without abscess. After the biopsy, the tumor volume shrank to 70*40*40 mm. Pathology examination confirmed recurrent squamous carcinoma. Immunochemistry staining for Ki-67 and P53 was also performed (Figure 3). Chemotherapy was considered but was postponed because the patient was recently given sensitive antibiotics (tienam and vancomycin) and effective control of fever and leukocytosis was expected. However, one week later, the high fever (up to 39.2°C) and leukocytosis (up to 33.4*109/L) were persistent. In addition, the mass continued growing to 90*82*74 mm on August 14, 2012 and tumor makers became abnormal (CA125: 76.66 U/L, SCCA: 5.3 ng/ml). Considering the severity of the situation, we decided to give the patient a new regimen of antibiotics and chemotherapy simultaneously.
Regarding chemotherapy, paclitaxel (200 mg) was administered intravenously on August 15, 2012. Unexpectedly, on the following day, her fever increased (40.3°C), and the planned cisplatin treatment was cancelled. On August 21, 2012, cisplatin (100 mg) was injected because the patient had become relatively stable (fever, 39°C; WBC, 18.95*109/L). On August 25, 2012, her WBC count reached 70.37*109/L, and a leukemoid reaction (LR) was suspected. Bone marrow aspirates and biopsy showed an increased myeloid/erythroid ratio, active myeloid proliferation, and normal megakaryocytopoiesis. Meanwhile, her LAP level was extremely high (869 U/L). Considering the lab tests, the diagnosis of LR was established. On August 28, 2012 (12 days after paclitaxel and 1 week after cisplatin injection), her WBC count was reduced to 39.23*109/L, the mass was reduced to 65*46*40 mm, and SCCA and CA125 had decreased to 1.0 ng/ml and 49.46 U/L, respectively. On September 4, 2012 (three weeks after paclitaxel treatment), her fever and WBC count decreased to normal levels (36.8°C and 8.1*109/L). Subsequently, the levels of tumor markers returned to normal. The second course of paclitaxel (210 mg) and cisplatin (120 mg) was administered on September 10, 2012 and the vaginal mass was successfully eliminated on September 17, 2012. Additionally, after chemotherapy was performed, ultrasound results indicated that the kidney and IVP were normal. The dynamic changes in WBC, LAP, tumor makers, and tumor volume along with the chemotherapy are illustrated in Figure 2.
From October 10, 2012 to November 16, 2012, the patient received external irradiation to a dose of 45 Gy in 25 fractions with concurrent cisplatin chemotherapy. No abnormality was observed on MRI on November 19, 2012. After radiotherapy, she was treated with chemotherapy (100 mg docetaxel together with 300 mg carboplatin) on December 17, 2012 and January 14, 2013. The follow-up was satisfying: her WBC, CA125, and SCCA levels were normal. The latest follow-up on May 23, 2014 showed no evidence of recurrence.
Conclusion
To our knowledge, this is the first case report of an early stage cervical cancer suffering rapid recurrence with leukemoid reaction achieving a good prognosis due to early diagnosis and timely chemotherapy. Unusual infiltration of the tumor by neutrophil granulocytes and high expression of Ki-67 and P53 may relate to rapid recurrence and leukemoid reaction.
Consent
Written informed consent was obtained from the patient for publication of this Case report and any accompanying images. A copy of the written consent is available for review by the Editor of this journal.
Declarations
Acknowledgement
We thank Sarah C. and Lee L. who provided editing services on behalf of American Journal Experts.
Authors' Affiliations
(1)
Department of Gynecology, Obstetrics and Gynecology Hospital, Fudan University, Shanghai, China
(2)
Department of Pathology, Obstetrics and Gynecology Hospital, Fudan University, Shanghai, China
(3)
Department of Radiology, Obstetrics and Gynecology Hospital, Fudan University, Shanghai, China
(4)
Shanghai Key Laboratory of Female Reproductive Endocrine-Related Disease, Fudan University, Shanghai, China
Copyright
© Qing et al.; licensee BioMed Central Ltd. 2014
This article is published under license to BioMed Central Ltd. This is an Open Access article distributed under the terms of the Creative Commons Attribution License (http://creativecommons.org/licenses/by/4.0), which permits unrestricted use, distribution, and reproduction in any medium, provided the original work is properly credited. The Creative Commons Public Domain Dedication waiver (http://creativecommons.org/publicdomain/zero/1.0/) applies to the data made available in this article, unless otherwise stated.