Correction to: A systematic comparison of copy number alterations in four types of female cancer
Received: 9 November 2017
Accepted: 9 November 2017
Published: 16 January 2018
After publication of the original article [1] the authors found that the article contained an incorrect version of Fig. 4. This does not affect the results and conclusions of the article.
An updated version of Fig.
4
is included with this Correction.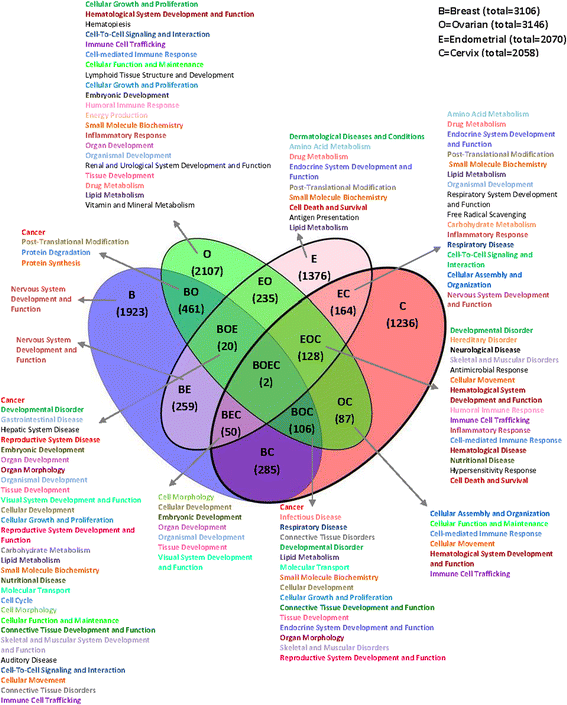 Open AccessThis article is distributed under the terms of the Creative Commons Attribution 4.0 International License (http://creativecommons.org/licenses/by/4.0/), which permits unrestricted use, distribution, and reproduction in any medium, provided you give appropriate credit to the original author(s) and the source, provide a link to the Creative Commons license, and indicate if changes were made. The Creative Commons Public Domain Dedication waiver (http://creativecommons.org/publicdomain/zero/1.0/) applies to the data made available in this article, unless otherwise stated.
(1)
Department of Genetics, Institute for Cancer Research, Oslo University Hospital Radiumhospitalet, Oslo, Norway
(2)
Medical Genetics Department, Oslo University Hospital Ullevål, Oslo, Norway
(3)
Department of Pediatric Research, Division of Pediatric and Adolescent Medicine, Oslo University Hospital Rikshospitalet, Oslo, Norway
(4)
Department of Computer Science, University of Oslo, Oslo, Norway
(5)
Department of Clinical Molecular Biology (EpiGen), Medical Division, Akershus University Hospital, Lørenskog, Norway
(6)
Marine Mammals Research Group, Institute of Marine Research, Bergen, Norway