Research article
Open Access
Open Peer Review
This article has Open Peer Review reports available.
Geographical spread of gastrointestinal tract cancer incidence in the Caspian Sea region of Iran: Spatial analysis of cancer registry data
Received: 17 October 2007
Accepted: 14 May 2008
Published: 14 May 2008
Abstract
Background
High incidence rates of gastrointestinal tract cancers have been reported in the Caspian region of Iran. This study aimed to: 1) describe the geographical spatial patterns of gastrointestinal tract cancer incidence based on cancer registry data and, 2) determine whether geographical clusters of statistical significance exist.
Methods
The Babol Cancer Registry, which covers the two major northern Iranian provinces of Mazandaran and Golestan (total population = 4,484,622) was used to identify new gastrointestinal tract cancer cases during 2001 to 2005. Age-specific cancer incidence rates were calculated for 7 gastrointestinal tract cancer sites in 26 wards of the Mazandaran and Golestan provinces. Spatial autocorrelation indices, hierarchical Bayesian Poisson models, and spatial scan statistics were used in measuring the geographic pattern and clusters.
Results
There were non-random spatial patterns in esophageal and stomach cancers that were similar for both sexes. Clusters of high incidence were identified in esophageal, stomach, colorectal and liver cancer for both sexes, as well as a possible cluster of pancreas cancer in males.
Conclusion
Gastrointestinal tract cancers exhibit significant spatial clustering of risk in northern Iran. Further work is needed to relate these geographical patterns to information on potential life-style and environmental factors.
Keywords
Esophageal CancerStomach CancerStandardize Incidence RatioCaspian RegionRegional Count
Background
Approximately 50,000 new cases of cancer occur each year in the Iranian population of 70.4 million. The most common organ system involved with more than 38% of all cancers is the gastrointestinal (GI) tract. Stomach, esophagus, and colorectal are the three most common cancers in males; in females, after breast cancer, esophagus, stomach, and colorectal are the major cancers [1, 2]. Cancer is the third most common cause of death in Iran, accounting for 14% of mortality. Overall, GI cancers account for nearly half (44.4%) of all cancer related deaths in Iran. Unfortunately, GI cancers often come to medical attention when they are at advanced stages and so limited or no effective therapies are available to treat them [3, 4]. Theoretically, these cancers may be treatable in their early stage; therefore early detection is desirable.
A cancer registry maintained by the International Agency for Research on Cancer (IARC) and the Institute of Public Health Research of Tehran University showed that from June 1968 to June 1971 the age-adjusted incidence rates of esophageal cancer for both males and females from the north-eastern part of the Golestan province were more than 100 per 100 thousand persons per year and were among the highest rates in the world [5–9]. There was evidence of sharp gradients in incidence rates over relatively short geographical distances. Rates appeared to decrease moving westward for some 400 km along the southern Caspian region where the incidence was approximately one tenth to one fifth that of the Golestan province [5]. Due to the sociopolitical changes in 1979, study of these cancer rates discontinued before complete patterns of incidence and the full complement of risk factors could be established. Until recent years, there was no comprehensive report of incidence rates of cancer in Iran in general and in the Caspian Sea region in particular. Recently results of a population-based cancer survey from Ardabil and Golestan provinces, respectively in the western and eastern parts of the Caspian region, were published and showed significant changes in cancer incidence rates in this region compared to 30 years ago [10, 11]. There was evidence of a declining rate in esophageal cancer [11] but an increasing rate of colorectal cancer especially in young (< 40 years) people [12].
To combat this disease, accurate up-to-date epidemiological information is an important weapon. The study of spatial variation in incidence is a vital component of descriptive epidemiology. Many cancer atlases have been used for this purpose, and some studies have used formal statistical analyses of the spatial pattern of the disease [13, 14].
The aim of this study was to examine the geographic pattern of gastrointestinal tract cancer incidence in the southern region of the Caspian Sea using data from a new cancer registry and active surveillance conducted by the Institute of Public Health Research of Tehran University of Medical Sciences in the Mazandaran and Golestan provinces of Iran.
The total population of these two provinces is approximately 4.5 million (1.6 million in Golestan province) constituting about 6.4% of the total Iranian population. As with the population of Iran more generally, the population of these two provinces is young: 36% are ≤ 15 years and less than 4% are > 65 years, and 51% of the population live in rural areas. The life expectancy at birth in Mazandaran province is 67.7 years for males and 70.5 for females, and is similar in Golestan [15].
Mazandaran province has an area of about 23,800 km
2
, about 1.5% of the land area of Iran and is located in the north of Iran. Golestan province is located in north east of Iran (east of Mazandaran), south-east of the Caspian Sea, and covers an area of 20,900 km
2
, constituting 1.3% of the country. Currently, there are 15 and 11 wards in Mazandaran and Golestan provinces respectively as shown in Figure
1
.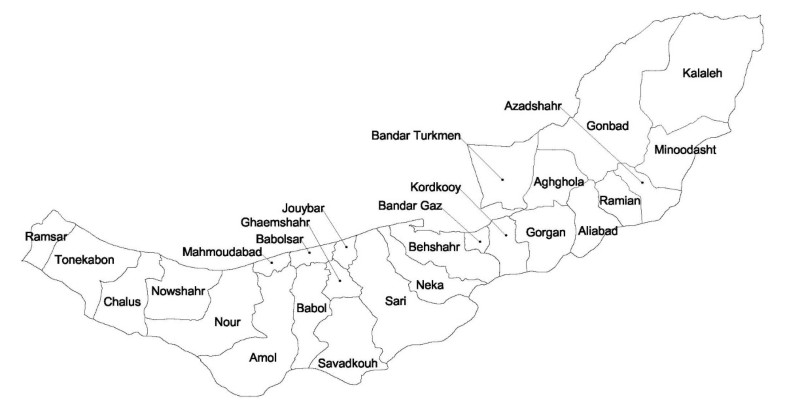 Discussion
Ongoing media reports from non-scientific and scientific commentators on the apparent disease clusters in northern Iran and their possible causes have raised considerable alarm in the region with consequent demands for immediate action.
Quality of registry data
The overall quality of the registry data was excellent with almost all cancers diagnosed by histopathology or clinical/radiology means. There was a small amount of missing data on place of residence. We consider our use of imputation for cases with unknown residential information to be reasonable because of the small amount of missing data; any bias that may result will be small and in the conservative direction towards accepting the null hypothesis.
Methodology
Application of Moran's I and Geary's C to public health regional count data merits some thought. Both indices assess the spatial similarity of deviations of each regional count with the overall mean regional count. Due to spatial heterogeneity of regional at-risk population sizes inherent in regional public health data, observed spatial similarity in regional deviations from the mean regional count may simply be due to variations in the regional at risk population size [36]. We adjusted these indices for regional counts by comparing the observed count in each region with its expectation under the constant risk hypothesis, rather than comparing the count to the overall mean count [27, 37].
In the MCMC estimation, convergence of relative risk for the two independent chains was confirmed by plotting their traces and observing random mixing of all chains which revealed white noise variation around a common value with no trend. This was supported by observing Brooks-Gelman-Rubin diagnostics that clearly satisfied convergence criteria [38]. As compared with other statistical methods for spatial epidemiology, the spatial scan statistic has the following features that make it particularly suitable as a screening tool for evaluating reported disease clusters: 1) It adjusts for the inhomogeneous population density, 2) By searching for clusters without specifying their size or location, the method ameliorates the problem of pre-selection bias, 3) The likelihood ratio-based test statistic takes multiple testing into account and delivers a single p-value for the test of the null hypothesis, 4) If the null hypothesis is rejected we can specify the approximate location of the cluster that caused the rejection. In addition to the most likely cluster, the method identifies secondary clusters in the data set and can order them according to their likelihood ratio [32].
Spatial Analysis
Esophageal Cancer
Among the investigated GI cancer sites, esophageal cancer is of special interest in this region. Several studies conducted in the 1970's in the Caspian region showed that areas inhabited by Turkmen had a much higher incidence rate of esophageal cancer than those areas with a mainly Persian population, although the differences were less marked within Golestan province [5, 9]. Recent studies indicate a declining incidence of esophageal cancer in this region, compared to those reports from 30 years ago. In fact, age adjusted incidence rates of 165.5 per 100 thousand in males and 195.3 per 100 thousand in the 1970's had reduced to 43.4 and 36.3 per 100 thousand respectively for males and females, according to a recent study [11]. Despite this dramatic decrease, the Turkmen plain is still a high risk area. The increasing pattern of SIR from west to east was more systematic in females than in males and there was a secondary cluster in central wards in both sexes. There was a strong significant correlation (0.85) between male and female rates, which supports the notion of a systematic pattern. Tobacco, diet low in fresh fruit and vegetables, and low socioeconomic status (SES) are among major known risk factors for esophageal cancer [39, 40]. A case control study in Turkmen regions of Northeastern Iran has suggested that tobacco, alcohol, nass (a drug produced from plant leaves and tobacco), and perhaps opium (two risk factors of potential importance in the area) are not the major etiological factors for esophageal cancer in this region [41]. Esophageal cancer seems to be homogenously distributed among both Turkmen and non-Turkmen, and among both city and village dwellers of Turkmen plain (Gonbad, Minoodasht, and Kalaleh wards in Figure 1), although a familial study in Golestan confirmed a strong familial component to esophageal cancer in the Turkmen population [42]. The dietary patterns in eastern and western wards appear very different and these differences can be explained at least in part by climate and socio-economic differences, however there are no regional data on food consumption patterns in the area to explore this in detail.
Stomach Cancer
Stomach cancer shows strong spatial clustering in both males and females, with a significant correlation (0.84) between sexes. Stomach cancer is particularly important because of its relatively high incidence in this region. A large body of evidence supports a causative role for Helicobacter pylori in chronic gastritis [43]. H. pylori infection also increases the risk of stomach cancer [44]. A seroepidemiologic study in different parts of Iran revealed near 90% prevalence of H. pylori infection in adults older than 35 years [45]. Also, a recent study in Ardabil, which is a province in the western part of the Caspian region, revealed nearly 90% H. pylori infection in the healthy population older than 40 years [46].
A diet low in fresh fruits and vegetables, high intake of nitrates/nitrites (e.g., in water and preserved foods), and low SES are other important risk factors for stomach cancer [39]. There was a significant positive correlation between SIR's of esophageal and stomach cancer which may be an indication that these two cancer sites in the region share common risk factors such as smoking, low socio-economic status, low fruit and vegetable intake, and gastric atrophy [47–51].
Colorectal Cancer
There was a dispersed pattern for colorectal cancer in both sexes, with a tendency to relatively high rates in central wards; this pattern was supported by a strong significant correlation between SIR's of males and females (0.71). There was a moderate negative correlation (-0.25) between SIR's of colorectal and esophageal cancer. In fact, eastern wards of Golestan province (Turkmen plain) which were high in esophageal cancer were among the lowest in colorectal cancer. Colorectal cancer is believed to be related to low levels of fiber consumption and high SES [39]. Accordingly, the fact that 55.9% of male and 57.7% of female inhabitants in the three local clusters of colorectal cancer lived in urban areas whereas only 42.3% of males and 42.2% of females outside the clusters lived in urban areas may be related to differences in diet and SES between urban and rural area.
Liver Cancer
Viral hepatitis is the major cause of liver disease and hepatocellular carcinoma. Up to 80% of liver cancers are believed to result from this viral infection which is the most important cause of cancer mortality worldwide after smoking. Data obtained from the Survey of Health and Disease in Iran indicted that the rate of hepatitis B virus (HBV) carriers varied between zero and 3.9% in different provinces of Iran with an average of 1.7% [52]. Hepatitis C virus (HCV) is another important risk factor and it has been shown that approximately 85% of individuals infected by HCV will develop chronic HCV infection [53]. In Iran, it seems that the prevalence of HCV in the general population is less than 1%, which is much lower than in most of the neighboring countries [54]. Currently, there are no data available about infection rates of HBV and HCV within the Caspian region.
Pancreas Cancer
Cancer of the pancreas had low prevalence and there was little evidence of spatial trends. The distribution of pancreas rates in the region was similar to a random pattern, and there was low correlation (0.09) between male and female rates.
Conclusion
With media attention and an atmosphere of concern among the general population, it was difficult to dispassionately assess the strength of evidence for the existence of the hypothesized clusters of gastrointestinal tract cancer in northern Iran. The difficulty was compounded by the variety and complexity of available statistical methods for assessing the spatial variation of disease. Appropriate statistical methods for evaluation of geographic differences should i) provide global indices that summarize the spatial pattern of the disease, ii) smooth the observed map of disease for potential sampling variation while accounting for both region contiguity and region heterogeneity, and iii) search for possible disease clusters in a manner that adjust for the pre-selection bias and multiple testing effects. In this paper we used Moran's I and Geary's C as global autocorrelation indexes, a hierarchical Bayesian model for smoothing the cancer rates, and spatial scan statistics for cluster detection.
When a cluster of high incidence cannot be dismissed as a chance occurrence as is the case with many of the findings in this paper, we need to ask what may be the underlying causal mechanism. It is most natural to look first at some of the known or hypothesized risk factors. We have demonstrated that several cancer sites have significant regional variation in the Caspian region. An explanation for this spatial variation, however, requires further study, especially concerning the possible impact of environmental factors. Ecologic studies of the kind described here provide a relatively inexpensive way of examining regional variation in health in large populations. The effects of environmental factors can also be addressed by access to existing data sets. However, these studies involve interpretational problems arising from the aggregation of data and potential sources of bias such as variation in the size of the regional populations, migration, and disease latency [55, 56].
With its large population, interesting regional pattern of GI cancer incidence as demonstrated here, differences in climate, life style, ethnic mix and variation in recognized risk factors, the Caspian region warrants further study into the relationship between environment and GI cancer.
Declarations
Acknowledgements
This study was sponsored by Tehran University of Medical Sciences which also sponsored the set up of the Babol Cancer Registry. We would like to thank survey team and colleagues of the Babol Cancer Registry.
Authors' Affiliations
(1)
Department of Epidemiology and Biostatistics, Tehran University of Medical Sciences, Tehran, Iran
(2)
Department of Epidemiology and Preventive Medicine, Monash University, Melbourne, Australia
Copyright
© Mohebbi et al; licensee BioMed Central Ltd. 2008
This article is published under license to BioMed Central Ltd. This is an Open Access article distributed under the terms of the Creative Commons Attribution License (http://creativecommons.org/licenses/by/2.0), which permits unrestricted use, distribution, and reproduction in any medium, provided the original work is properly cited.