Case report

Open Access

Open Peer Review
This article has Open Peer Review reports available.
Valgus and varus deformity after wide-local excision, brachytherapy and external beam irradiation in two children with lower extremity synovial cell sarcoma: case report
Received: 14 April 2004
Accepted: 27 August 2004
Published: 27 August 2004
Abstract
Background
Limb-salvage is a primary objective in the management of extremity soft-tissue sarcoma in adults and children. Wide-local excision combined with radiation therapy is effective in achieving local tumor control with acceptable morbidity and good functional outcomes for most patients.
Case Presentation
Two cases of deformity after wide-local excision, brachytherapy and external beam irradiation for lower-extremity synovial cell sarcoma are presented and discussed to highlight contributing factors, time course of radiation effects and orthopedic management. In an effort to spare normal tissues from the long-term effects of radiation therapy, more focal irradiation techniques have been applied to patients with musculoskeletal tumors including brachytherapy and conformal radiation therapy. As illustrated in this report, the use of these techniques results in the asymmetric irradiation of growth plates and contributes to the development of valgus or varus deformity and leg-length discrepancies.
Conclusions
Despite good functional outcomes, progressive deformity in both patients required epiphysiodesis more than 3 years after initial management. There is a dearth of information related to the effects of radiation therapy on the musculoskeletal system in children. Because limb-sparing approaches are to be highlighted in the next generation of cooperative group protocols for children with musculoskeletal tumors, documentation of the effects of surgery and radiation therapy will lead to improved decision making in the selection of the best treatment approach and in the follow-up of these patients.
Keywords
Growth Plate
Left Knee
Varus Deformity
Angular Deformity
Epiphyseal Growth Plate
Background
Limb-salvage is an important treatment objective for adults and children with extremity soft tissue sarcoma and often requires the use of limited surgery and irradiation [1]. Limiting the extent of resection balances the need for radical excision with the need to preserve the functional and structural integrity of the limb and tissues adjacent to those involved with tumor. Radiation therapy has been proven to compensate for incomplete resection or limited resections with involved, close or indeterminate margins as long as the dose and volume are adequate [2–5]. Excellent rates of local control have been achieved for adults and children with extremity soft tissue sarcoma using limb sparing approaches [6–11]. Little is known about the long-term morbidity of the combined effects of limited surgery and irradiation on bone and soft tissue in the pediatric population.
Surgery and radiation therapy both have the potential to cause significant morbidity including loss of function and deformity [6, 11–15]. Tumor resection often requires removal of normal tissue compartments and structural elements, even in a limb-sparing approach. This places the patient at risk for complications including destabilization and abnormalities in growth and function. Additive are the effects of high-dose irradiation, which is often required in the treatment of these tumors, and which may compound the effects of resection. The use of chemotherapy, when indicated, may also add to the combined effects of treatment. The timing of surgery and radiation therapy, the operative approach and the selection of the specific radiation treatment modality often depends on a number of important clinical factors including the size and type of tumor, site of involvement, prior surgical manipulation, extent of resection and the potential for as good functional outcome.
Individual cases of valgus and varus deformity after limited surgery and irradiation for extremity soft-tissue sarcoma are presented and discussed to identify factors that may be responsible for these treatment complications. Pre-existing orthopedic problems, multiple attempts at resection, post-operative infection, the use of chemotherapy and the addition of brachytherapy to external beam radiation therapy appear to be contributory. Because limb-sparing approaches will be an important component of the next generation of cooperative group studies for extremity soft tissue sarcoma in children, the incidence and severity of this and other treatment-related complications should be documented as well as efforts to limit the effects of these treatments and identify solutions for established problems.
Case Presentations
Case 1
A decision was made to initiate chemotherapy three weeks into the course of external beam irradiation based on the perceived high-risk nature of his case – longstanding history of symptoms, known residual tumor and size of tumor at presentation. Chemotherapy included vincristine, ifosfamide, and adriamycin was eventually administered for a total of four cycles. There was central dehiscence of the wound prior to the completion of radiation therapy. The wound was colonized with Enterococci sensitive to ampicillin and managed with antibiotics, whirlpool treatment and daily dressing changes. There was a one-week treatment break during the external beam portion of the treatment.
At the completion of chemotherapy (June 1997) the patient underwent excision of scar tissue with rotation flap of gastrocnemius and skin and Z-plasty of the semi-membranous and semi-tendinous tendon for a non-healing ulcer in the operative region. There was also contracture of the knee joint without signs of abscess or cellulitis. One month later, a second procedure was required to debride and irrigate the left popliteal fossa wound at the site of previously irradiated tissue and contracture release with muscle and fasciocutaneous flap closure. One year after the completion of all therapy (June 1998) the patient reported full range of motion and softening of previously fibrotic tissue. He was actively playing baseball and had no imposed limitations.
Case 2
At the time of diagnosis this patient was a 9 year-old female with a one year history of pain and swelling about her left knee. She had experienced a fall and related all symptoms to the fall. She was seen in her local emergency room by her family physician; there was no diagnosis or treatment. Approximately one month prior to her representation, she was struck in the left knee by a basketball and developed worsening pain. She was seen by an orthopedic surgeon (December 1999) and was noted to have a valgus posture of both lower extremities, exaggerated on the left by external rotation and she walked with a mild limp. The left knee had no effusion but was hypersensitive to light touch over the lateral aspect where there was soft tissue swelling just below the knee. There was no obvious mass in the area, although firm palpation was difficult because of patient discomfort. Plain films were normal and an MR was ordered that revealed an apparent meniscal cyst in the lateral aspect of the left knee [Figure
7
]. Biopsy of the cystic structure was performed (November 1999) that revealed a high-grade synovial cell sarcoma. Metastatic work-up consisting of nuclear bone scan and CT of the chest were negative. Amputation was offered by the local care team that included a radiation oncologist because of their concern about possible contamination of the joint space and uncertain functional outcome. The patient was referred to St. Jude Children's Hospital for further evaluation and treatment.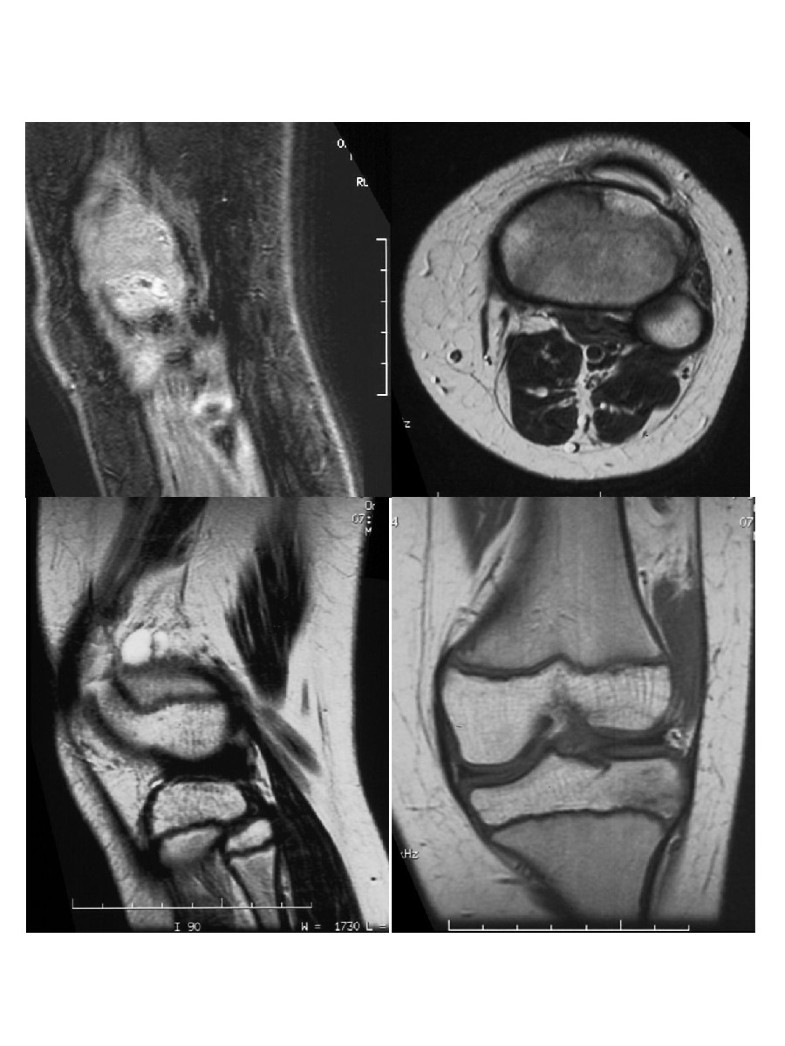 At the time of her evaluation after referral (January 2000), there was a well healed scar with no excessive swelling. There was mild tenderness on the lateral aspect of her left knee. Additional imaging studies showed abnormality at the site of prior surgery equivocal for residual tumor. There was no evidence of abnormality in the joint space. The tumor bed was explored. There was no physical evidence of compromise at the level of the joint space. She underwent wide local excision with placement of afterloading catheters. Six catheters were placed in a parallel array with 1 cm spacing. Radio-opaque clips were placed to delineate the tumor bed and assist in brachytherapy planning [Figure
8
]. The margins of the resection were involved with tumor, as demonstrated by field biopsies and assessment of the margins of resection. Satellite tumor nodules were present in the resection specimen. Four days after surgery the six afterloading catheters were loaded with 82 seeds representing 302 mCi of I
125
(Figure). The dwell time of the implant was 62 hours and the patient received a total implant dose of 2480 cGy delivered at 40 cGy/hr. Two weeks later the patient began external beam irradiation at 180 cGy/day and received a course of treatment and total external beam dose of 5040 cGy using 6 MV photons with treatment delivered with two beams using a CT based treatment plan [Figure
9
]. Radiation therapy was completed in March 2000.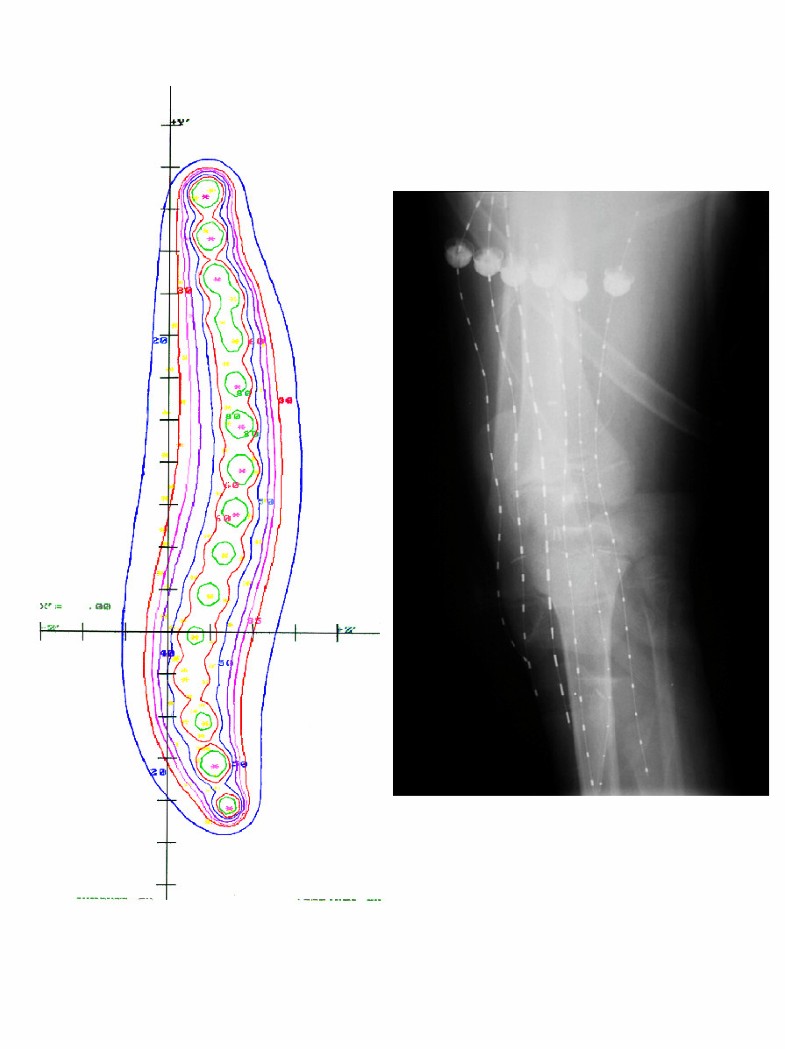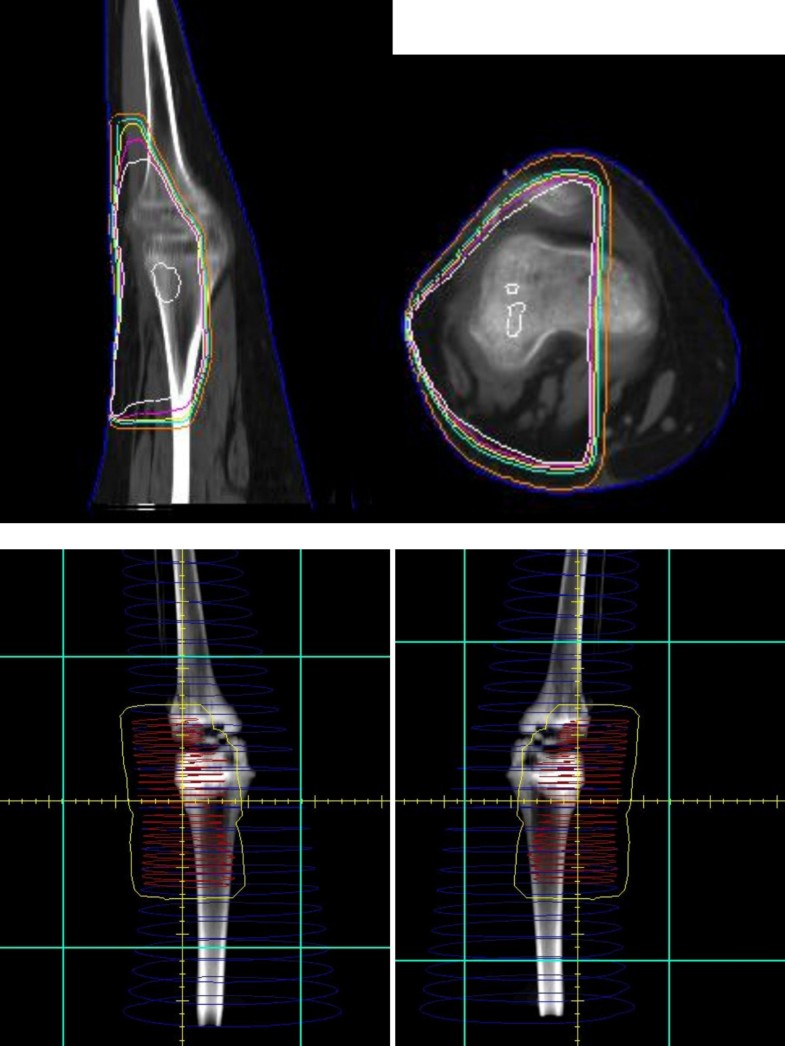 The patient suffered moist desquamation corresponding to the radiation therapy portal that was predicted based on the treatment and the use of a tissue equivalent bolus material which was placed on the wound on alternating days during her course of external beam irradiation. She was able to return home on the last day of treatment. On routine follow-up, only 4 months after treatment, left leg appearing to be slightly longer than her right leg by less than 1 cm. No corresponding gait problems were reported. Nearly one year after treatment (January 2000) physical examination showed good range of motion at the left knee; however, there was significant valgus angulation. An MR study was reviewed by Orthopedic Surgery and was noted to show growth arrest laterally and predominantly involving the distal femoral physis [Figure
10
]. Based on these findings, the family was informed that an epiphysiodesis of the distal femoral physis would likely be required to prevent additional deformity. Due to the angulatory deformity, an osteotomy of the distal femur would be required. Because of high-dose irradiation and concerns about bone healing, osteotomy and epiphysiodesis were deferred until the three year evaluation was performed. At that time, the patient had a significant valgus deformity. The morbidity of the deformity was such that ambulation was difficult. The patient underwent a closing wedge correcting osteotomy, which was fixed with a contour plate. The patient subsequently fractured the plate secondary to early and unprotected weightbearing (against medical advice). She was placed in a cast and ultimately healed her osteotomy. She continues to have a significant limb length discrepancy and will require future lengthening procedures. She remains without evidence of disease nearly 4 years after treatment.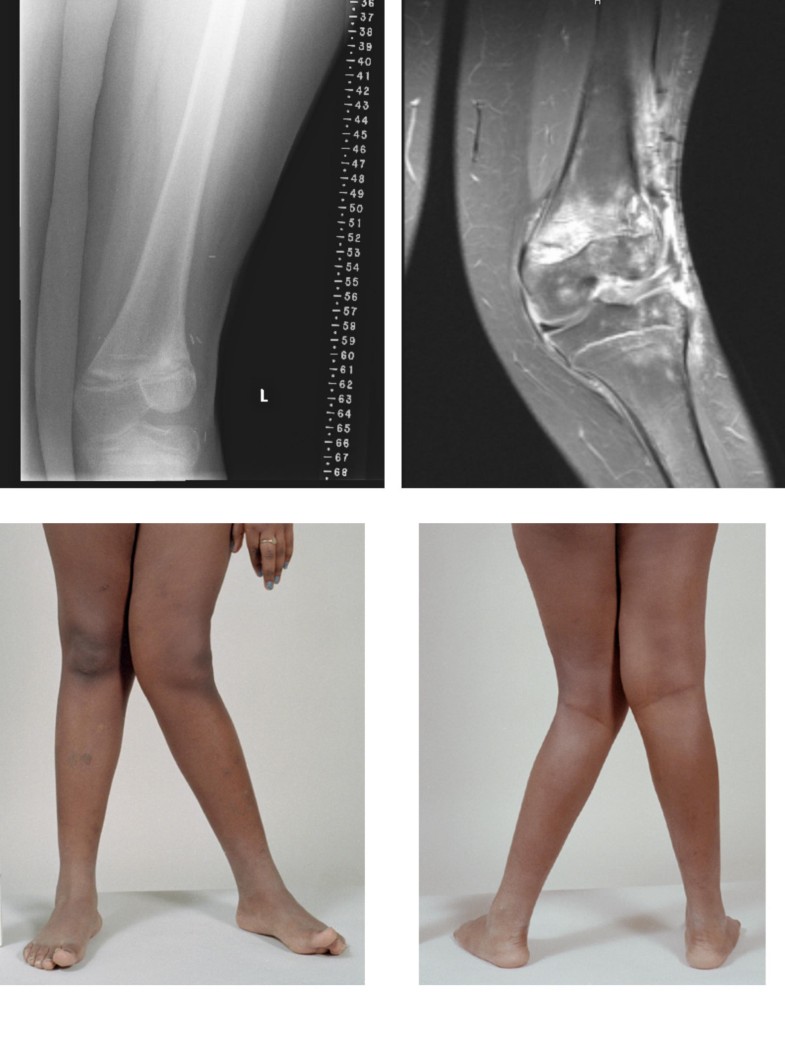 Conclusion
Due to its high propensity for local recurrence and metastasis, aggressive treatment of synovial sarcoma is imperative. While many different methods have been used in the treatment of these high-grade tumors, including mono-bloc soft part resection and amputation, the current standard includes local excision and radiation therapy when feasible [16]. Wide local excision with adjuvant radiation therapy is known to achieve a satisfactory rate of local control and good functional outcome [1–15]. Because these tumors commonly arise near tendon sheaths or joint capsules, treatment plans intending to achieve limb conservation may injury the epiphyseal growth plate affecting normal growth and development. Efforts should continue to improve our ability to delineate the tumor, achieve resection with microscopically negative margins and irradiate the region at risk in a manner that minimizes the effect on normal tissues [17].
Both patients in our study underwent two surgical procedures and were treated with brachytherapy and external beam irradiation. Brachytherapy was used to confine the highest doses to the region at risk and minimize the dose received by normal tissues. The use of brachytherapy shortens the overall treatment time and increases the rate of local control in the setting of involved margins of resection. CT-based treatment planning was used to define the volume of irradiation and to spare normal tissue structures. By reducing the amount of radiation dose delivered to normal tissues, the probability of growth deformity, radio-chemotherapy interactions, and even the hypothetical risk of second tumor formation may be lowered. No effort was made to symmetrically irradiate the physes, which would hypothetically lead to symmetrically diminished growth without the added effect of angular deformity. Because of concerns about the effects of total joint irradiation and its possible effects on functional outcome, the inhomogeneous and asymmetric approach was taken. Despite the valgus and varus deformity experienced by these children and the need for intervention, both children and parents were completely satisfied with their functional outcome and indicated that they would chose the same course of treatment if presented again with the same options.
Declarations
Acknowledgements
Supported in part the American Lebanese Syrian Associated Charities (ALSAC)
The authors would like to thank Ms. Barbara Outlaw for secretarial assistance in the manuscript preparation.
Authors' Affiliations
(1)
Division of Radiation Oncology, Department of Radiological Sciences, St. Jude Children's Research Hospital, Memphis, USA
(2)
Division of Orthopedics, Department of Surgery, St. Jude Children's Research Hospital, Memphis, USA
Copyright
© Fletcher et al; licensee BioMed Central Ltd. 2004
This article is published under license to BioMed Central Ltd. This is an open-access article distributed under the terms of the Creative Commons Attribution License (http://creativecommons.org/licenses/by/2.0), which permits unrestricted use, distribution, and reproduction in any medium, provided the original work is properly cited.