Research article

Open Access

Open Peer Review
This article has Open Peer Review reports available.
Docosahexaenoic acid-induced apoptosis is mediated by activation of mitogen-activated protein kinases in human cancer cells
Received: 21 November 2013
Accepted: 30 June 2014
Published: 3 July 2014
Abstract
Background
The role of omega-3 polyunsaturated fatty acids (ω3-PUFAs) in cancer prevention has been demonstrated; however, the exact molecular mechanisms underlying the anticancer activity of ω3-PUFAs are not fully understood. Here, we investigated the relationship between the anticancer action of a specific ω3-PUFA docosahexaenoic acid (DHA), and the conventional mitogen-activated protein kinases (MAPKs) including extracellular signal-regulated kinase (ERK), c-JUN N-terminal kinase (JNK) and p38 whose dysregulation has been implicated in human cancers.
Methods
MTT assays were carried out to determine cell viability of cancer cell lines (PA-1, H1299, D54MG and SiHa) from different origins. Apoptosis was confirmed by TUNEL staining, DNA fragmentation analysis and caspase activity assays. Activities of the conventional MAPKs were monitored by their phosphorylation levels using immunoblotting and immunocytochemistry analysis. Reactive oxygen species (ROS) production was measured by flow cytometry and microscopy using fluorescent probes for general ROS and mitochondrial superoxide.
Results
DHA treatment decreased cell viability and induced apoptotic cell death in all four studied cell lines. DHA-induced apoptosis was coupled to the activation of the conventional MAPKs, and knockdown of ERK/JNK/p38 by small interfering RNAs reduced the apoptosis induced by DHA, indicating that the pro-apoptotic effect of DHA is mediated by MAPKs activation. Further study revealed that the DHA-induced MAPKs activation and apoptosis was associated with mitochondrial ROS overproduction and malfunction, and that ROS inhibition remarkably reversed these effects of DHA.
Conclusion
Together, these results indicate that DHA-induced MAPKs activation is dependent on its capacity to provoke mitochondrial ROS generation, and accounts for its cytotoxic effect in human cancer cells.
Keywords
Docosahexaenoic acid
Reactive oxygen species
Mitogen-activated protein kinases
Apoptosis
Cancer
Background
Omega-3 polyunsaturated fatty acids (ω3-PUFAs) have the first double bond in the ω3 position (third carbon from the methyl end of the carbon chain) and are considered essential fatty acids because they cannot be synthesized by mammals [1]. These PUFAs are able to regulate eicosanoid production [2], transcription events [3], formation of potent lipid peroxidation products [4], Wnt/β-catenin signaling [5, 6], and autophagy [7]. Docosahexaenoic acid (DHA) and eicosapentaenoic acid (EPA) are the main long chain ω3-PUFAs, and their anticancer effects have been demonstrated, with DHA showing a stronger effect than EPA because of the higher degree of unsaturation of the DHA molecule [8].
Various cellular metabolic processes are associated with the generation of reactive oxygen species (ROS) including hydrogen peroxide (H2O2), superoxide anion, and hydroxyl radicals as chemically reactive molecules [9]. ROS regulate crucial cellular events, such as transcription factor activation, gene expression, and cell differentiation and proliferation [10]. In mammalian cells, an important source of ROS generation is the mitochondrial electron transport chain [11]. Overproduction of ROS induces cellular damage, such as the oxidation of cardiolipin in the mitochondrial membrane and a decrease in the mitochondrial membrane potential (MMP), which leads to apoptotic cell death [9, 11].
ROS activate the mitogen-activated protein kinases (MAPKs) families, which regulate many cellular processes, including cell growth, proliferation, differentiation, survival, and death [12]. Mammals express at least three conventional MAPKs, extracellular signal-regulated kinase (ERK), c-JUN N-terminal kinase (JNK) and p38, and dysregulation of the conventional MAPKs is implicated in human cancers [13]. While JNK and p38 activation is related to apoptosis under environmental stress conditions, especially oxidant injury, the activation of ERK induced by mitogens, growth factors and cytokines is generally believed to trigger pro-survival signals [14]. However, recent studies suggest that ERK activation can also lead to apoptotic death of tumor cells in repsonse to various anticancer agents [15]. For example, cisplatin-induced apoptosis in human cancer cells has been attributed to ERK activation, and inhibition of ERK markedly attenuates the pro-apoptotic effect of cisplatin [16].
In the present study, we investigated the cell death mode induced by DHA in four cancer cell lines derived from different types of cancers, and explored the relationship between conventional MAPKs and the cytotoxic effect of DHA. Our results show that DHA induces apoptotic cell death via ROS-regulated MAPK activation. These results have important implications for the chemoprevention and treatment of human cancer using ω3-PUFAs.
Methods
Chemicals and antibodies
DHA (Cayman Chemical, Ann Arbor, MI, USA) and tetramethylrhodamine ethyl ester (TMRE, Invitrogen, Camarillo, CA, USA) dissolved in absolute ethanol, Dihydroethidium (DHE, Invitrogen), PD98059 (Calbiochem, Cambridge, UK), SP600125 (Calbiochem), SB600125 (Calbiochem) and MitoSOX Red (Invitrogen) dissolved in dimethyl sulfoxide (Sigma, ST Louis, MO, USA), N-acetyl-L-cystein (NAC, Sigma) dissolved in phosphate buffered saline and H2O2 (MERCK, Darmstadt, Germany) dissolved in distilled water were stored at -20°C before use.
The antibodies used and their sources are as follows. Caspase-3, JNK, p38, phospho-p38 (Thr180/Tyr182) and XIAP antibodies were purchased from Cell signaling Technology (Beverly, MA, USA); antibodies against PARP-1/2 (H-250), phospho-ERK (E-4), ERK1 (K-23), Survivin and actin (I-19)-R were from Santa Cruz (CA, USA); goat anti-rabbit and goat anti-mouse secondary antibodies were from Calbiochem; and phospho-JNK1&2 (pT183/pY185) antibodies and secondary antibodies (goat anti-rabbit and goat anti-mouse) conjugated with TRITC were from Invitrogen.
Cell cultures and chemical treatment
Human ovarian cancer PA-1 cells, human lung cancer H1299 cells, and human cervical cancer SiHa cells were purchased from American Type Cell Culture Collection (Rockville, MD, USA). Human glioblastoma D54MG cells were provided by Dr. Binger (Duke University Medical Center, Durham, NC, USA). PA-1 cells were maintained in Minimum Essential Medium (MEM, GIBCO, Grand Island, NY, USA); H1299 and SiHa cells were maintained in Dulbecco's Modified Eagle Medium (DMEM); and D54MG cells were maintained in RPMI 1640 medium (GIBCO). The media were supplemented with 10% heat-inactivated fetal bovin serum (FBS, GIBCO), penicillin and streptomycin. The cells were cultured in a humidified 5% CO2 atmosphere at 37°C.
Cells grown to 70% confluency were switched into serum-free media, and the cultures (H1299, D54MG and SiHa) were allowed to expand for 24 h before giving any treatment. For PA-1 cells, the serum-free culture condition was used at 12 h, as an incubation time longer than 12 h resulted in slight loss of cell viability (data not shown).
Cell viability assay
Cells were plated onto 96-well plates at seeding densities of 6.5 × 103 cells per well for PA-1, H1299 and SiHa cells and 7 × 103 cells per well for D54MG cells. The cell viability after treatment with appropriate agents was measured using Thiazolyl Blue Tetrazolium Bromide (MTT, Sigma) as previously described [17]. Concentrations of DHA that produced 50% inhibition in cell survival (IC50) following a 24 h exposure, were manually derived from dose–response curves generated by the Microsoft Excel 2010 edition.
Measurement of oxygen consumption rate (OCR)
Cellular oxygen consumption was measured using a Seahorse bioscience XF24 analyzer (Seahorse Bioscience Inc., North Billerica, MA, USA) in 24-well plates at 37°C, with correction for positional temperature variations adjusted from four empty wells evenly distributed within the plate. PA-1 cells were seeded at 4 × 104 cells per well 18 h prior to the analysis, and each experimental condition was performed on 4 biological replicates. Immediately before the measurement, cells were switched to 1% FBS contained MEM for 4 h. Then cells were washed and 590 μL of non-buffered media (sodium bicarbonate free, pH 7.4 DMEM) was added to each well. After 15 min equilibration period, three successive 2 min measurements were performed at 3 min intervals with inter-measurement mixing to homogenize oxygen concentration in the medium and each condition was measured in independent walls. Concentrated compounds (10X) were injected into each well using the internal injector of the cartridge and three successive 2 min measurements were performed at 3 min intervals with inter-measurement mixing.
Western blot, immunocytochemistry and apoptosis assays
Western blot, immunocytochemistry and apoptosis assays were done as described previously in reference [7].
Determination of intracellular ROS and MMP
ROS production was measured using fluorescent probes DHE, and MitoSOX. Cells seeded onto 6-well plates were first stained with either DHE (10 μM) or MitoSOX (5 μM) in Hanks' balanced salt solution (HBSS) for 30 min (15 min in case of MitoSOX) at 37°C. After washing away unbound probes, cells were switched into serum-free media, pretreated with or without 5 mM of NAC for 1 h and exposed to DHA for 4 h. Direct imaging of ROS in probe-stained cells was performed using a fluorescence microscope (Olympus iX70, Japan), and images were captured with a DP Controller software. All images were taken under identical exposure conditions to assess the intensity of the probe fluorescence accurately. Alternatively, the probe-stained cells were detached with trypsin-EDTA, washed and fluorescence intensity was measured within 60 min by flow cytometry. For each sample, at least 10,000 events were acquired and analyzed using the BD FACS-Calibur (BD Bioscience, San Diego, CA, USA). MMP levels were evaluated using fluorescent probes, TMRE. In brief, cells were stained with TMRE at a concentration of 25 nM for 15 min at 37°C in HBSS, washed twice, and then preincubated with or without 5 mM of NAC for 1 h in serum-free media before DHA exposure. After incubation with DHA for 4 h, the fluorescence of the cells stained with TMRE was monitored by flow cytometry as described above.
Small interfering RNAs (siRNAs)
siRNAs for human ERK1/2, JNK1/2 and p38 were purchased from Bioneer (Daejeon, Korea). For transfection, 25 nM siRNAs were added to 9 × 105 cells in a 100 mm dish using Lipofectamine RNAiMAX (Invitrogen) as recommended by the vendor. Control cells were transfected with a negative control siRNA with no known mRNA target (5'-ACG UGA CAC GUU CGG AGA AUU-3') designed by Bioneer. After 18 h of transfection, cells were switched into serum-free media for 24 h (12 h in case of PA-1 cells) and then treated with DHA. The siRNAs sequences used were: ERK1 (5′-GAC CGG AUG UUA ACC UUU A-3′), ERK2 (5′-CCA AAG CUC UGG ACU UAU-U-3′), JNK1 (5′-CUG GUA UGA UCC UUC UGA A-3′), JNK2 (5′-CUG UAA CUG UUG AGA UGU A-3′) and p38 (5′-CAA AUU CUC CGA GGU CUA A -3′).
Statistical analysis
Student's t test was performed for statistical analyses. In all analyses, the level of statistical significance was more than the 95% confidence level (P < 0.05). *** means P < 0.001.
Discussion
The ω3-PUFA, DHA prevents cancer through regulating multiple targets implicated in various stages of cancer progression, and one aspect of its antitumor effect involves inhibition of cell growth [1]. It has been shown that the growth-inhibitory effect of DHA is attributed to apoptosis and/or cell-cycle arrest, depending on the cell line studied [23, 24]. In agreement with this, our results showed that the apoptosis induced by DHA is accompanied by cell-cycle arrest in H1299 and SiHa cells but not in PA-1 and D54MG cells. Although the identification of molecular determinant controlling either apoptosis or cell-cycle arrest as alternative modes of DHA-induced growth inhibition requires further investigation, these inconsistent observations indicate that detailed mechanistic events underlying the growth-inhibitory effect of DHA may be also cell type specific.
One major finding of this study is that the activation of conventional MAPKs (ERK, JNK and p38) is critical for the induction of apoptosis in tumor cells exposed to DHA. This finding confirms the results from previous studies [25–27], showing that DHA-induced apoptosis involves p38 activation. Meanwhile, it extends these studies by demonstrating that ERK and JNK activation is also required for the apoptosis in cells treated with DHA. The detailed mechanism by which activation of conventional MAPKs promotes DHA-induced apoptosis is still uncertain. We found that the apoptosis triggered by DHA was associated with altered protein levels of Bax and Bcl-2. Since conventional MAPKs activation has been shown to promote the expression and phosphorylation of pro-apoptotic Bax, and to disrupt anti-apoptotic Bcl-2 function, thereby resulting in apoptosis [20, 28, 29], it is reasonable to assume that Bax and Bcl-2 may act downstream of MAPKs activation to induce apoptosis in tumor cells treated with DHA. Notably, our data contrast with the findings of previous studies [30–33] which show that inactivation of ERK/p38 by DHA accounts for the apoptotic death of MCF-7, A549 and HCT-116 cancer cells. The reason for such disparate regulation of MAPKs activity in response to DHA is unclear, but might be related to the distinct genetic background (e.g., the prodeath or prosurvival role of basal MAPKs activity) of different types of cancer cells [13, 14].
Previous studies suggest that the apoptosis inducing effect of DHA is at least partially attributed to its capacity to trigger mitochondrial ROS overproduction and malfunction [1, 4, 17, 34]. Mitochondria are the major cellular organelles producing ROS and within mitochondria, the primary site of ROS generation is electron transport chain [11]. Therefore, our results that upon DHA exposure, the ROS, especially mitochondrial superoxide overproduced, and the OCR dramatically decreased with an increase in extracellular acidification rate (Figure 3 and data not shown), implying that DHA may cause a metabolic shift from oxidative phosphorylation to glycolysis and the disruption of electron transport chain.
Another question we addressed in the present study is the relationship between ROS, MARKs activation and apoptosis induced by DHA. ROS mediate MAPKs and the ROS-regulated ERK/JNK/p38 signaling in governing apoptosis under oxidative conditions have been widely investigated [10]. Although many studies have provided a general view that activation of the ERK pathway delivers a survival signal under oxidative stress, which counteracts the pro-apoptotic signaling associated with JNK and p38 activation [14], it is also reported that ROS-mediated ERK activation can induce apoptosis [15]. Our observations that DHA induced conventional MAPKs activation and apoptosis, which could be blocked by antioxidants are in agreement with the view that ROS-mediated activation of ERK/JNK/p38 in DHA-treated cancer cells is pro-apoptotic. Then, how do DHA-induced ROS result in the simultaneous activation of ERK/JNK/p38? One of potential molecules that may mediate this process is ASK1 (apoptosis signal-regulating kinase 1). ASK1 is substantially activated in response to a variety of ROS inducers, and has been shown to induce the activation of not only p38, but also ERK and JNK [35, 36]. Thus, it is foreseen that DHA-induced ROS would simultaneously activate all three conventional MAPKs via upregulation of ASK1.
Conclusions
To summarize, the ω3-PUFA, DHA induces apoptotic cell death in various cancer cell lines. This increased apoptosis induced by DHA is dependent on its ability to trigger excessive mitochondrial ROS generation and subsequent conventional MAPKs activation (Figure
6
). Thus, DHA may serve as an effective agent for the treatment and chemoprevention of human cancers.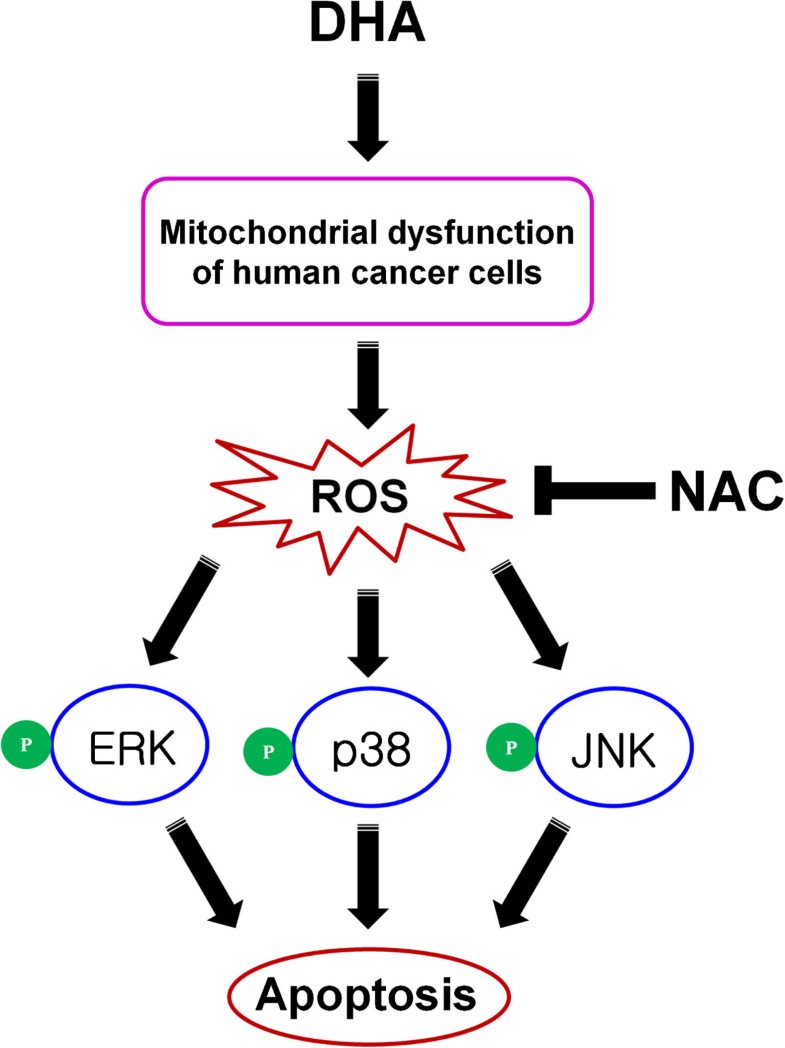 Abbreviations
ASK1:

Apoptosis signal-regulating kinase 1
DHA:

Docosahexaenoic acid
DHE:

Dihydroethidium
DMEM:

Dulbecco's modified eagle medium
EPA:

Eicosapentaenoic acid
ERK:

Extracellular signal-regulated kinase
IAPs:

Inhibitor of apoptosis proteins
JNK:

c-jun N-terminal kinase
MAPKs:

Mitogen-activated protein kinases
MEM:

Minimum essential medium
MMP:

Mitochondrial membrane potential
MTT:

Thiazolyl Blue Tetrazolium Bromide
NAC:

N-acetyl-L-cystein
OCR:

Oxygen consumption rate
PUFA:

Polyunsaturated fatty acid
ROS:

Reactive oxygen species
siRNA:

Small interfering RNA
TMRE:

Tetramethylrhodamine, ethyl ester
TUNEL assays:

Terminal deoxynucleotidyl transferase dUTP nick end labeling assays.
Declarations
Acknowledgements
This work was supported by the National Research Foundation of Korea (NRF) grant funded by the Korea government (MEST) (2007–0054932).
Authors' Affiliations
(1)
Department of Biochemistry, School of Medicine, Chungnam National University, Daejeon, South Korea
(2)
Cancer Research Institute, School of Medicine, Chungnam National University, Daejeon, South Korea
(3)
Infection Signaling Network Research Center, School of Medicine, Chungnam National University, Daejeon, South Korea
(4)
Department of Pathology and Laboratory Medicine, Tulane University School of Medicine, New Orleans, USA
Copyright
© Jeong et al.; licensee BioMed Central Ltd. 2014
This article is published under license to BioMed Central Ltd. This is an Open Access article distributed under the terms of the Creative Commons Attribution License (http://creativecommons.org/licenses/by/2.0), which permits unrestricted use, distribution, and reproduction in any medium, provided the original work is properly credited. The Creative Commons Public Domain Dedication waiver (http://creativecommons.org/publicdomain/zero/1.0/) applies to the data made available in this article, unless otherwise stated.