Research article

Open Access

Open Peer Review
This article has Open Peer Review reports available.
Aberrant septin 9 DNA methylation in colorectal cancer is restricted to a single CpG island
Received: 17 February 2013
Accepted: 28 August 2013
Published: 30 August 2013
Abstract
Background
The septin 9 gene (SEPT9) codes for a GTP-binding protein associated with filamentous structures and cytoskeleton formation. SEPT9 plays a role in multiple cancers as either an oncogene or a tumor suppressor gene. Regulation of SEPT9 expression is complex and not well understood; however, hypermethylation of the gene was recently introduced as a biomarker for early detection of colorectal cancer (CRC) and has been linked to cancer of the breast and of the head and neck. Because the DNA methylation landscape of different regions of SEPT9 is poorly understood in cancer, we analyzed the methylation patterns of this gene in distinct cell populations from normal and diseased colon mucosa.
Methods
Laser capture microdissection was performed to obtain homogeneous populations of epithelial and stromal cells from normal, adenomatous, and tumorous colon mucosa. Microdissected samples were analyzed using direct bisulfite sequencing to determine the DNA methylation status of eight regions within and near the SEPT9 gene. Septin-9 protein expression was assessed using immunohistochemistry (IHC).
Results
Regions analyzed in SEPT9 were unmethylated in normal tissue except for a methylation boundary detected downstream of the largest CpG island. In adenoma and tumor tissues, epithelial cells displayed markedly increased DNA methylation levels (>80%, p <0.0001) in only one of the CpG islands investigated. SEPT9 methylation in stromal cells increased in adenomatous and tumor tissues (≤50%, p <0.0001); however, methylation did not increase in stromal cells of normal tissue close to the tumor. IHC data indicated a significant decrease (p <0.01) in Septin-9 protein levels in epithelial cells derived from adenoma and tumor tissues; Septin-9 protein levels in stromal cells were low in all tissues.
Conclusions
Hypermethylation of SEPT9 in adenoma and CRC specimens is confined to one of several CpG islands of this gene. Tumor-associated aberrant methylation originates in epithelial cells; stromal cells appear to acquire hypermethylation subsequent to epithelial cells, possibly through field effects. The region in SEPT9 with disease-related hypermethylation also contains the CpGs targeted by a novel blood-based screening test (Epi proColon®), providing further support for the clinical relevance of this biomarker.
Keywords
DNA methylation
Septin 9
Colorectal cancer
Adenoma
Epithelial cells
Stromal cells
Direct bisulfite sequencing
Immunohistochemistry
Background
Alterations in the DNA methylation profile of cells are among the earliest molecular changes in cancer [1]. Both locus-specific hypermethylation and genome-wide hypomethylation commonly occur in different types of tumors [2]. Hypermethylation of tumor suppressor genes has been identified as a critical step in tumor initiation as the silenced expression of such genes affects whether cells maintain normal growth. Such epigenetic events, along with mutations, provide cells with a selective advantage that may lead to their clonal expansion [3].
Septin 9 (SEPT9)a involvement in cancer was first discovered as a fusion product with the MLL gene in leukemia [4]. Subsequent studies showed that SEPT9 was frequently deleted in sporadic ovarian tumors [5] or amplified in breast cancer [6]; it was suggested that the gene might be a candidate ovarian tumor suppressor gene that may also act like an oncogene. A comprehensive screen of a wide variety of tissue samples and cell lines revealed that SEPT9 was ubiquitously expressed, although, its isoform expression appeared to be tissue specific [7]. Moreover, SEPT9 mRNA and protein were overexpressed in diverse human tumors further suggesting an important role of the gene in tumorigenesis.
SEPT9 belongs to a highly conserved family of septin genes coding for GTP-binding proteins. These multidomain proteins assemble into complexes and form filamentous structures which comprise part of the cytoskeleton [8, 9]. The septin proteins play important roles in many cellular processes by providing rigidity to the cell membrane, serving as scaffolds to recruit proteins to specific subcellular locales, and creating membrane diffusion barriers to establish discrete cellular domains [8]. SEPT9 is characterized by its complex genomic organization that spans 219 kb and has 18 distinct transcripts encoding 15 isoforms [10, 11]. Alternative splicing at both 5′ and 3′ ends generates this transcript diversity [10]. The gene also harbors several CpG islands that when methylated may impact the expression of different transcripts.
Several analyses have been conducted on the expression of the SEPT9 transcripts. The transcript SEPT9_v1 was overexpressed in breast, ovarian, and prostate cancer while no SEPT9_v1 expression was observed in the normal tissue of these organs [12, 13]. Two distinct transcripts, SEPT_v4 and SEPT_v4*, code for the same polypeptide, but are translated with different efficiencies and respond differently to cellular stresses; the SEPT9_v4* polypeptide is thought to play a role in neoplasia [14, 15]. The transcript SEPT9_v3 expression was up-regulated in some cancer cell lines and repressed in others in which there was also a reduction in protein levels [16]. This transcript was also associated with promoter hypermethylation.
Recently, SEPT9 was shown to be epigenetically modified in colorectal cancer (CRC) [17]. Subsequent studies using refined and more sensitive assays confirmed SEPT9 as a biomarker for CRC [18, 19]. A complete workflow was developed on the basis of these findings and permits a minimally invasive, blood-based screening test (Epi proColon®) for colorectal cancer [20], which is currently available for clinical application in Europe [21]. The test detects methylated SEPT9 in circulating DNA in plasma which is believed to be derived from apoptotic cells shed from the tumor [22]. However, it is unknown whether SEPT9 hypermethylation is present in all types of tumor cells of the colon and to what extent the hypermethylation affects the promoter region of SEPT9. To advance our understanding of cancer-associated epigenetic changes in SEPT9, we investigated the methylation profile of SEPT9 in epithelial and stromal cells microdissected from normal and diseased fresh-frozen biopsies and tissue colon samples. Since earlier studies analyzed DNA methylation changes only in a single SEPT9 CpG island, and only in heterogeneous CRC tissue specimens, this study aims at determining whether the aberrant methylation changes are unique to only this CpG island or whether hypermethylation affects multiple CpG dense regions associated with this gene and how SEPT9 methylation is affected in homogeneous populations of epithelial and stromal cells.
Our results provide new insights into the cellular origin of aberrant DNA methylation in the SEPT9 gene for CRC and the clinical relevance of DNA methylation for early CRC detection.
Results
The mPCR assay established for this study included primer pairs for 13 different loci (Additional file
3
: Table S3; only the results for SEPT9-related loci are presented in this paper). The eight amplicons within and near SEPT9 covered a total of 130 CpGs and were located predominantly in CpG-rich regions, except for amplicon 3, which had a lower CpG density (Figure
1
and Additional file
4
: Figure S
1
). The suitability of the amplicons for quantitatively determining methylation levels were assessed with the calibration experiments. A slope of the linear regression curve close to one and offset values close to zero were indicative for sensitive assays. The results from these experiments showed that the methylation levels of six of the eight amplicons were well quantified while the results for amplicons 3 and 7 were ambiguous (Figure
2
). Sperm DNA was considered an inappropriate control DNA for these loci because both appeared to be either fully or partially methylated. However, since the sample sequencing results obtained with these two assays were consistent and reproducible, even at lower levels of methylation, we accepted these results in the absence of complete calibration data. Together, these eight assays generated robust data from the 96 samples analyzed.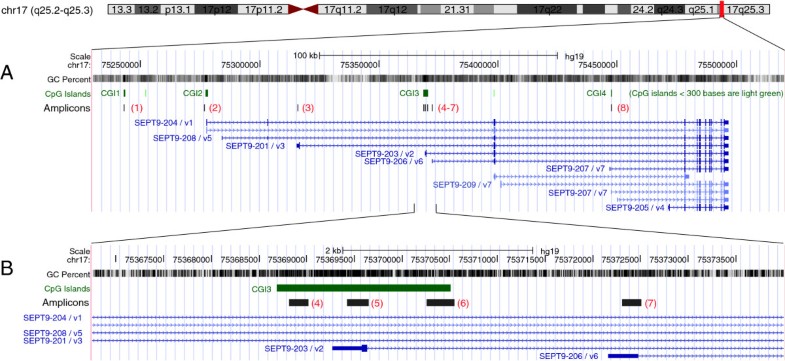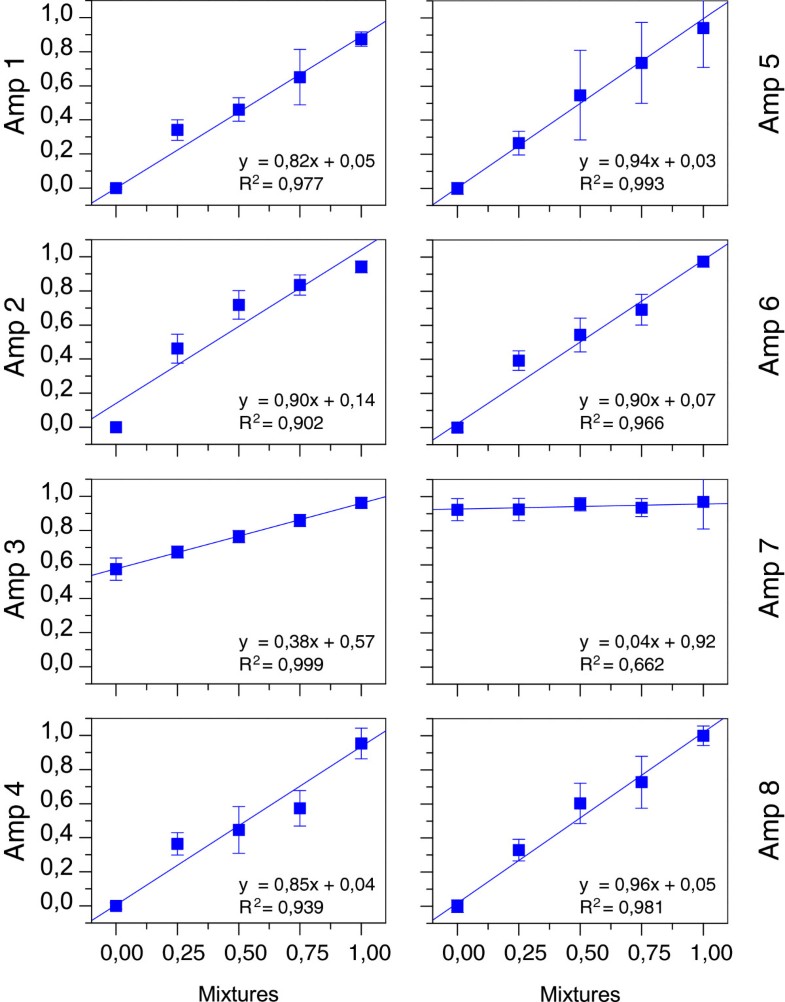 DNA methylation of SEPT9
The results obtained from the eight amplicons within and near SEPT9 provided an overview of the methylation landscape of this gene for two different cell types (Figure
3
). One extragenic and three intragenic CpG islands were designated as CGI1, CGI2, CGI3, and CGI4 (Figure
1
). CGI3 was the largest of these CpG islands and previously described as differentially methylated in colorectal cancer [
17
]. This region was covered by three non-overlapping amplicons to obtain a higher resolution of methylation changes in the region.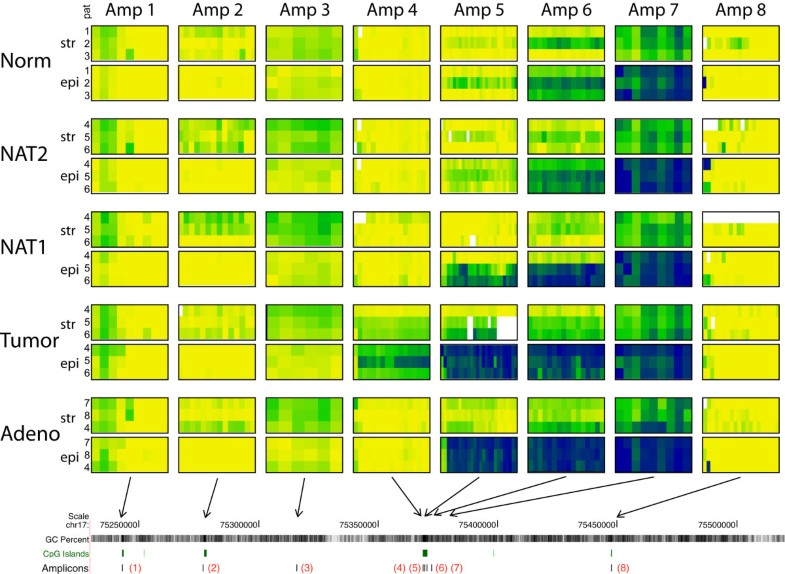 Disease-associated aberrant methylation was seen exclusively in CGI3 (Figure
3
) while the other regions in SEPT9 did not show detectable alterations in their methylation status. Amplicon 5, located centrally in CGI3, showed large methylation differences between normal samples and those from colon adenomas and tumors; this difference was the most pronounced in epithelial cells (Figures
3
and
4
). The methylation difference between normal and tumor tissue in these cells exceeded 80% and was highly significant (p <0.0001). Equally pronounced was the difference in epithelial cells between normal and adenomatous tissue. NAT1 samples (i.e., < 1 cm from the tumor) showed significantly elevated methylation levels (p <0.0001) in the epithelial cells in two of the three tumors, a finding that supports the concept of a field effect in CRC [
28
,
29
]. This effect was not seen in the third NAT1 sample. No significant methylation differences were observed between epithelial cells derived from normal and NAT2 samples (p > 0.05). In contrast, in stromal cells, an increase in methylation was seen mainly in tumor samples with changes up to 50%, while in adenomas, methylation levels increased by less than 20%. No increase was detected in stromal cells of the NAT samples. These data suggest that the observed aberrant methylation in SEPT9 - CGI3 originates in epithelial cells and is associated with progression in the adenoma-carcinoma sequence.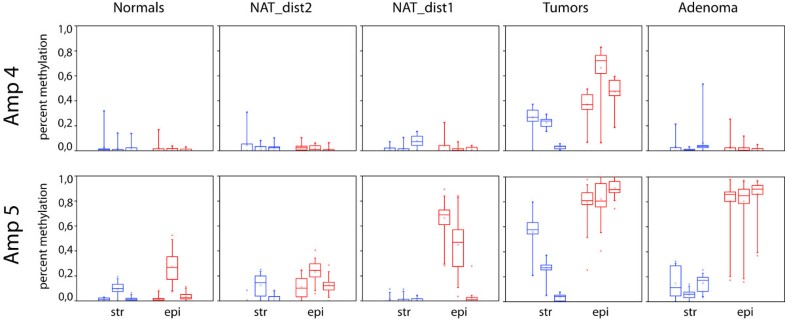 Our results further show spreading of aberrant methylation from the core of CGI3 towards the 5′ end which is covered by amplicon 4 (Figures 3 and 4). This methylation expansion was seen only in tumor samples and occurred in both epithelial and stromal cells. In adenoma samples the 5′end of CGI3 remained unmethylated.
The 3′ end of CGI3 (amplicon 6), and the region covered by the neighboring amplicon 7 (located outside CGI3), displayed elevated methylation in normal tissue samples with epithelial cells showing higher methylation levels than stromal cells (Figure 3). In amplicon 7, all epithelial samples were fully methylated while stromal samples were partially methylated. The tumor-associated increase in methylation, which was seen with amplicon 5, was still detected with amplicon 6 but did not affect the region covered by amplicon 7. This pattern indicates the existence of a DNA methylation boundary neighboring CGI3.
In addition to these major methylation patterns in SEPT9, our results show patient-specific differences in the level of methylation (Figure 3). These differences are clearly seen in CGI3 but also seem to occur in CGI2 (amplicon 2). Although this study was based on a small number of patients, the averaging of sequencing data from several individual microdissected specimens (Additional file 2: Table S2) provided a higher degree of robustness against technical noise. Therefore, the subtle differences seen between patients may reflect biological differences especially when they appear in parallel in multiple amplicons (e.g., amplicons 5 and 6). In most stromal cells, amplicon 2 displayed higher methylation levels (up to 25%) in comparison to epithelial cells in all five tissue groups (Figure 3). Amplicon 2 is located within CGI2, which is associated with the transcription start site (TSS) of SEPT9_v1, the longest and possibly the most prominent of the SEPT9 transcripts.
Immunohistochemistry
Antibody staining for Septin-9 was positive in all tissue samples irrespective of disease status (Figure
5
). In addition, the protein was found in both epithelial and stromal cells, although, at different levels. Septin-9 protein level was significantly higher in epithelial cells than in stromal cells derived from normal and NAT1 tissues (p <0.001) (Figure
6
). In adenoma and tumor samples, the epithelial Septin-9 level was not different from that found in stromal cells (Figure
6
). In all five tissue groups, the level of the Septin-9 protein in stromal cells was comparable with the lowest Septin-9 level found in tumor samples.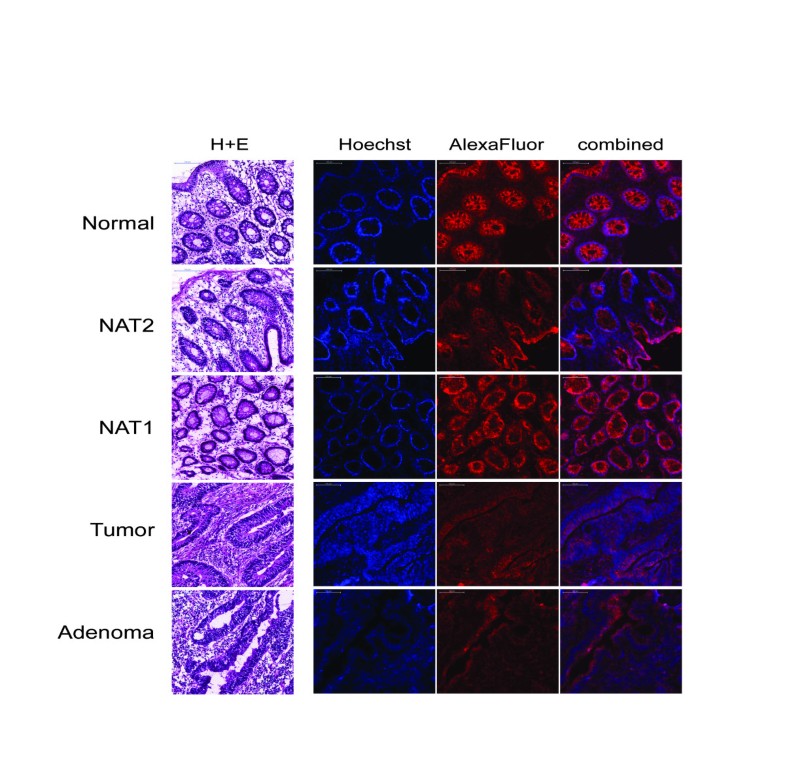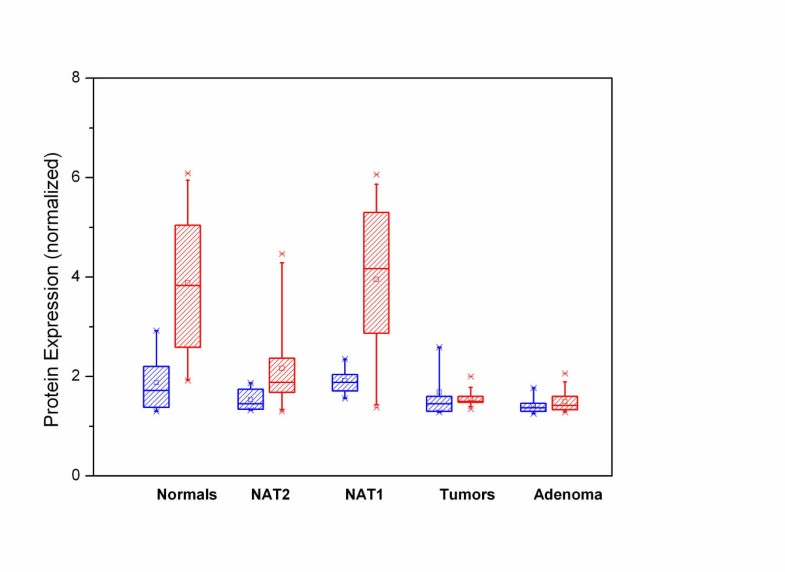 Conclusions
Our results support the idea that epigenetic deregulation of SEPT9 plays a role in the development of colorectal cancer. Aberrant hypermethylation of this gene occurs only in one of its CpG islands and this hypermethylation likely is an early event in the adenoma-carcinoma sequence. Tumor-associated aberrant methylation in the colon mucosa originates in epithelial cells and precedes similar alterations in stromal cells. Our data further provide a direct link between the region interrogated by the Epi proColon® assay, which detects methylation of SEPT9 in cell-free DNA in plasma and the underlying events in the tissue of cancer patients. It is now evident that the Epi proColon® test, currently available for clinical application in Europe, obtains its diagnostic utility by targeting the very region of the SEPT9 promoter that displays the highest susceptibility to methylation changes in the adenoma-carcinoma sequence. Additional applications of this biomarker in oncology, beyond the known utility for diagnostic screening, are also conceivable.
Endnotes
aThroughout this manuscript the human gene septin 9 is described with the gene symbol name "SEPT9" while "Septin-9" is used for the protein, following the recommended nomenclature by Expasy Gene/Protein Synonyms databank and UniProt database.
Abbreviations
CGI:

CpG island
CIMP:

CpG island methylator phenotype
CpG:

Cytosine guanine dinucleotide
CRC:

Colorectal cancer
CTCF:

CCCTC-binding factor
DMR:

Differentially methylated region
GTP:

Guanosine triphosphate
H&E:

Hematoxylin and Eosin (stain)
IHC:

Immunohistochemistry
LCM:

Laser capture microdissection
MLL:

Myeloid/lymphoid or mixed-lineage leukemia gene
mPCR:

Multiplex PCR
NAT:

Normal adjacent tissue
OCT:

Optimal cutting temperature media
PBL:

Peripheral blood lymphocytes
PBS:

Phosphate buffered saline
PMR:

Percent of methylated reference
qPCR:

Quantitative PCR
SEPT9:

Septin 9 gene
sPCR:

Singleplex PCR
TSS:

Transcription start site
tv:

Transcription variant.
Declarations
Acknowledgements
The authors would like to thank Stefanie Vente (Epigenomics AG) for excellent technical work, Gabriella Kónyáné Farkas (Semmelweis University) for her technical support in the IHC experiments, Dr. Esmeralda Heiden (Epigenomics AG, now at Charité, Berlin) for contributing to the study plan, Dr. Joern Lewin (Epigenomics AG) for support with ESME analysis, and Dr. Florian Herse (ECRC, Max-Delbrück-Center, Berlin) for providing logistical support for some experiments. The authors also thank Christine Kuepfer for providing medical writing services on behalf of Epigenomics.
Authors' Affiliations
(1)
Epigenomics AG, Berlin, Germany
(2)
Delta-Vir GmbH, Leipzig, Germany
(3)
2nd Department of Internal Medicine, Semmelweis University, Budapest, Hungary
(4)
Zymo Research, Irvine, USA
(5)
Epigenomics Inc, Seattle, USA
(6)
Molecular Medicine Research Unit, Hungarian Academy of Science, Budapest, Hungary
Copyright
© Wasserkort et al.; licensee BioMed Central Ltd. 2013
This article is published under license to BioMed Central Ltd. This is an Open Access article distributed under the terms of the Creative Commons Attribution License (http://creativecommons.org/licenses/by/2.0), which permits unrestricted use, distribution, and reproduction in any medium, provided the original work is properly cited.