Research article

Open Access

Open Peer Review
This article has Open Peer Review reports available.
Multimodal microscopy for automated histologic analysis of prostate cancer
Received: 21 March 2010
Accepted: 9 February 2011
Published: 9 February 2011
Abstract
Background
Prostate cancer is the single most prevalent cancer in US men whose gold standard of diagnosis is histologic assessment of biopsies. Manual assessment of stained tissue of all biopsies limits speed and accuracy in clinical practice and research of prostate cancer diagnosis. We sought to develop a fully-automated multimodal microscopy method to distinguish cancerous from non-cancerous tissue samples.
Methods
We recorded chemical data from an unstained tissue microarray (TMA) using Fourier transform infrared (FT-IR) spectroscopic imaging. Using pattern recognition, we identified epithelial cells without user input. We fused the cell type information with the corresponding stained images commonly used in clinical practice. Extracted morphological features, optimized by two-stage feature selection method using a minimum-redundancy-maximal-relevance (mRMR) criterion and sequential floating forward selection (SFFS), were applied to classify tissue samples as cancer or non-cancer.
Results
We achieved high accuracy (area under ROC curve (AUC) >0.97) in cross-validations on each of two data sets that were stained under different conditions. When the classifier was trained on one data set and tested on the other data set, an AUC value of ~0.95 was observed. In the absence of IR data, the performance of the same classification system dropped for both data sets and between data sets.
Conclusions
We were able to achieve very effective fusion of the information from two different images that provide very different types of data with different characteristics. The method is entirely transparent to a user and does not involve any adjustment or decision-making based on spectral data. By combining the IR and optical data, we achieved high accurate classification.
Keywords
Support Vector MachineFeature SelectionChemical ImagingSequential Floating Forward SelectionNucleus Detection
Background
Prostate cancer
Prostate cancer (PCa) is the single most prevalent cancer in US men, accounting for one-third of non-skin cancer diagnoses every year [1]. Screening for the disease is widespread and for almost a million cases a year [2–4], a biopsy is conducted to detect or rule out cancer [3]. Manually-conducted histologic assessment of tissue upon biopsy forms the definitive diagnosis of PCa [5]. This need places a large demand on pathology services and manual examination limits speed and throughput. Histologic assessment is also critical to scientific progress as it is often the basis for research studies. Alternative methods for histologic recognition can greatly aid in alleviating workloads, assuring quality control and reducing costs [6]. There is no straightforward way, however, to aid pathology in this task and no clinical instrument is available for routine use. Hence, high-throughput, automated and objective tools for prostate pathology - both in clinical practice and in research - are needed.
Optical microscopy and automated PCa detection
Since the tissue does not have appreciable contrast in optical brightfield microscopy (Figure
1A
), tissue samples are commonly stained using hematoxylin and eosin (H&E) prior to review by a pathologist. The stain is specific in limited terms - staining protein-rich regions pink and nucleic acid-rich regions of the tissue blue (Figure
1B
). A pathologist is trained to recognize, from a stained tissue sample, the morphology and local architecture of glands as well as their structural alterations that indicate disease. The specific cell type that is used to recognize glandular structures is the epithelial sub-type. In prostatic carcinoma, which comprises more than 95% of prostate cancers [
5
], the cells of interest are epithelial cells [
7
]. Epithelial cells line 3D ducts in intact tissue and, hence, appear as cells lining empty circular regions (lumens) in images of histologic sections. Patterns of distortions of lumen appearance and spacing, as well as the arrangement of epithelial cells relative to lumens, have been characterized to indicate cancer and characterize its severity (Gleason grade) [
8
,
9
]. The greater the distortion and loss of regular structure, the worse (higher grade) the cancer.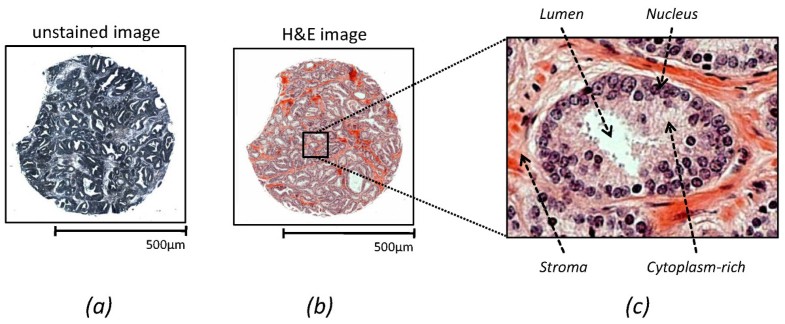 Recognizing structural distortions indicative of disease is a manual pattern recognition process that matches patterns in the tissue sample to standard patterns. Manual examination is powerful in that humans can recognize disease from a wide spectrum of normal and disease states, can overcome confounding artifacts, detect unusual cases and even recognize deficiencies in diagnoses. Manual examination, unfortunately, is time-consuming and leads routinely to variability in grading disease [8]. Computer-aided recognition of disease samples and grade patterns [10], hence, holds the potential for more accurate, reproducible and automated diagnoses [11, 12]. Unfortunately, tissue samples stain variably in populations due to biological diversity, with variations in stain composition, processing conditions and histotechnologists. The net result confounds automated image analysis and human-competitive recognition of cancer has not been automated for routine use. A robust means of automatically detecting epithelium and correlating its spatial patterns to determining cancer presence is highly desirable but yet unsolved.
Several efforts have been made to develop automated systems for the diagnosis and grading of microscopic prostate images. These include methods to identify distinct tissue compositions [13, 14] as well as several methods for automatic grading [15–23]. The majority of these methods have extracted texture and/or morphological features to characterize tissue samples. Histologic objects such as nuclei, lumen, or gland have been mainly used to extract morphological features [15, 16, 20–22, 24, 25]. Fourier Transform [17], Wavelet Transform [18, 19, 22], and Fractal Analysis [22, 23] have been the techniques commonly used to obtain texture features. In addition to these features, color [22] and graph-based [20] features have also been used. A number of classifiers have been tested on various features and data sets, although the choice of classifiers seems to have been less significant than the feature extraction step [22, 23].
Despite the above-mentioned lines of progress in automated diagnosis, an important concern is that the varying properties of images, due to acquisition settings [19, 25] and staining [26], may affect the classification results substantially. Although the issue of image variation by different acquisition settings has been addressed in [19, 25], to the best of our knowledge, no previous method has been validated across data sets under different staining conditions.
A major roadblock has been the limited information present in the data. For example, different cell types and morphologies are recognized by recognizing colors for empty space (usually close to white), apical portion of epithelial cells (usually pink) and the basal layer of epithelial cells (usually pink-dark blue). Immunohistochemical probes add useful information to diagnostic processes and are effective in understanding specific aspects of the disease, e.g. loss of basement membrane. For routine diagnostic pathology, however, the use of such molecular stains is expensive, time-consuming and does not actually address the need for an operator-free method. Additional molecular data is now available using label-free spectroscopic imaging, also known as chemical imaging [27].
Chemical imaging and automated histologic classification
Prostatic epithelial cells (and other cell types) [
28
] have recently been automatically recognized using a novel form of chemical imaging based on mid-infrared (IR) spectroscopy. Fourier transform infrared (FT-IR) spectroscopic imaging provides non-perturbing imaging by combining the spatial specificity of optical microscopy with the molecular selectivity of vibrational spectroscopy. Mid-IR spectral frequencies are resonant with the fundamental vibrational mode frequencies in molecules; hence, the IR absorption spectrum at each pixel is a quantitative record of composition [
29
]. FT-IR imaging has been successfully applied to various biological and biomedical problems such as determining molecular concentrations [
30
,
31
] and structure [
32
,
33
], characterizing cell components [
34
] and cancer diagnosis [
35
–
37
]. In particular, the spectral patterns of different cell types being different, computerized pattern recognition can be used to assign each pixel into constituent cell types. The final result of recording data and mathematical analysis is images of tissue that are color coded for cell type. The process is illustrated in Figure
2
. The approach has been used by a number of groups and is summarized in recent edited volumes [
38
,
39
]. Since the numerical algorithms are automated, quantification of accuracy and statistical confidence in results is facile [
40
].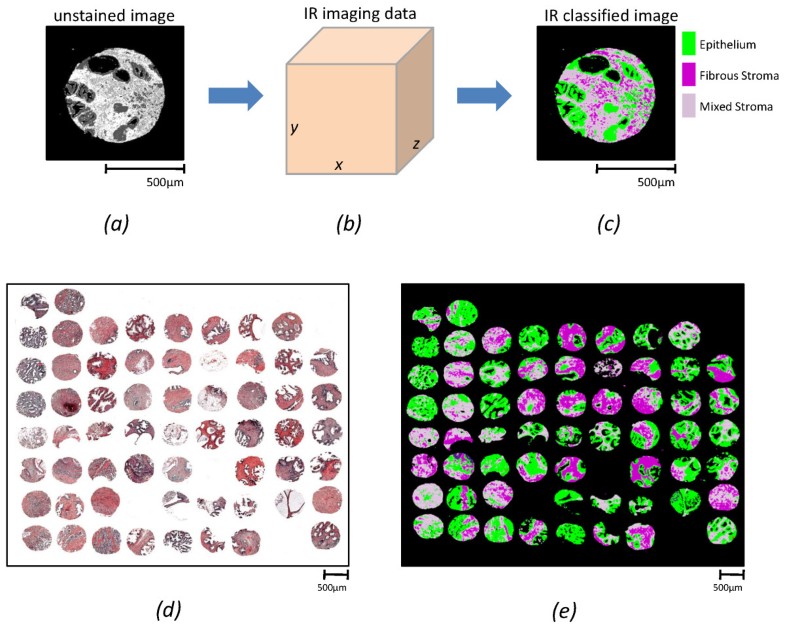 The above approach has been extensively validated in providing histologic recognition using tissue samples from over 1000 patients and tens of millions of pixels using tissue microarrays (TMAs). TMAs consist of multiple tissue samples of a size that assures representative sampling and allow high throughput experimentation in an efficient manner. For this manuscript, we examined two independent data sets from prostate tissue microarrays that were subjected to chemical imaging and histologic classification as outlined above. Images of the data are shown in Figure 2.
While we expected the chemical imaging approach to prove useful in histologic analysis of prostate tissue, its relationship to the existing clinical practice of using H&E stained tissue in PCa diagnosis was not clear a priori. Hence, we sought to examine whether a combination of the two techniques (i.e., optical microscopy following H&E staining, and FT-IR imaging) could provide high accuracy diagnoses that could otherwise not be achieved using H&E images alone.
Overview of this work
We develop a new fully-automated method to classify cancer versus non-cancer prostate tissue samples. The classification algorithm uses morphological features - geometric properties of epithelial cells/nuclei and lumens - that are quantified based on H&E stained images as well as FT-IR images of the tissue samples. By restricting the features used to geometric measures, we sought to mimic the pattern recognition process employed by human experts, and achieve a robust classification procedure that can produce consistently high accuracy across independent data sets. We systematically evaluate the performance of the new method through cross-validation, and examine its robustness across data sets. We also summarize the specific morphological features that prove to be most informative in classification.
Methods
We begin with a description of the computational pipeline. As noted above, a key aspect of our approach is the use of FT-IR imaging data on a serial section that is H&E-stained to enhance the segmentation of nuclei and lumens. The first two components of the pipeline are geared to this functionality, while the next three components exploit the segmented features obtained from image data to classify the tissue sample (Figure
3
).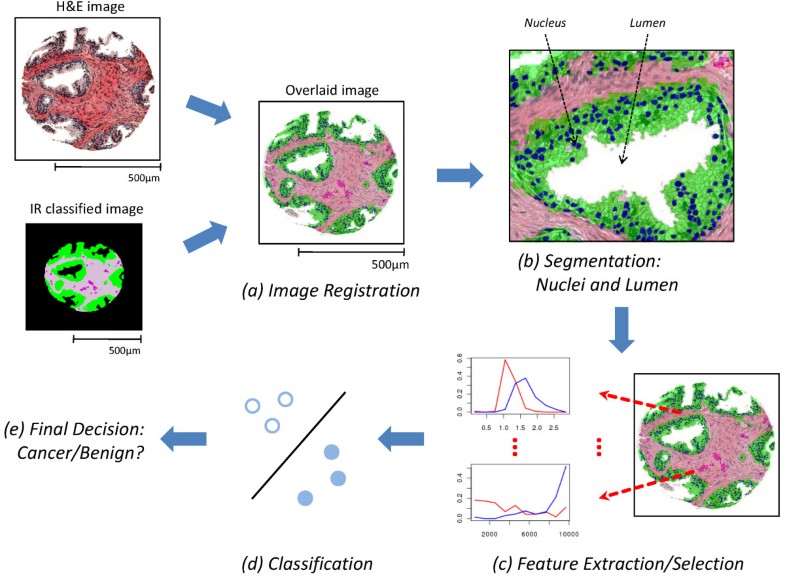 Conclusions
In this manuscript, we have presented a means to eliminate epithelium recognition deficiencies in classifying H&E images for presence or absence of cancer. The method is entirely transparent to a user and does not involve any adjustment or decision-making based on spectral data. We were able to achieve very effective fusion of the information from two different modalities, namely optical and IR microscopy, that provide very different types of data with different characteristics. Several features of the tissue were quantified and employed for classification. We found that robust classification could be achieved using a few measures, which are detailed to arise from epithelial/lumen organization and provide a reasonable explanation for the accuracy of the model. The choice of combining the IR and optical data is shown to be necessary for achieving the high accuracy values observed. We anticipate that the combined use of the two microscopies - structural and chemical - will lead to an accurate, robust and automated method for determining cancer within biopsy specimens.
Declarations
Acknowledgements
The project described was supported by Award Number R01CA138882 from the National Cancer Institute. The project is also supported by National Institutes of Health intramural funding (to S.M.H). The content is solely the responsibility of the authors and does not necessarily represent the official views of the National Cancer Institute or the National Institutes of Health. The project was also supported by a DoD prostate cancer research program young investigator award (to R.B.) and a computational science and engineering (CSE) fellowship (to J.T.K).
Authors' Affiliations
(1)
Department of Computer Science, University of Illinois at Urbana-Champaign, Urbana, USA
(2)
Beckman Institute for Advanced Science and Technology, University of Illinois at Urbana-Champaign, Urbana, USA
(3)
Tissue array research program, National Cancer Institute, National Institutes of Health, Bethesda, USA
(4)
Department of Bioengineering, University of Illinois at Urbana-Champaign, Urbana, USA
Copyright
© Kwak et al; licensee BioMed Central Ltd. 2011
This article is published under license to BioMed Central Ltd. This is an Open Access article distributed under the terms of the Creative Commons Attribution License (http://creativecommons.org/licenses/by/2.0), which permits unrestricted use, distribution, and reproduction in any medium, provided the original work is properly cited.