Research article
Open Access
Open Peer Review
This article has Open Peer Review reports available.
Inhibition of the mammalian target of rapamycin (mTOR) in advanced pancreatic cancer: results of two phase II studies
Received: 15 December 2009
Accepted: 14 July 2010
Published: 14 July 2010
Abstract
Background
The phosphoinositide 3-kinase (PI3K)/Akt pathway is constitutively activated in pancreatic cancer and the mammalian target of rapamycin (mTOR) kinase is an important mediator for its signaling. Our recent in vitro studies suggest that prolonged exposure of pancreatic cancer cells to mTOR inhibitors can promote insulin receptor substrate-PI3K interactions and paradoxically increase Akt phosphorylation and cyclin D1 expression in pancreatic cancer cells (negative feedback loop). The addition of erlotinib to rapamycin can down-regulate rapamycin-stimulated Akt and results in synergistic antitumor activity with erlotinib in preclinical tumor models.
Methods
Two studies prospectively enrolled adult patients with advanced pancreatic cancer, Eastern Cooperative Oncology Group performance status 0-1, adequate hematologic, hepatic and renal parameters and measurable disease. In Study A, temsirolimus was administered intravenously at 25 mg weekly. In Study B, everolimus was administered orally at 30 mg weekly and erlotinib was administered at 150 mg daily. The primary endpoint in both studies was overall survival at 6 months. Secondary endpoints included time to progression, progression-free survival, overall survival, response rate, safety and toxicity. Pretreatment tumor biopsies were analyzed by immunofluorescence and laser scanning cytometry for the expression of pmTOR/mTOR, pAkt/Akt, pErk/Erk, pS6, p4EBP-1 and PTEN.
Results
Five patients enrolled in Study A; Two patients died within a month (rapid disease progression and hemorrhagic stroke, respectively). One patient developed dehydration and another developed asthenia. Sixteen patients enrolled in Study B.: 12 males, all ECOG PS = 1. Median cycles = 1 (range 1-2). Grade 4 toxicity: hyponatremia (n = 1), Grade 3: diarrhea (n = 1), cholangitis (n = 3), hyperglycemia (n = 1), fatigue (n = 1). Grade 2: pneumonia (n = 2), dehydration (n = 2), nausea (n = 2), neutropenia (n = 1), mucositis (n = 2) & rash (n = 2). Four patients were hospitalized. Progressive disease occurred in 15 and 1 was non-evaluable. Pretreatment biopsies revealed a higher pAkt/Akt ratio in tumor specimens that in nonmalignant pancreatic tissue. No such trends were noted for the other biomarkers.
Conclusions
Neither study with mTOR inhibitors demonstrated objective responses or disease stability. The negative feedback loop resulting from mTOR inhibition may account for the disease progression and toxicity noted in these studies. Future strategies should aim for a broader targeting of the PI3K pathway in pancreatic cancer.
Trial Registration
Trial registration: Study A: NCT 0075647. Study B: NCT00640978
Keywords
Epidermal Growth Factor ReceptorPancreatic CancerGemcitabineRapamycinCapecitabine
Background
Gemcitabine, the standard frontline chemotherapeutic agent for advanced pancreatic cancer, was approved by the Food and Drug Administration (FDA) over a decade ago. Gemcitabine confers marginal survival benefit, although one randomized trial reported 'clinical benefit response' in 24% of patients with advanced pancreatic cancer [1]. No 'standard' second-line options for treating this disease have been adopted, although 5-fluorouracil, capecitabine, or a capecitabine + oxaliplatin combination is commonly used [2]. Based on our knowledge of pancreatic carcinogenesis, molecular targeting may lead to therapeutic gains in this disease. The epidermal growth factor receptor (EGFR) and its downstream signaling intermediates, the mitogen-activated protein kinase kinase (MEK), extracellular signal-regulated kinase (Erk) and phosphoinositide 3-kinase (PI3K)/Akt signaling pathways, play important roles in cellular proliferation, survival (inhibition of apoptosis) and drug resistance in pancreatic cancer. We and others have demonstrated that the PI3K/Akt pathway is constitutively activated in pancreatic cancer, thereby activating two important transcription factors, nuclear factor-kappa beta and c-myc [3].
Although the precise mechanism is unclear, the mammalian target of rapamycin (mTOR), a protein kinase, is the principal mediator of signals arising from PI3K/Akt-driven mitogen stimulation [4]. Activation of mTOR involves Akt and the tuberous sclerosis complex. Mutations in these components or in the phosphatase and tensin homolog (PTEN), a tumor suppressor and negative regulator of PI3K, may result in their dysregulation and thus contribute to the pathophysiology of cancer [5]. The mTOR pathway is also involved in the production of pro-angiogenic factors, including vascular endothelial growth factor (VEGF), that enhance endothelial cell growth and proliferation. Through the activation of its downstream mediators including the 40S ribosomal S6 kinases, mTOR can also activate hypoxia-inducible factor 1 (HIF-1). Inhibition of mTOR is therefore being explored as an anti-cancer strategy for several types of human malignancies, including pancreatic cancer.
Inhibition of EGFR by its oral tyrosine kinase inhibitor, erlotinib, has also been shown to have a therapeutic effect on pancreatic cancer. The results of a recent phase III clinical trial suggested that erlotinib in combination with gemcitabine was associated with a significant overall survival improvement over single-agent gemcitabine [6]. The sensitivity of cancer cell lines to erlotinib may depend on the inhibition of the PI3K/Akt pathway. Buck et al. investigated whether rapamycin, an mTOR inhibitor, could enhance the sensitivity of non-small-cell lung, pancreatic, colon and breast cancer cell lines to erlotinib [7]. Erlotinib inhibited Erk, Akt and S6 kinase in only the most sensitive cancer cell lines. Rapamycin could fully inhibit S6 kinase in all cell lines but simultaneously activated Akt. However, the rapamycin/erlotinib combination was able to down-modulate rapamycin-stimulated Akt activity. The rapamycin-erlotinib combination resulted in synergistic cancer cell growth inhibition in vitro and in vivo.
We investigated the role of mTOR inhibition and combined mTOR-EGFR inhibition in pancreatic cancer in the following two prospective clinical trials: Trial A, a phase II study of the mTOR-inhibitor, temsirolimus (CCI-779), and Trial B, a phase II study of the mTOR-inhibitor, everolimus (RAD001) + erlotinib combination. The dose of temsirolimus was based on its currently approved dose for the treatment of renal cancer. The dose of everolimus + erlotinib combination was based on a phase I study conducted at our institution [8].
Results
Study A enrolled patients from December 2003 through January 2004. Study B enrolled patients from March 2008 through June 2008. All patients had experienced tumor progression while receiving gemcitabine prior to enrollment. Table
1
provides patient characteristics.
Table 1
Patient Characteristics (Study A and B)
| Characteristic | Number |
| --- | --- |
| Age | 63 (range 34-75) |
| ECOG PS 0* | 3 |
| ECOG PS 1 | 16 |
| Males | 12 |
| Females | 7 |
| White | 18 |
| Hispanic | 1 |
| Prior surgery | 6 |
| Prior radiation | 2 |
| Prior chemotherapy regimens | |
| 1 | 5 |
| 2 | 8 |
| ≥ 3 | 2 |
Study A enrolled 5 patients; 4 actually received the planned therapy. The study was closed to accrual due to significant adverse effects (SAEs) resulting from study treatment. One patient in this study died within 1 month from rapid disease progression. One died within 1 month following a cerebrovascular accident; treatment response could not be evaluated. Two patients were withdrawn from the study because of SAEs and disease progression. The median number of treatment cycles was 0.75 (21 days), median OS was 44 days and PFS was 19 days. No responses occurred. Because of these events, the principal investigator (HX) recommended stopping the study; enrollment was stopped and the study closed to accrual.
Study B enrolled 16 patients; 15 received the planned therapy. The median number of cycles administered was 2 (56 days). PFS was 49 days and the OS was 87 days. No radiologic responses occurred. After reviewing the survival data, we concluded that the pre-specified median OS of 6 months was not likely to be reached and stopped the study for futility. Tables
2A
and
2B
depict study-related toxicities. As shown, systemic toxicities including fatigue, dehydration, and hyponatremia occurred with the combination. Lipid profile abnormalities were uncommon and below grade 2 in severity. Grade 2 skin rash occurred in 2 patients and was controlled with topical antibiotics and skin moisturizers.
Table 2
Study A; Number of Patients with Treatment-Related Toxicities and Study B; Number of Patients with Treatment-Related Toxicities
A

Toxicities

Grade 3 or 4

Grade 5

Study A

Hemorrhagic stroke

-

1

Pain

2

-

Fatigue

1

-

Constipation

1

-

Anorexia

1

-

Deep vein thrombosis

1

-

B

Study B

Grade 2

Grade 3 or 4

Neutropenia

2

-

Hyponatremia

-

1

Diarrhea

-

1

Fatigue

-

1

Hyperglycemia

-

1

Mucositis

2

-

Pneumonia

2

-

Dehydration

2

-

Nausea

2

-

Rash

2

-
Correlative data
Figures
1
,
2
and
3
show the MFIs of the biomarkers acquired by LSC as represented in box plots. Activation of Akt, as assessed by the pAkt/Akt ratio, was noted. No significant trends were noted in the other biomarkers studied.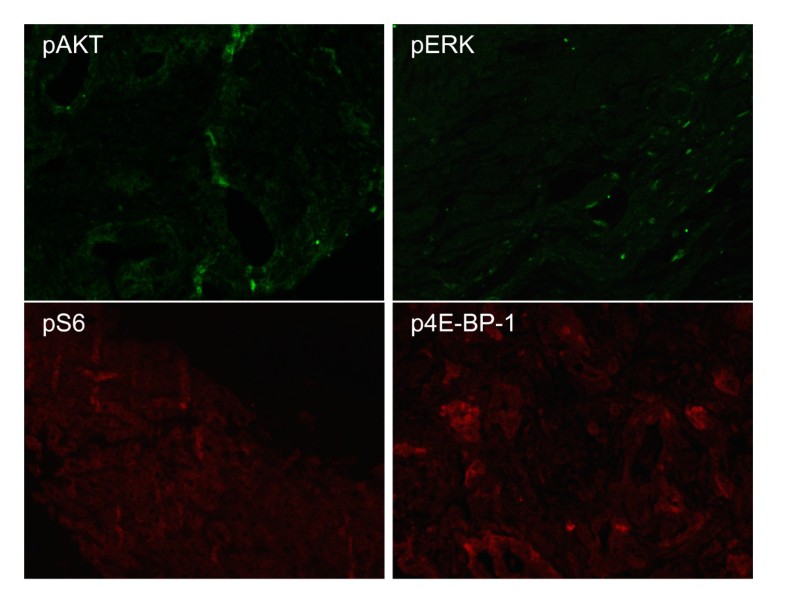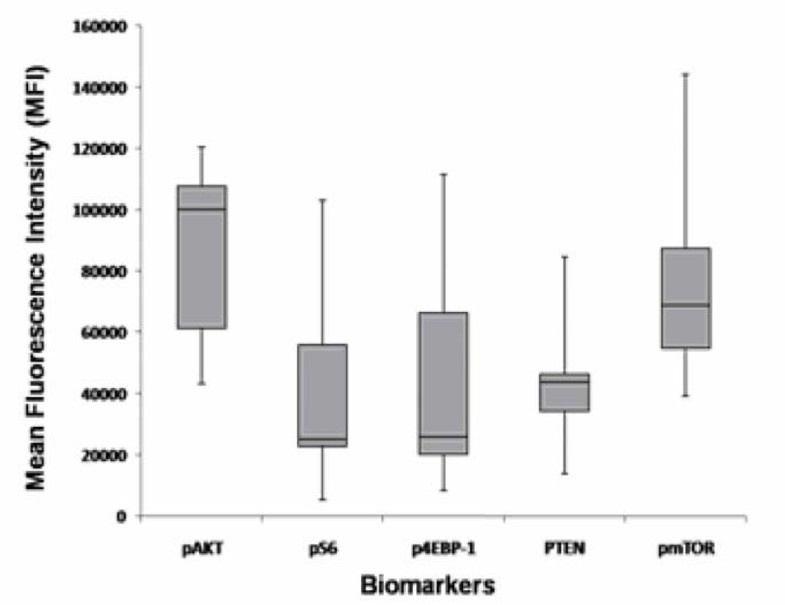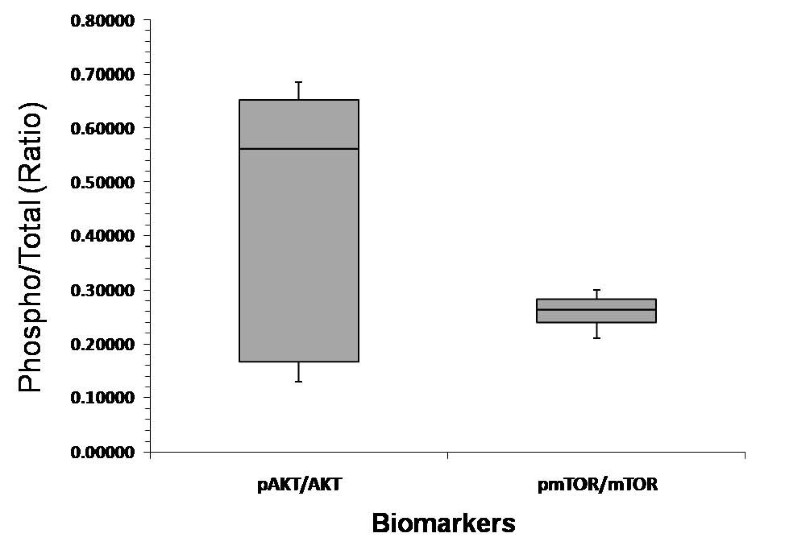 Discussion
The mTOR is a validated target in many human cancers, and rapamycin analogs (rapalogs) have shown promising results in various tumor types, including non-Hodgkin's lymphoma, sarcoma, glioblastoma and endometrial cancer. The PI3K/Akt/mTOR pathway is activated in pancreatic cancer by overexpression or activation of EGFR and insulin-like growth factor (IgF1R), by PTEN loss or secondary to k-ras mutation and activation of the Ras/Raf/MEK pathway. The investigation of rapalogs for pancreatic cancer treatment is therefore based on sound rationale.
We observed dose-limiting toxicity from standard doses of temsirolimus in Study A and a lack of antitumor activity in both studies (A and B). The reason for the toxicity noted with standard doses of temsirolimus or everolimus is not clear. Patients with gemcitabine-refractory pancreatic cancer can be frail and are often not the best candidates for aggressive systemic therapy. However, our institutional experience using capecitabine and oxaliplatin in this patient group reveals that patients with gemcitabine-refractory pancreatic cancer and good performance status can tolerate and derive benefit from systemic chemotherapy [2]. Therefore, the high toxicity particularly observed with temsirolimus was surprising, despite the use of an approved dose. The concern was raised that the "toxicity" noted resulted at least in part from disease progression. While this degree of toxicity did not occur in Study B, the study was discontinued after enrolling 15 patients, because of disease progression in all patients.
The weekly scheduling of everolimus was based on the dosing schedule identified in our phase I study. Taberbero et al. suggest that daily dosing of everolimus may result in a more sustained inhibition of S6 kinase than intermittent dosing [14]. However, Wolpin et al, recently reported no clinically relevant anti-tumor effect in a recent phase II trial of daily everolimus for patients with advanced, gemcitabine-refractory pancreatic cancer [15]. Therefore, we do not believe that the schedule of everolimus used in Study B resulted in the absence of antitumor effect.
Our recent studies revealed that mTOR inhibitors such as rapamycin and temsirolimus increase Akt phosphorylation/activation and cyclin D1 expression levels in pancreatic cancer cells [16]. Similar results were reported by Wan et al., who suggested that mTOR inhibitors might eventually promote cellular proliferation and survival if the Akt activation goes unchecked [17]. In support of this possibility, pancreatic cancer cells were observed by Wan et al to become more resistant to the mTOR inhibitors beyond 72-96 hours of continuous treatment in vitro. Li et al, also observed that the phosphorylation of IRS-1 on Ser612, a modification that likely inhibits IRS-PI3K interactions, was abolished by rapamycin and CCI-779. It is therefore conceivable that IRS-Ser612 is a mTOR-regulated site that is part of a negative feedback loop, and that mTOR inhibitors enhance pAkt levels in pancreatic cancer cells by blocking its phosphorylation [18]. Why this feedback loop is more relevant in pancreatic cancer than in other cancer types is unclear at this time. Whether the paradoxical Akt activation secondary to mTOR inhibition led to the increased toxicity or rapid tumor progression in Study A cannot be stated with any degree of certainty as no post-treatment biopsies were performed.
The sensitivity of cancer cell lines to erlotinib depends at least partially on the inhibition of the PI3K/Akt/mTOR pathway. The erlotinib-rapamycin combination was found to have a synergistic cytocidal effect and erlotinib alone could inhibit rapamycin-induced Akt activation in non-small cell lung cancer cell lines [19]. These data supported the investigation of the erlotinib-everolimus combination in Study B. However, in Study B, we observed neither clinically significant antitumor activity nor disease stability. One possible explanation may be that most pancreatic cancers are k-ras mutated, which may induce baseline Akt activation in pancreatic cancer. Indeed our pretreatment biopsies revealed an elevated pAkt/Akt ratio in pancreatic cancer cells pre-treatment. It must be noted however, that both studies did not include post-treatment biopsies; therefore, we cannot definitively rule out an erlotinib effect on Akt activation. One can hypothesize, based on our results, that Akt inhibition as a therapeutic strategy for pancreatic cancer should include the simultaneous inhibition at several points along the PI3K pathway. Ongoing studies are investigating mTOR inhibitors in combination with IgF1-R or direct Akt antagonists.
Standard second-line chemotherapy regimens for advanced pancreatic cancer at the present time include oxaliplatin with fluoropyrimidines or capecitabine [2]. Clinical trials that are based on molecular profiling, or which include one of the above standard regimens should be encouraged.
Conclusions
PI3K inhibition may be an important therapeutic strategy for pancreatic cancer. However, we did not observe a clinically relevant anti-tumor effect with the mTOR inhibitor temsirolimus or with the everolimus + erlotinib combination.
Authors' information
These studies were conducted by the authors at the MD Anderson Cancer Center, Houston, TX, USA.
Declarations
Acknowledgements
Lerma Ukegbu, Research RN
Kenneth Hess, Ph.D. for statistical support
Authors' Affiliations
(1)
Department of Gastrointestinal Medical Oncology, UT-M D Anderson Cancer Center, Houston, USA
(2)
Center for Cancer and Blood Disorders, Dallas, USA
(3)
Apocell Inc, Houston, USA
Copyright
© Javle et al; licensee BioMed Central Ltd. 2010
This article is published under license to BioMed Central Ltd. This is an Open Access article distributed under the terms of the Creative Commons Attribution License (http://creativecommons.org/licenses/by/2.0), which permits unrestricted use, distribution, and reproduction in any medium, provided the original work is properly cited.